Genoma Derma
D'Adamo Personalized Nutrition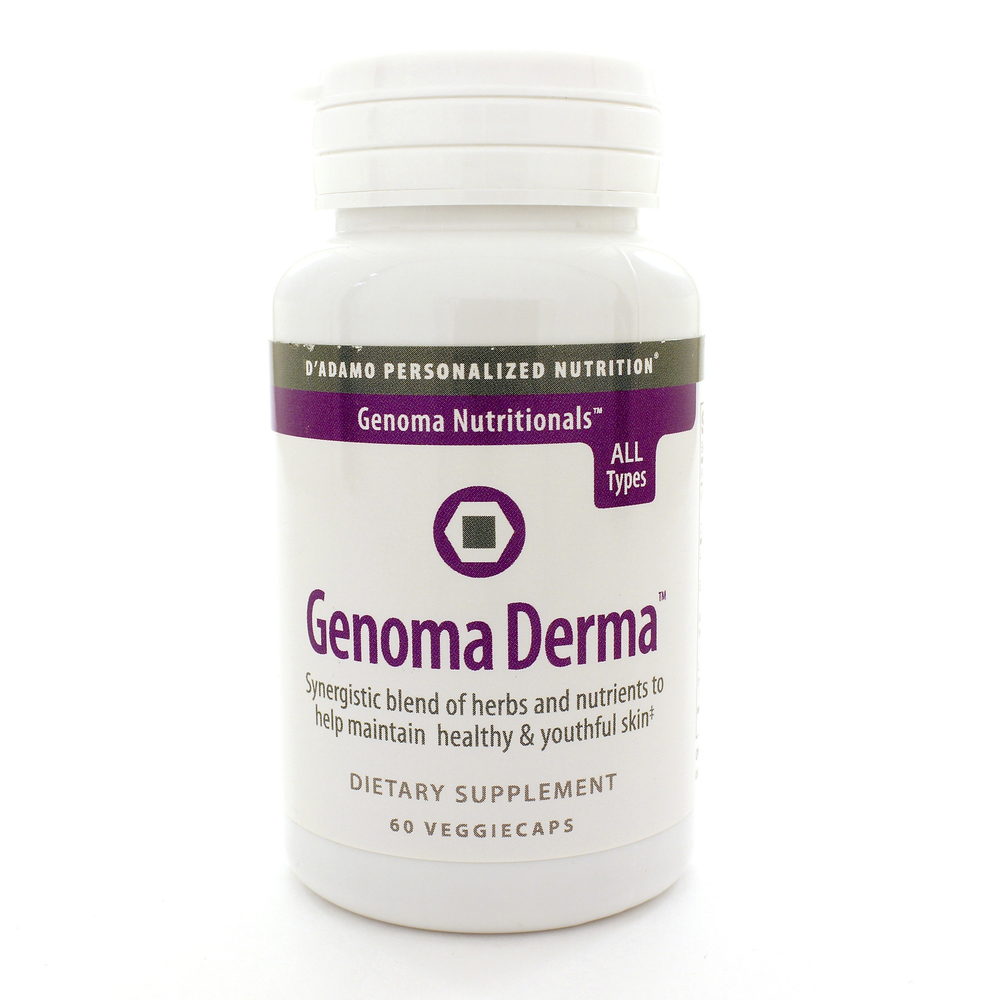 SKU: NP047
There are a number of factors than have an influence on the health and appearance of your skin including environmental pollutants, heredity and diet. To help keep your skin looking radiant, Dr. Peter D'Adamo, author of Eat Right 4 Your Type, has developed Genoma Derma capsules.
Genoma Derma capsules blend together herbal ingredients, botanicals, amino acids and nutrients that work together to promote healthy, beautiful skin. Some of the essential ingredients in Genoma Derma include:
L-Lysine - an essential amino acid to promote the development of collagen
Resveratrol - a flavonoid to support and maintain healthy-looking skin
Grape Seed Extract
With regular use, Genoma Derma may minimize the effects of Advanced Glycation End products (AGEs), which promote aging.
Suggested Use:
Take 1 capsule 2-4 times daily.


Serving Size: 1 Capsule

Amount Per Serving
Vitamin B6 ... 15mg
(from Pyridoxal 5-Phosphate)
Copper ... 0.5mg
(from Copper Gluconate)
L-Lysine ... 100mg
(from L-Lysine HCI)
Grape Seed Extract ... 70mg
(from Vitis Vinifera, contains 95% anthocyanidins)
Alpha Lipoic Acid ... 50mg
Yerba Matte Extract ... 50mg
(from llex paraguariensis Leaf)
L-Carnosine ... 25mg
Trans-Resveratol ... 25mg
(from Polygonum cuspidatum Root)

Other Ingredients: Vegetable Cellulose (from capsule shell), Magnesium Citrate, and L-Leucine.



This 100% vegetarian product contains no sugar, salt, gluten, wheat, yeast, corn, soy, eggs or dairy, no preservatives, color or flavors, and no artificial ingredients.
It looks like there are no similar
products available