Get Healthy Greens
Prescribed Choice/OL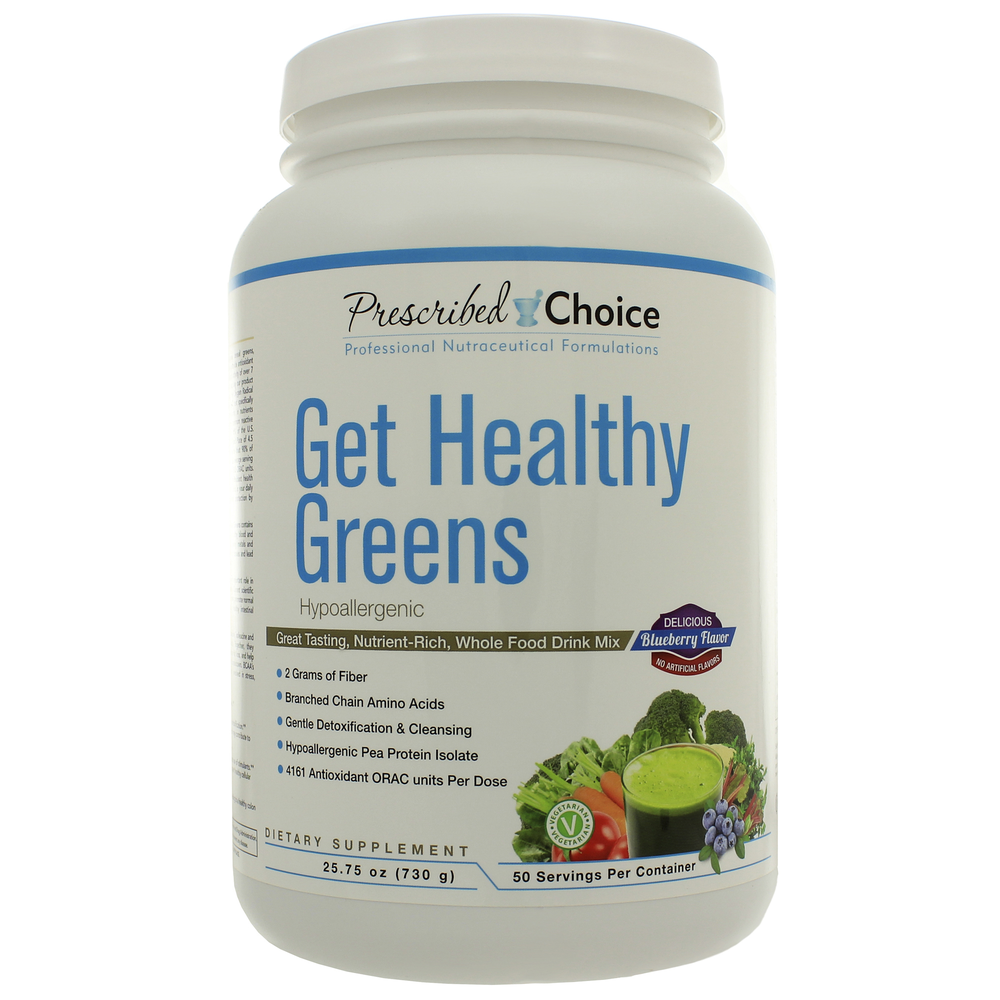 SKU: PRC-80006
Get Healthy Greens is a whole food drink mix that contains essential nutrients to maintain overall daily health. It contains complete, food derived multivitamins, enzymes, patented fiber, antioxidants, gentle cleansers, detoxifiers and pro-biotics in addition to 8 grams of protein in one scoop.*
Hypo-allergenic*
Naturally and gently detoxifies*
Supports healthy blood sugar levels*
Increases energy levels naturally without use of harsh stimulants*

Digestive Health
Includes a probiotic blend to support digestive health and a healthy colon environment*
Our enzymes are designed to work over a wide range of pH (3.0-9.0), thus working continuously throughout the pH variations in the digestive tract*
Optimal functioning of the gastrointestinal tract ensures the digestion and absorption of nutrients critical to good health happens efficiently*
Get Healthy Greens is an ideal choice for vegetarians*

Detoxification
The average serving of fruits and/or vegetables yields approximately 500 ORAC units. The USDA recommends that to provide meaningful antioxidant health benefits, one should consume at least 2, 400 to 3, 000 ORAC units in their daily diet. 90% of Americans do not meet this minimum standard. Our Get Healthy Greens blend has an ORAC value per serving equaling 4, 161*
Offers excellent antioxidant protection*
Provides a wide variety of nutrients to support cellular metabolism*
The fiber protection in our blend helps to support normal intestinal health and manages the body's everyday ability to cleanse itself*

Probiotics
Helps to support the immune system with specialized amino acids and herbal blends helping to remove destructive toxins such as heavy metals, pollutants and undigested food. These toxins will gradually weaken our tissues and eventually lead to disease if not removed from the body daily*
Our enzyme blend was specially designed to breakdown carbohydrates, starches and vegetable proteins*
Starches contain many sugar molecules in a chain linked with alpha and beta linkage. These long chain molecules need to be broken at both alpha and beta linkages in the starch molecule for better absorption by the body*


Suggested Use:
Add one (1) scoop to six ounces of juice or water and shake or blend to desired consistency. Get Healthy Greens can be taken once daily. As with any ?ber-rich drink, always follow with a full glass of water immediately afterwards. Settling may occur.
Serving Size: One (1) Scoop (14.6 g)
Amount Per Serving
Calories ... 60
Calories from Fat ... 10
Total Fat ... 1g
Saturated Fat ... 0g
Cholesterol ... 0mg
Total Carbohydrate ... 4g
Dietary Fiber ... 2g
Total Sugar ... <1g
Sugar Alcohols ... <1g
Protein ... 8g
Vitamin C ... 12mg
Calcium ... 23mg
Iron ... 4mg
Sodium ... 110mg
Greens Blend ... 2, 250mg
Organic Barley Grass, Chlorella Powder, Spirulina Powder
Vegetable Blend ... 1, 700mg
Organic Carrot Powder, Organic Tomato Fruit Powder, Organic Beet Juice Powder, Parsley Leaf Powder, Cauli?ower Powder, Organic Broccoli Powder, Organic Spinach Powder
High ORAC Blend ... 175mg
Acerola Extract 4:1, Grape Seed Extract (95% Proanthocyanidins), Blueberry Fruit Extract, Green Tea Extract, Bilberry Fruit Extract, Pine Bark Extract
Probiotic Culture ... 100mg
(at the time of manufacture)
Lacto. Acidophilus, Bi?do. Bi?dum, Lacto. Helveticus, Lacto. Brevis, Lacto. Casei, Lacto. Rhamnosus, Lacto. Plantarum, Lacto. Salvarius, Lacto. Lactus
Fiber Blend ... 2250mg
Fibersol II™, Rice Bran Powder
N-Acetyl L-Cysteine ... 50mg
Pea Protein ... 7, 250mg
OL-576 Enzyme Blend ... 50mg
Alpha & Beta Amylase, Glucoamylase, Protease (I, II, III, IV), Peptizyme, Lactase, Cellulase, HemiSEB, Lipase (I & II), Maltase, Sucrase (Invertase)
Turmeric Root Extract ... 100mg
Organic Aloe Vera Powder ... 50mg
OTHER INGREDIENTS: Xylitol, Natural Blueberry Flavor, Stevia Extract
Vegetarian, NON-GMO
Settling may occur.
Allergen Warning: Manufactured on equipment which processes products containing milk, egg, soybeans, wheat, shell?fish, ?fish oil, tree nuts, and peanut fl?avor.
KEEP OUT OF REACH OF CHILDREN. STORE IN COOL, DRY PLACE.