GI-Synergy™
Apex Energetics, Inc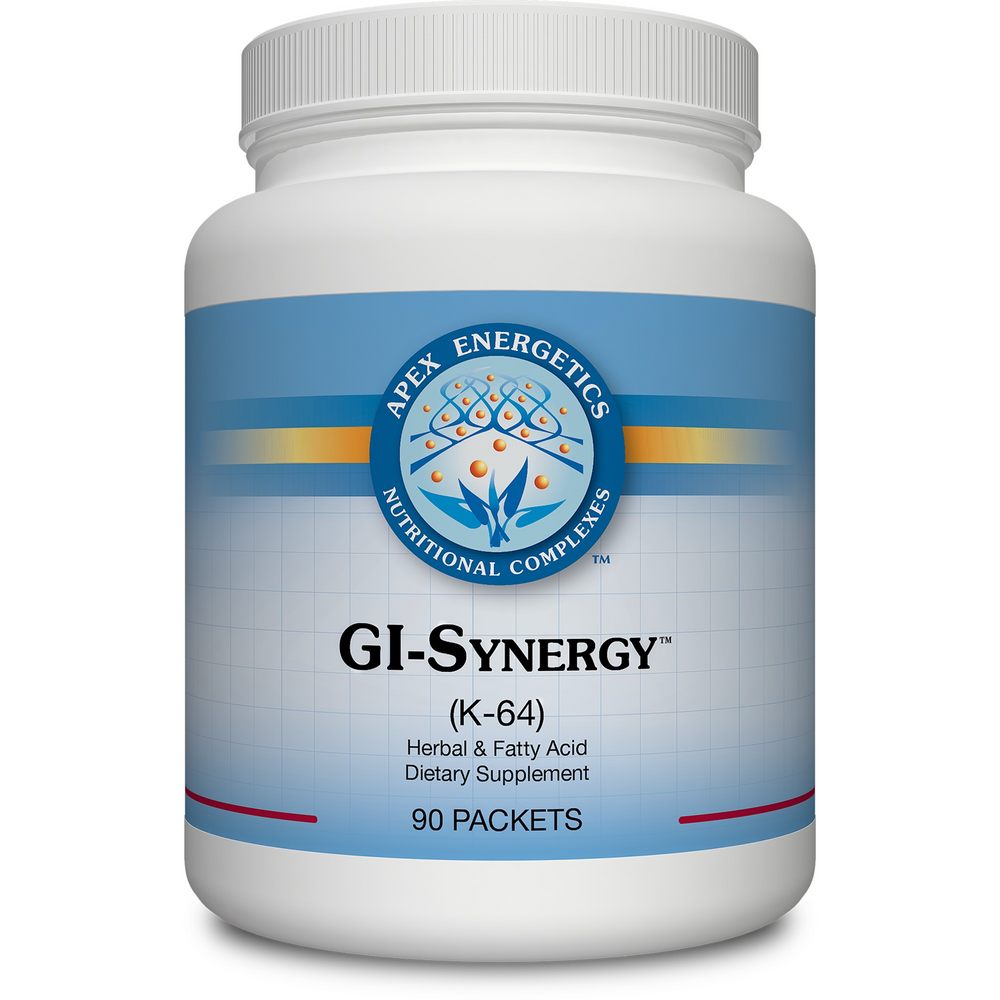 SKU: APE949-K64
GI-Synergy™ combines three complementary formulas that are each designed to support the intestinal terrain.* H-PLR™ (K32), Yeastonil™ (K58), and Parastonil™ (K59) are combined into one easy-to-use package for the client. Each serving is packaged individually with the combination of these three formulas. GI-Synergy™, when taken in combination with the RepairVite™ Program and Strengtia™ (K61), is intended to support the intestinal immune system and the intestinal environment.* The RepairVite™ Program is a powerful dietary and nutritional support program designed to support the intestinal membranes.* A small size of GI-Synergy™ (K83), which contains 30 packets, is also available.
Suggested Use:
Take 1 packet once a day, or as directed by your healthcare professional.


Serving Size: 1 packet (3 vegetarian capsules)

Amount Per Serving
Proprietary Blend ... 2200 mg
Wormwood Extract (Artemisia annua) (aerial parts)
Black Walnut Extract (Juglans nigra) (hull)
Undecylenic Acid (as calcium undecylenate)
Caprylic Acid (as magnesium caprylate)
Barberry Extract (Berberis aristata, Berberis asiatica, and Berberis vulgaris) (root & bark)
Olive Extract (Olea europaea) (leaf) (standardized to 18% oleuropein)
Garlic Extract (Allium sativum) (bulb) (standardized to 1% allicin)
Goldenseal Extract (Hydrastis canadensis) (root)
Oregano Extract (Origanum vulgare) (leaf)
Uva Ursi Extract (Arctostaphylos uva ursi) (leaf) (standardized to 20% arbutin)
Cats Claw Extract (Uncaria tomentosa) (bark) (standardized to 3% oxindole alkaloids)
Pau DArco Extract (Tabebuia impetiginosa) (bark)
Oregon Grape Extract (Mahonia aquifolium) (root)
Chinese Goldthread Extract (Coptis chinensis) (root)

Other ingredients: Vegetarian capsule (hypromellose), cellulose.

Contains Walnut (black walnut hull extract)

Does not contain: Gluten, soy, milk

Ideal for Vegans, Vegetarians


Consult your healthcare professional before use if pregnant, nursing, taking medications, or for any use by minors. Do not use if safety seal is broken or missing. KEEP OUT OF REACH OF CHILDREN.