Glucosamine Complex
Seroyal/Genestra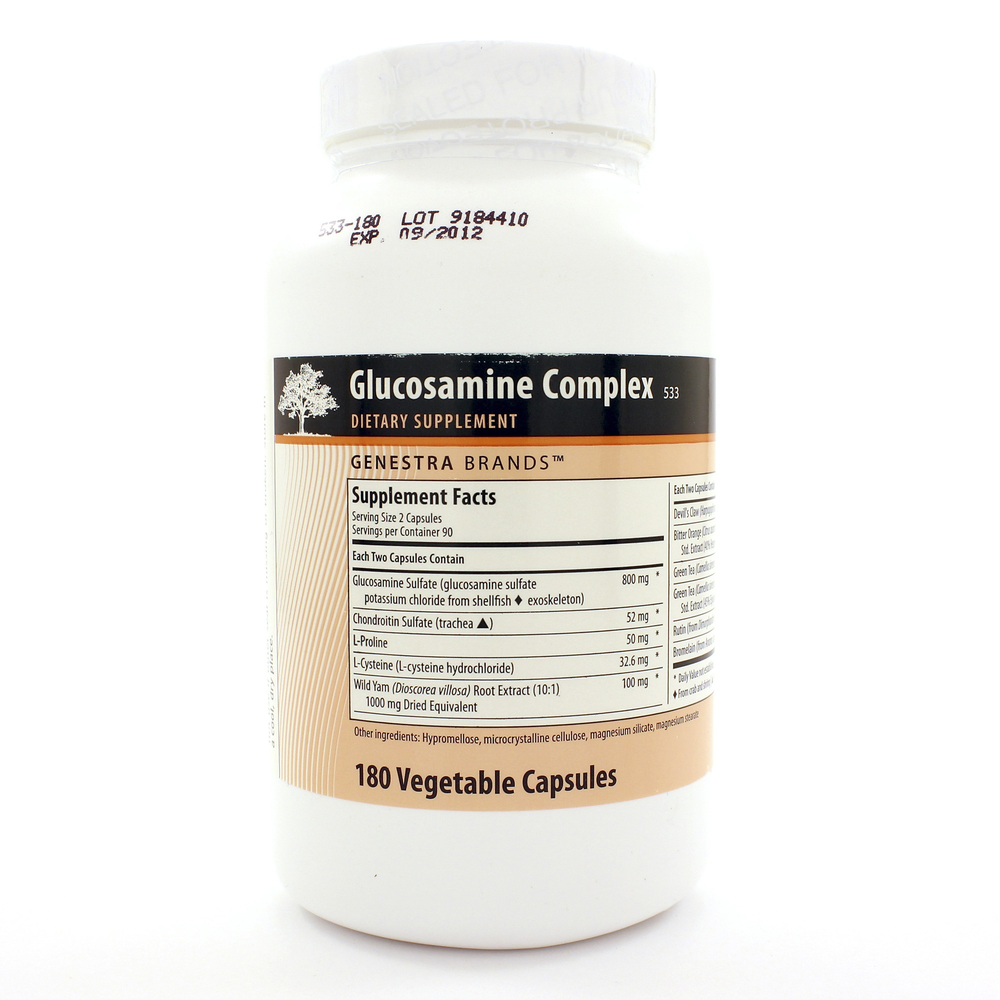 SKU: GN-10533180
Combination of glucosamine sulfate, chondroitin sulfate, amino acids and herbal ingredients.
Promotes joint comfort (individual results may vary)*
Helps support and maintain cartilage*
With added chondroitin sulfate and bromelain
26 mg of chondroitin sulfate and 25 mg of bromelain per capsule
Take two capsules two times daily with meals or as recommended by your healthcare practitioner. Individual results may vary.
Serving Size: Two Capsules
Amount Per Serving
Glucosamine Sulfate ... 750mg*
(as glucosamine sulfate potassium chloride from shellfish exoskeleton)
MSM ... 150mg*
(methylsulfonylmethane)
Chondroitin Sulfate ... 50mg*
(as chondroitin sulfate sodiums)
L-Proline ... 50mg*
L-Cysteine ... 50mg*
(as L-cysteine hydrochloride monohydrate)
Hesperidin ... 50mg*
(from Orange fruit)
Green Tea Leaf Std. Extract ... 40mg*
(Camellia sinensis)(15:1, 600 mg Dried Equivalent)
Providing:
Epigallocatechin 3-gallate ... 18mg*
Stem Bromelain ... 16.6mg / 60MCU (600, 000 FCC PU)*
(from Pineapple stem)
Rutin ... 10mg*
(from Dimorphandra mollis fruit)
Other Ingredients: Hypromellose, cellulose, silica
Contains crustacean shellfish (crab and shrimp).
This product does not contain
wheat
yeast
gluten
soy
artificial coloring
artificial flavoring
antimicrobial preservatives
dairy products
Risk Information
Consult your healthcare practitioner prior to use if you are pregnant, breastfeeding, taking any medication, or have any health condition. Hypersensitivity and mild gastrointestinal disturbances such as diarrhea, abdominal pain, heartburn, nausea and vomiting are known to occur; in which case, discontinue use.
Quality Assurance
Safety-sealed for your protection and for product freshness. Do not use if outer seal is missing or broken. Store in a cool, dry place. Keep out of reach of children.