Glucose Balance
Protocol for Life Balance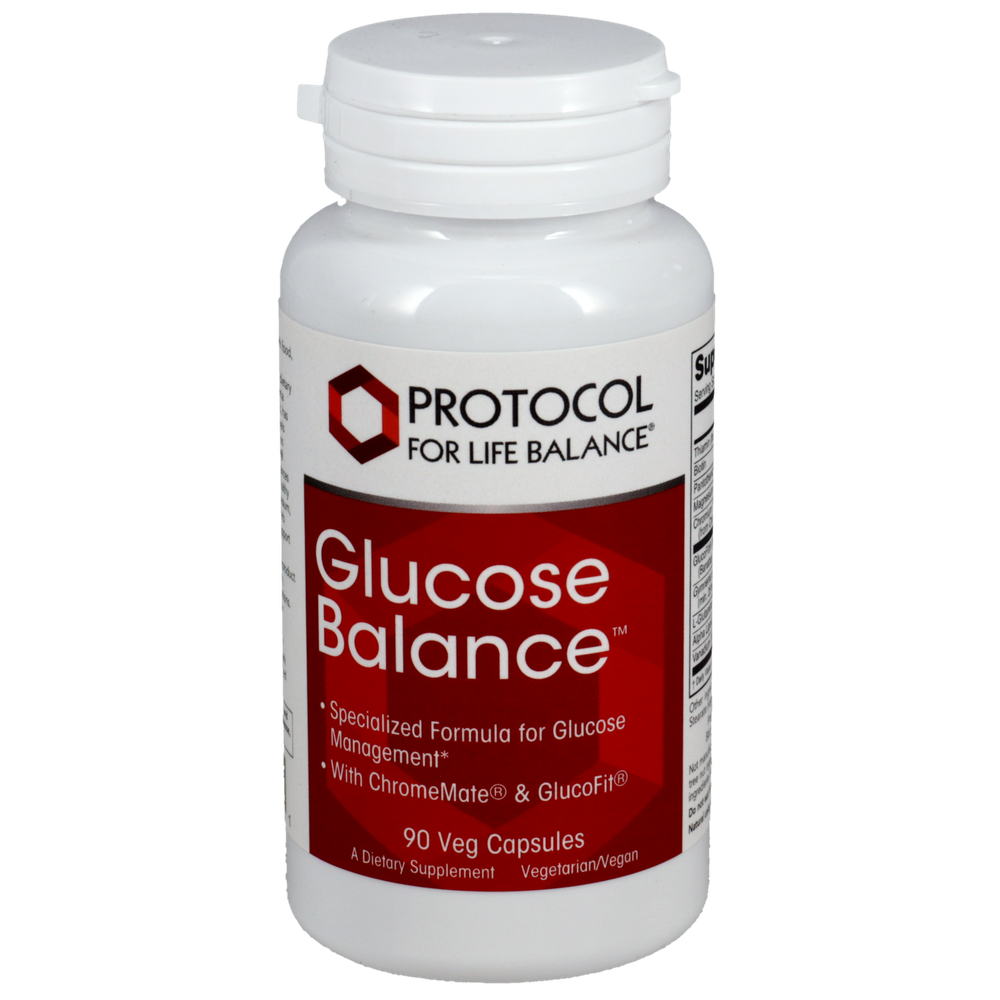 SKU: PROT-P3318
-Supports Healthy Glucose Metabolism*
-Supports Proper Insulin Function*
-A Dietary Supplement
-Vegetarian / Vegan
Glucose Balance™ contains GlucoFit®, a dietary ingredient extracted from the herb Banaba (Lagerstroemia speciosa). GlucoFit®s active component, corosolic acid, has shown in scientific studies to support healthy glucose levels already within the normal range. Glucose Balance™ also contains Chromemate®, a biologically active niacin-bound chromium that dramatically increases the effectiveness of chromium in the body and has been clinically shown to support healthy glucose metabolism.* Other nutrients that are well known for their role in glucose metabolism such as Magnesium, Thiamin, Pantothenic Acid, and Biotin, as well as the herb Gymnema sylvestre, have also been included in this formula for their synergistic effects.*


As a dietary supplement, take 2 Vcaps® 2 to 3 times daily with food.
Serving Size: 2 Vcaps®
Amount Per Serving
Thiamine ... 16mg
(from Thiamine HCl)
Biotin ... 2, 000mcg
Pantothenic Acid ... 16mg
(from D-Calcium Pantothenate)
Magnesium ... 134mg
(from Magnesium Oxide and Citrate)
Chromium ... 266mcg
(ChromeMate®)(from Chromium Polynicotinate)
GlucoFit® ... 16mg
(min. 1% Corosolic Acid)
Gymnema sylvestre ... 134mg
(GS4®)(25% Gymnemic Acid)
L-Glutamine ... 334mg
Alpha Lipoic Acid ... 34mg
Vanadium ... 334mcg
(from Vanadyl Sulfate)
Other Ingredients: Gelatin (capsule), Rice Flour and Magnesium Stearate (vegetable source). Vegetarian/Vegan Product.


CAUTIONS AND INTERACTIONS: Some ingredients in this product may interact with anti-diabetic medications. In addition, Chromium may affect the absorption of thyroid medications. If you are taking any of these medications, consult your healthcare practitioner.
ChromeMate® is a registered trademark of InterHealth Nutraceuticals, Inc.
GlucoFit® is a registered trademark of Softgel Technologies, Inc.
GS4® is a registered trademark of Sabinsa.
This bottle contains an AGELESS® Oxygen Absorber to ensure freshness. Do not eat Packet.
Store in a cool, dry place after opening. Please Recycle.