Glutamine Powder
Progressive Labs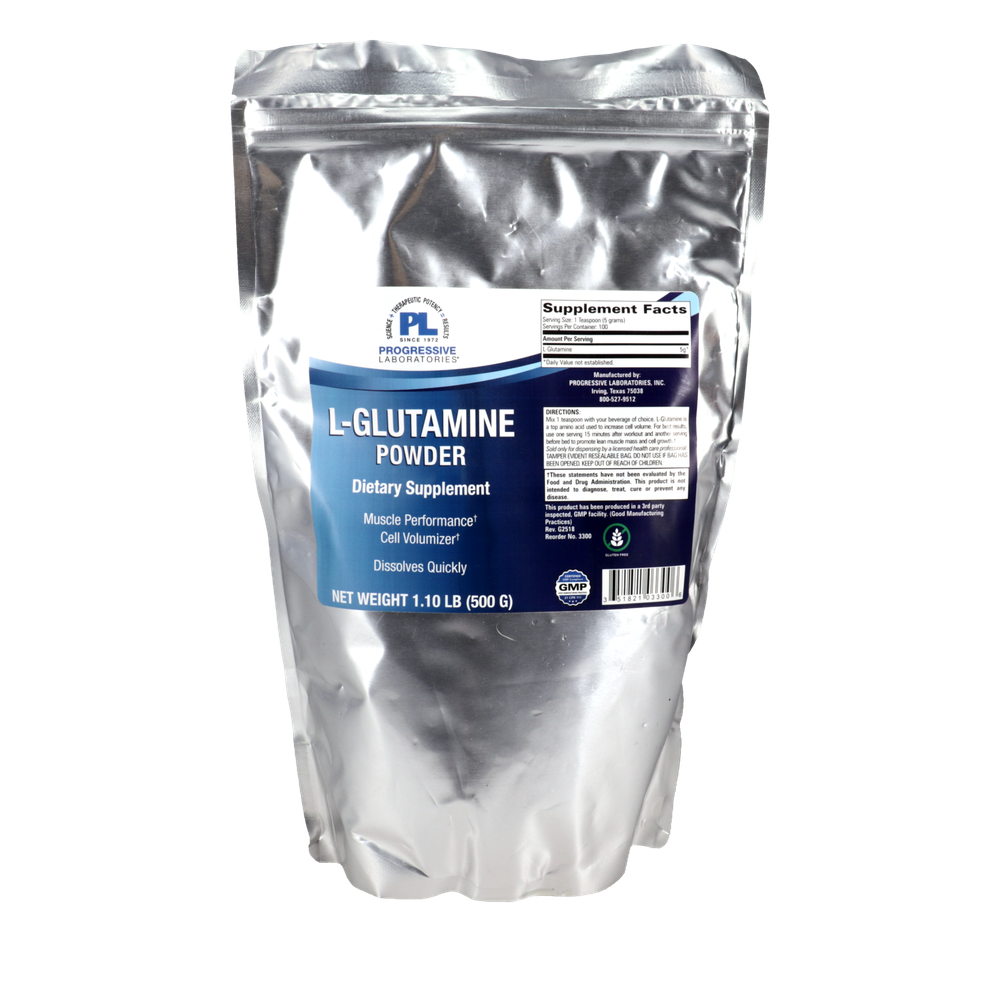 SKU: PGV-3300
Glutamine 1.10lb is available by Progressive Labs.
Dietary Supplement
Muscle Performance
Cell Volumizer
Dissolves Quickly
This Glutamine product was designed for Body building and sports nutrition. Glutamine, when paired with exercise, promotes lean muscle mass and cell growth.

Other popular uses:
As you know, brain function is dependent upon glucose levels. When there is a lack of brain fuel, the following are possibilities:
1. Schizophrenia
2. Hypoglycemic (craves sugar)
3. Alcoholic (craves alcohol)

These occur because the brain is basically "starving." Fortunately recent research indicates that L-Glutamine can act as a substitute for glucose and prevent the three occurrences listed above happening. As a matter of fact, L-Glutamine (converted to Glutamic Acid) is the only source of energy the brain has outside of glucose.

Hypoglycemia: On a college campus, two groups of students were allowed free access to vending machines with high sugar foods. One group was given L-Glutamine while the other was given a placebo. The placebo group consumed four times as much sweets as the L-Glutamine group.

Alcohol: In a controlled study a group of alcoholics were supplemented with L-Glutamine without their knowledge (L-Glutamine is odorless). A reduction in alcohol consumption was seen in 77% of the cases.

Mix 1 teaspoon with your beverage of choice. Glutamine is a top amino acid used to increase cell volume. For best results use one (1) serving 15 minutes after workout and another serving before bed to promote lean muscle mass and cell growth.
L-Glutamine ...5g
Keep out of reach of children.
Tamper evident resealable bag. Do not use if bag has been opened.