Gluten Defense™
Nature's Way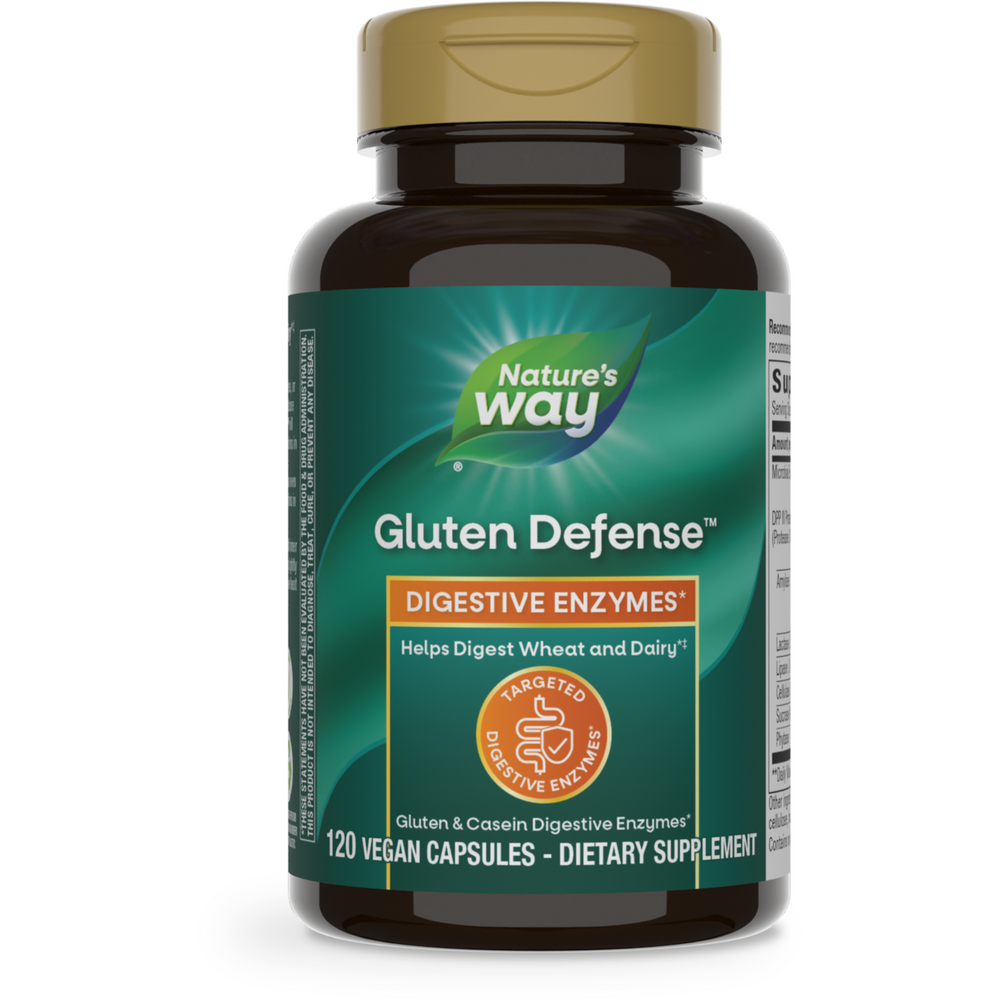 SKU: EN2-03952
For some, hidden gluten and casein can be the cause of occasional gas, bloating and indigestion. However, the right digestive enzymes can make a difference when trying to support a gluten free and casein free lifestyle. Vegetarian.
With DPP IV
Helps digest hidden wheat & dairy
Vegetarian


Suggested Use:
Take 2 capsules with each meal or as recommended by a healthcare professional.
Serving Size: 2 Capsules
Amount Per Serving
Total Carbohydrates … <1g**
‡ ‡Active Enzymes DPP IV protease blend, amylase, lipase, phytase, lactase, cellulase, and sucrase … 536 mg**
DPP IV Protease Blend FCC (pH 4.7) … 134,660 HUT
(Protease I, II, III, IV, V) FCC (pH 7.0) … 22,660 PC
USP (pH 7.5) … 12,557 USP
Amylase FCC (pH 4.8) … 9,530 DU
USP (pH 6.8) … 12,807 USP
Lipase I, II FCC (pH 6.5) … 408 LU
FIP (pH 7.0) … 888 FIP
Phytase Phytic Acid (pH 6.0) … 0.67 U
Lactase I, II FCC (pH 4.5) … 641 ALU
Cellulase, I, II FCC (pH 4.5) … 141 CU
Sucrase FCC (pH 4.6) … 181 SU
Other Ingredients: Plant-derived capsule (hypromellose), cellulose, inulin (from chicory root), calcium laurate, silicon dioxide.
Gluten free. No dairy products, or artificial colors, flavors, or preservatives.
Caution:
While Gluten Defense™ will reduce the level of reactive gliadin and gluten proteins in a meal, it is advised that celiac disease sufferers continue with their normal gluten exclusion diet as even small amounts of gliadin can cause adverse reactions in the most sensitized individuals. If pregnant, nursing, or taking any medications, consult a healthcare professional before use.
It looks like there are no similar
products available