Glyco-Flex I Bite-Sized Chews
Vetri-Science Laboratories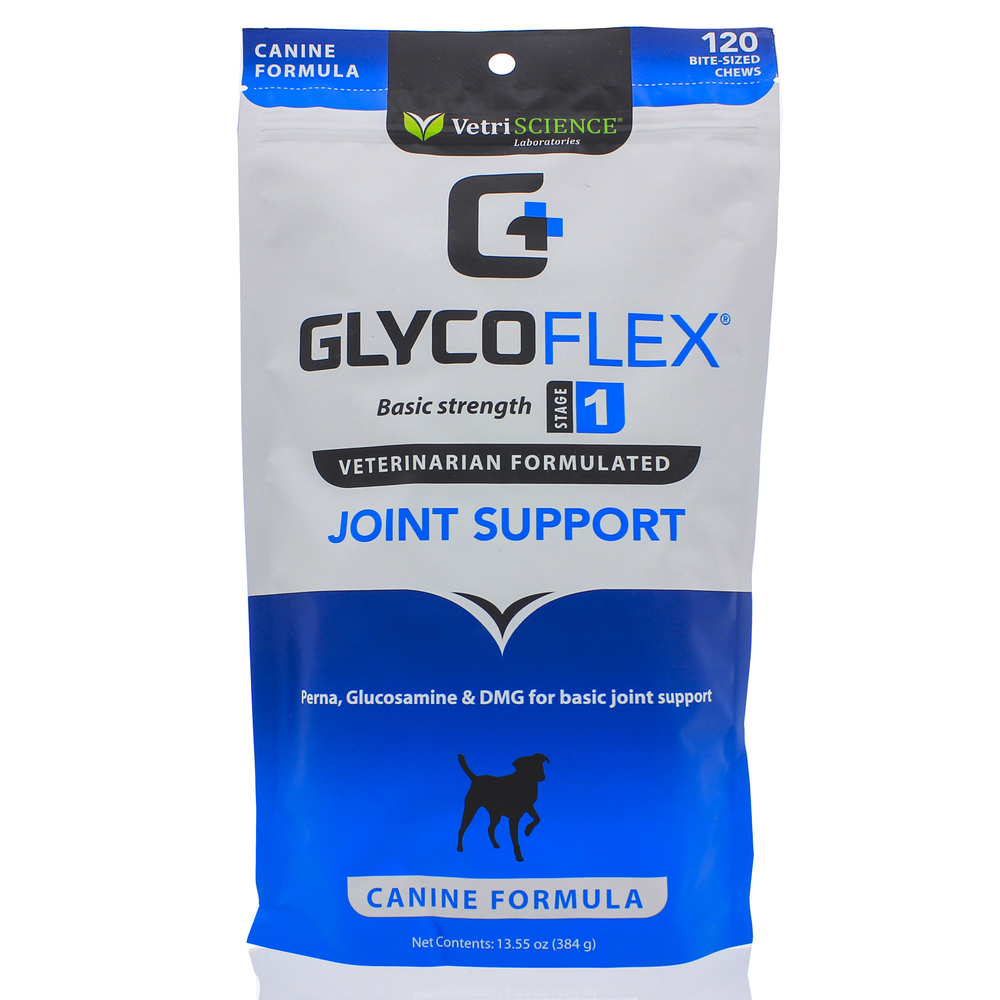 SKU: VET-0900571120
VetriScience® Laboratories' GlycoFlex® 1 bite-sized chews are recommended by veterinarians for puppies and dogs with an early need for basic joint support. It features 600 mg of perna caniliculus, 500 mg of glucosamine and 100 mg of our patented DMG (N, N-Dimethylglycine). GlycoFlex® products contain perna, an edible green-lipped mussel from sourced from the waters of New Zealand. The perna has been freeze-dried so that the whole organism is included, providing many of the nutrients necessary to maintain healthy connective tissue, build healthy cartilage and support normal joint function. It is rich in amino acids, polypeptides, naturally chelated minerals, fatty acids, glycosaminoglycans (GAGs), vitamins, glycoproteins, protein complexes, polysaccharides and the nucleic acids RNA and DNA. Perna contains all major classes of GAGs including chondroitin 4 and 6 sulfates and hyaluronic acid that feed connective tissue such as joint cartilage, tendons, ligaments, and synovial fluids.
The perna used in GlycoFlex® products is the GlycOmega™ brand perna canaliculus exclusive to VetriScience® Laboratories. The nutrients provided from Perna also are known to support other systems in the body including sperm motility, vascular system, bladder function, immune system function, and gut health.
Formulated for a lifetime of healthy joints, GlycoFlex® 1 bite-sized chews are recommended as an introductory joint support supplement for pets needing basic support or for those that may be predisposed to joint health issues. The bite-sized chews are naturally flavored with real chicken liver.
Directions for Use: Initial: (4 - 6 Weeks)
Up to 30 lbs: 1 chew daily
31 - 60 lbs: 2 chews daily
61 - 100 lbs: 4 chews daily
101 lbs and over: 5 chews daily
Maintenance: (After initial period)
Up to 30 lbs: 1 chew every other day
31 - 60 lbs: 1 chew daily
61 - 100 lbs: 2 chews daily
101 lbs and over: 3 chews daily
If giving more than 1 chew daily, divide between AM and PM.
Serving Size: 2 Chews
Amount Per Serving
Perna canaliculus ... 600mg
(GlycOmega™ brand Green-Lipped Mussel)
Glucosamine HCl ... 500mg
(Shrimp and Crab)
N, N-Dimethylglycine HCl ... 100mg
(DMG)
Inactive Ingredients: arabic gum, brewers yeast, calcium sulfate, canola oil, chicken liver flavor, citric acid, citrus pectin, glycerin, maltodextrin, mixed tocopherols, oat flour, propionic acid, rosemary extract, rye flour, silicon dioxide, sodium alginate, sorbic acid, soy lecithin, vegetable oil, water.
GlycOmega™ is a Trademark of Aroma New Zealand LTD.
CAUTION: Safe use in pregnant animals or animals intended for breeding has not been proven.
CAUTION: If lameness worsens, discontinue use and contact your veterinarian.
CAUTION: Administer during or after the animal has eaten to reduce incidence of gastrointestinal upset.
Store in a cool, dry place.
For use in dogs only.
WARNING: For animal use only.
WARNING: Keep out of the reach of children and animals. Some pets may consider this a treat. In case of accidental overdose, contact a health professional immediately.