Glysen™
Apex Energetics, Inc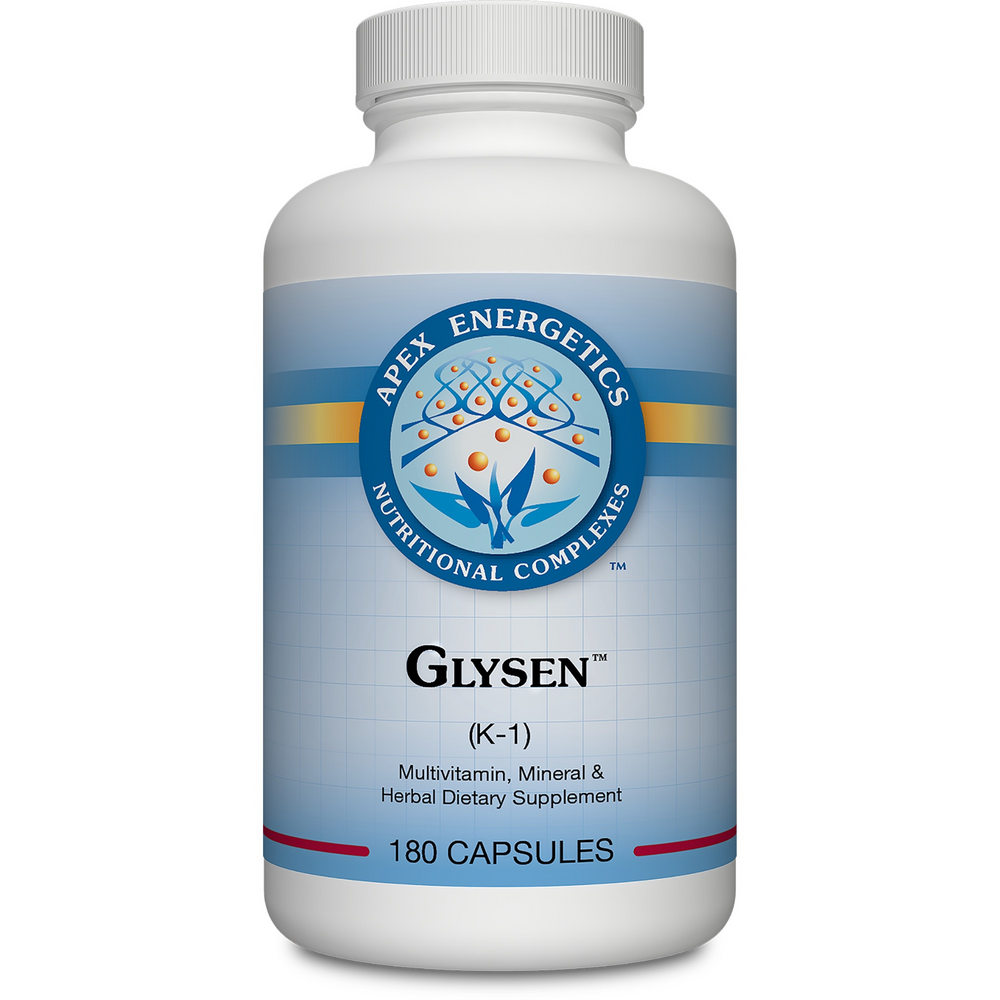 SKU: APE949-K01
Glysen™ is one of our foundational blood sugar formulas designed to maintain blood sugar levels already within the normal range.* This formula, taken with meals, aids in proper blood sugar utilization and helps the body maintain healthy blood sugar levels throughout the day.*‡ Glysen continues to be one of our most popular formulas, providing the important baseline of nutrients essential to any blood sugar support protocol.* A smaller size of Glysen, Glysen 90™ (K135), which contains 90 capsules, is also available.
Suggested Use:
Take 2 capsules once a day with a meal, or as directed by your healthcare professional.
Serving Size:
2 vegetarian capsules
Amount Per ServingVitamin E
... 60mg
(as d-alpha tocopherol and mixed tocopherols) (90 IU)
Thiamin
... 12mg
(as thiamin HCl)
Riboflavin
... 12mg
Niacin
... 44mg NE
(as niacinamide, nicotinic acid)
Vitamin B6
... 4mg
(as pyridoxine HCl)
Folate
... 160mcg DFE
(as L-5-methyltetrahydrofolate calcium)
Vitamin B12
... 8mcg
(as methylcobalamin)
Biotin
... 600mcg
Pantothenic Acid
... 60mg
(as d-calcium pantothenate)
Choline
... 50mg
(as choline bitartrate)
Magnesium
... 50mg
(as magnesium citrate)
Zinc
... 8mg
(as zinc glycinate)
Selenium
... 32mcg
(as L-selenomethionine)
Manganese
... 4mg
(as manganese aspartate)
Chromium
... 280mcg
(as chromium polynicotinate)
N-Acetyl L-Cysteine
... 300mg
Gymnema Extract
... 140mg
(Gymnema sylvestre) (leaf)
Alpha Lipoic Acid
... 80mg
L-Carnitine
... 20mg
(as L-carnitine L-tartrate)
Inositol
... 16mg
PABA
... 12mg
(para-aminobenzoic acid)
Vanadium
... 20mcg
(as vanadyl sulfate)
Proprietary Blend
... 212mg
GlucoamylaseAmylaseInvertaseMaltasePoria Cocos Powder (whole fungus)Betaine HCl
Other Ingredients:
Vegetarian capsule (hypromellose), cellulose, dicalcium phosphate.
Does not contain: Gluten, soy, milk.
Warning: Consult your healthcare professional before use if pregnant, nursing, taking medications, or for any use by minors. Do not use if safety seal is broken or missing. KEEP OUT OF REACH OF CHILDREN.