Good As Gold: Golden Milk Powder
Ora Organic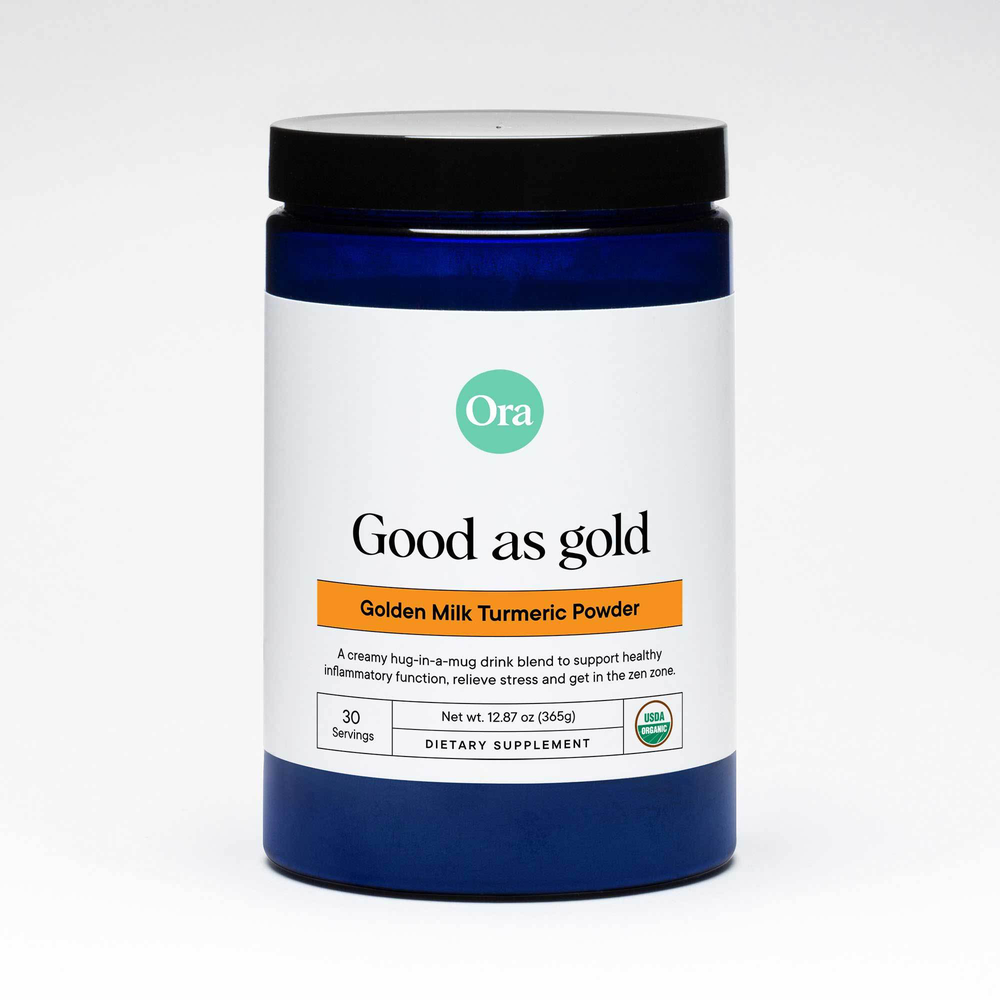 SKU: ORA858-1270P
Good as Gold is an organic turmeric golden milk powder blended with hydrating coconut and superstar Ayurvedic herbs: ashwagandha, reishi mushroom, and ginger root. The key ingredient turmeric has been studied for its ability to support joint function and is high in antioxidants. (Hello glowing skin!)
Ora Organics perfectly formulated blend of adaptogens was created to allow you to totally zen out with this delicious hug in a cup!
Curcumin
When it comes to inflammation there have been a lot of studies on turmeric's active ingredient curcumin's, but what is actually happening? Curcumin in the body blocks NF-kB, a molecule that travels into the nuclei of cells and activates genes linked to inflammation. NF-kB is also believed to play a major role in many chronic diseases.
Ora Organics included organic black pepper in this blend, which has been shown to increase the bioavailability of Curcumin by 2000%, maximizing health benefits for your body.
Adaptogenius
Ora Organics Organic Turmeric Golden Milk is packed full of adaptogens which help the body acclimate, or adapt to, stressful situations through hormone regulation. Ashwagandha has been studied extensively for its ability to support cognitive function and memory, while reishi mushroom has been studied for its ability to assist in moderating the immune system and helping to reduce fatigue and anxiety.
Ora Organics also included ginger root which has been studied for its ability to reduce nausea and morning sickness.


Suggested Use:
Mix 1 scoop with at least 8 oz (1 cup) of warm water or milk (or add to a smoothie).
Tips: Add a small amount of warm water to Good as Gold in a mug and mix into a paste before adding foamed plant-based milk for a cozy, delicious, hug-in-a-mug!
Serving Size: 1 Scoop (12g)

Amount Per Serving
Calories ... 60
Total Fat ... 2.5g
Saturated Fat ... 2.5g
Total Carbohydate ... 8g
Dietary Fiber ... <1g
Total Sugars ... 6g
Includes 6g Added Sugars
Calcium ... 15mg
Iron ... 1mg
Potassium ... 80mg
Organic Good As Gold Blend ... 5.5g
Organic Coconut Milk, Organic Turmeric Root, Organic Ashwagandha Root, Organic Reishi Mushroom, Organic Ginger Root, Organic Black Pepper Extract
Other Ingredients: Organic Maple Sugar, Natural Vanilla Flavor, Organic Rice Hull.


Storage: Store in a cool, dry place and keep away from moisture. Refrigeration is not required.