GPLC Glycocarn 750mg
Jarrow Formulas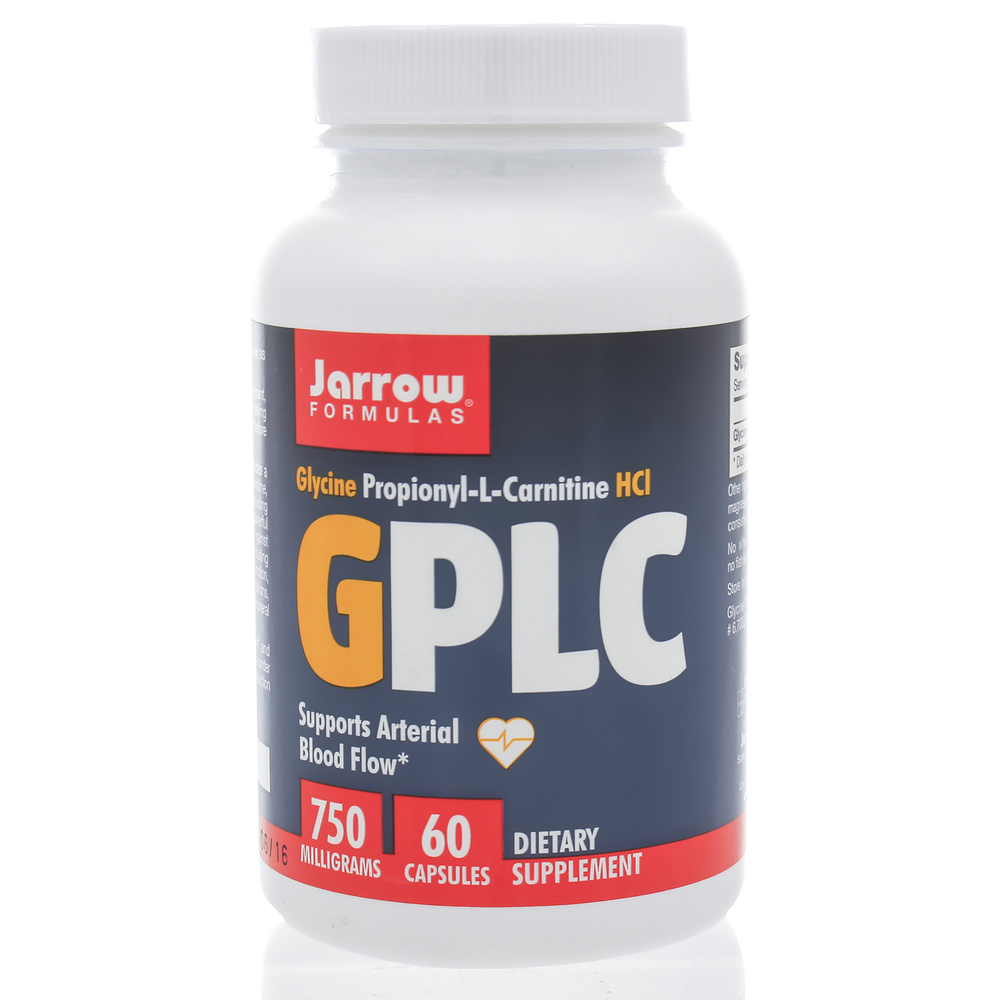 SKU: JAR-GPLC
GPLC
Glycine Propionyl-L-Carnitine HCI
-Supports Arterial Blood Flow*
-Glycine Propionyl-L-Carnitine Capsules
-PLC Clinically-Studied for Heart Health*
-SigmaTau GlycoCarn® GPLC
-100% USP grade
-Clinically-Studied in Sports Nutrition
-Active-muscle specific carnitine*
GPLC is a propionyl ester of L-carnitine (PLC) that includes a glycine component. Compared with other forms of carnitine, PLC exhibits a special affinity for muscle tissues, including those of the heart and skeletal muscles.*
GPLC is a powerful antioxidant that scavenges free radicals­­—protecting against lipid peroxidation—assists in energy production—contributing to proper carbohydrate metabolism, improved muscle function, and reduced lactic acid buildup during low-oxygen conditions, such as exercise—and provides powerful support for peripheral arterial blood flow.*
Take 1 tablet per day on an empty stomach or as directed by your qualified healthcare professional.
Serving Size: One Tablet

Amount Per Serving
Glycine Propionyl-L-Carnitine ... 750 mg
Other Ingredients: Cellulose, magnesium silicate (vegetable source), magnesium stearate (vegetable source) and silicon dioxide.

No wheat, no gluten, no soybeans, no dairy, no egg, no fish/shellfish, no peanuts/tree nuts.
If you have a medical condition, are pregnant, lactating, trying to conceive, under the age of 18, or taking medications, consult your healthcare professional before using this product.
AminoCarnitines® such as GlycoCarn®, ArginoCarn® and L-Tauro® are manufactured by Sigma-tau HealthScience under USA production patent # 6703042 and Worldwide production patent EP1202956.
Store in a cool, dry place. DO NOT refrigerate.

Glycine Propionyl-L-Carnitine HCl is protected by U.S.
Patent # 6, 703, 042 B1.
KEEP OUT OF REACH OF CHILDREN.
These statements have not been evaluated by the Food and Drug Administration. This product is not intended to diagnose, treat, cure, or prevent any disease.