Green Defense Powder
Jarrow Formulas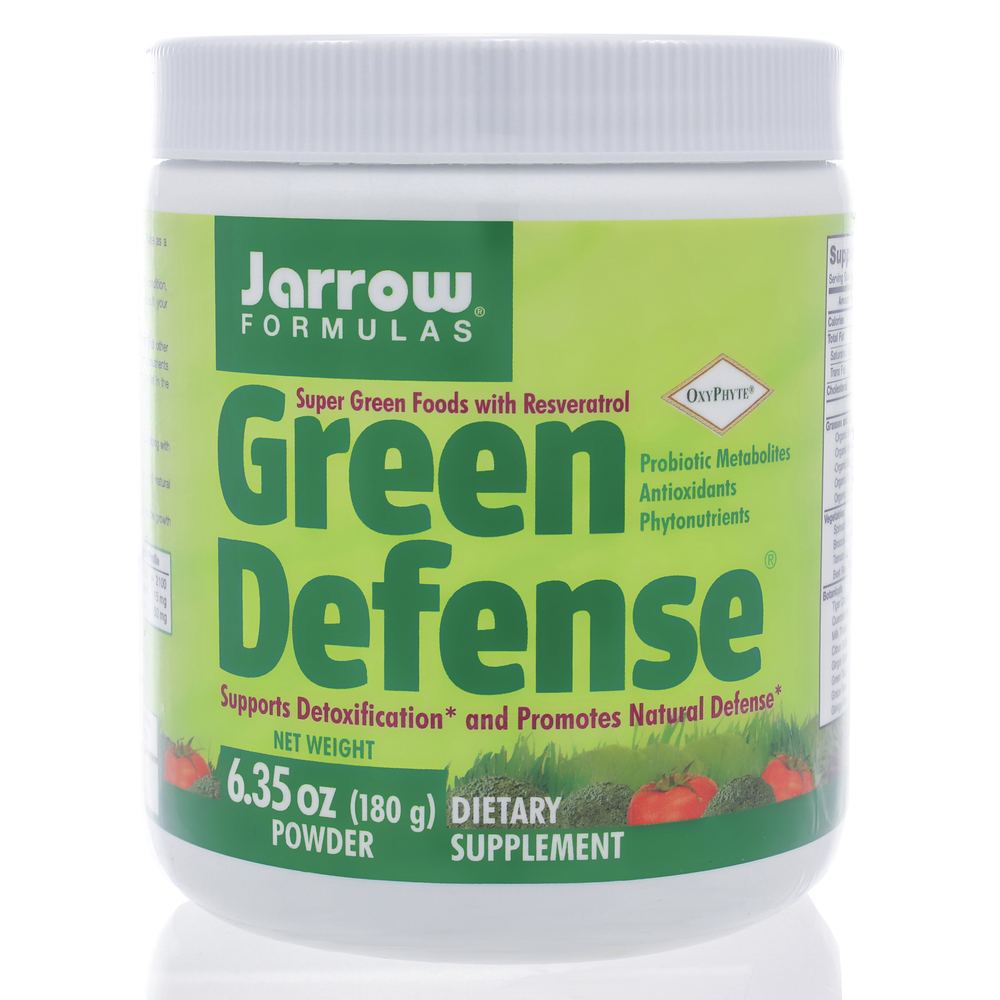 SKU: JAR-GDEF
Green Defense
-Supports Detoxification* and Promotes Natural Defense*
-Functional Greens Powder Formula
-+Resveratrol & probiotic metabolites
-Extremely Low in Heavy Metals
-2100 ORAC Value per Serving
-Highly Digestible & Vegetarian Safe
Scientific studies confirm that phytonutrients such as chlorophyll, polyphenols, carotenoids and other antioxidants help support the body's antioxidation defense.* Green Defense is rich in phytonutrients that help support the body's self-defense mechanisms, detoxify and nourish the body and assist in the achievement of total well being.*

Green Defense provides an array of nature's best ingredients:
-Antioxidants, including the stilbene resveratrol from tiger cane root (Polygonum cuspidatum) along with polyphenols from green tea, grape seed and citrus.
-Metabolin probiotic metabolites (a rich source of organic acids, polysaccharides and natural bacteriocins) to help balance the intestinal microflora and promote detoxification.*
-Fibers from apple, rice bran, gum acacia and FOS (FructoOligoSaccharides) to promote the growth of good bacteria and enhance detoxification.*
Add 1 scoop of powder to 6 oz. of water or juice. Mix or blend until smooth. Take as a dietary supplement or as directed by your qualified healthcare professional.
Serving Size: approx: 6 g (1 Scoop)

Amount Per Serving
Calories ... 25
Total Fat ... Saturated Fat ...0 g
Trans Fat ...0 g
Cholesterol ...0 mg

Grasses and Algae ... 2, 780 mg †
Organic Barley Grass Powder (Hordeum vulgaris), Organic Quinoa Powder (Chendopodium quinoa), Organic Spirulina Powder (Spirulina platensis), Organic Oat Grass Powder (Avena sativa), Organic Wheat Grass Powder (Triticum aestivum)
Vegetables ... 1, 170 mg †
Spinach Juice Powder (Spinacia oleracea), Broccoli Juice Powder (Brassica oleracea), Tomato Juice Powder (Solanum lycopersicon linne), Beet Root Juice Powder (Beta vulgaris)
Botanicals ... 310 mg †
Resveratrol (from Tiger Cane Extract [Polygonum cuspidatum]), Quercetin (from Dimorphandra mollis), Milk Thistle Extract (Silybum marianum), Citrus Bioflavonoids, Ginger Extract (Zingiber officinale), Green Tea Extract (Camellia sinensis), Grape Seed Extract (90% Polyphenols) (Vitis vinifera), Ginkgo Biloba Extract (Ginkgo biloba)
Fibers ... 1, 220 mg †
Organic Gum Acacia, Nutra FOS (FructoOligoSaccharide), Rice Bran Powder, Apple Fiber
Probiotic Metabolites ... 60 mg †
Metabolin (Propionibacterium shermani)

Other Ingredients: Soy lecithin, soluble tapioca starch, natural green tea flavor and Lo Han Guo (Siraitia grosvenorii).
Contains: Soy (lecithin) & wheat (from wheat grass).
No dairy, no egg, no fish/shellfish, no peanuts/tree nuts.
No refined sugars or artificial flavors.
Suitable for vegetarians/vegans.
Packaged with desiccant. DO NOT eat or swallow the desiccant. If you have a medical condition, are pregnant, lactating, trying to conceive, under the age of 18, or taking medications, consult your healthcare professional before using this product.
ORAC Value (Oxygen Radical Absorbance Capacity) > 2100/Serving
Oxyphyte is a registered trademark of RFI, LLC.
Appearance of the product may vary due to the nature of the plant ingredients.
Packaged by weight, not by volume
KEEP OUT OF REACH OF CHILDREN.
These statements have not been evaluated by the Food and Drug Administration. This product is not intended to diagnose, treat, cure, or prevent any disease.