Greens First Berry 288g
Greens First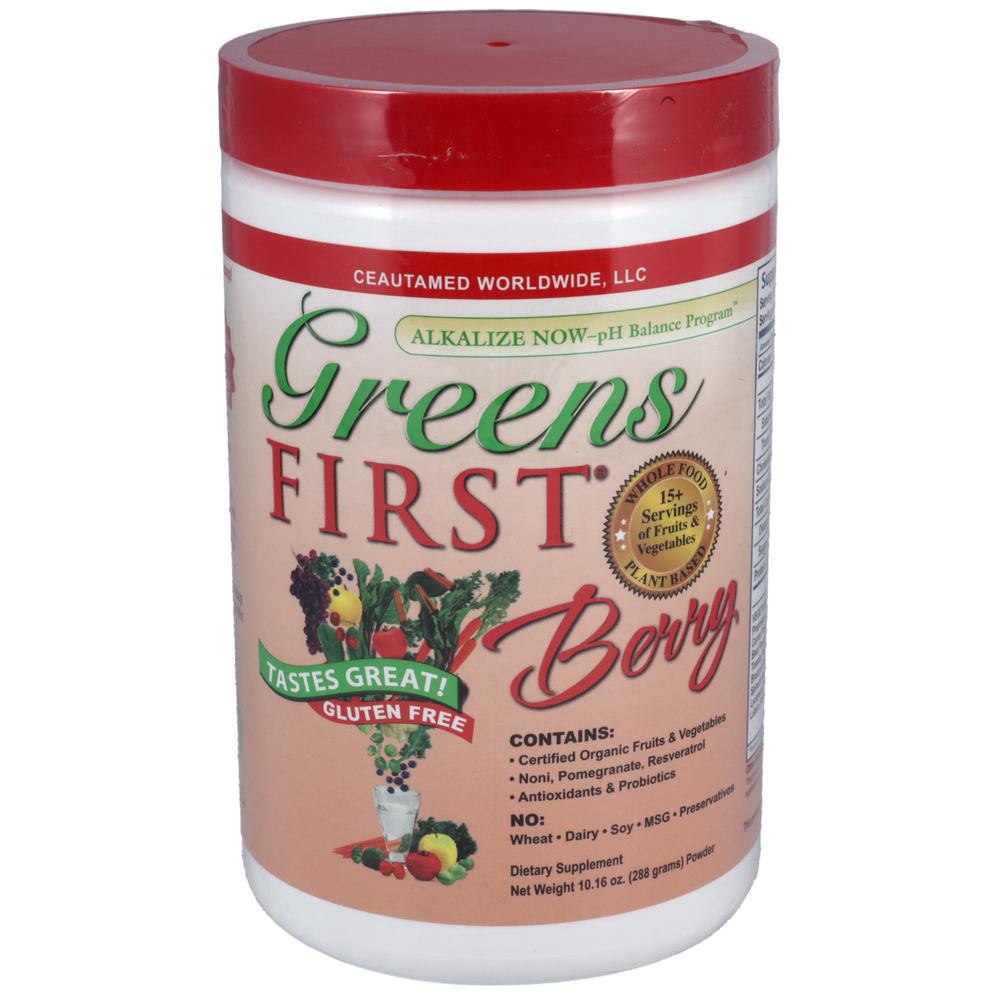 SKU: DFN-GFB
Greens First Berry 288g
Dietary Supplement
Antioxidant Power of 15+ Servings of Fruits and Vegetables in Every Scoop! GREENS FIRST BERRY® HELPS TO SUPPORT pH ALKALINE BALANCE* Greens First Berry® is a nutrient-rich, antioxidant super food with a special "Orchard Blend" that helps to alkalize, balance and nourish your whole body…plus, it gives you something unexpected…GREAT TASTE! MORE THAN VITAMINS Greens First Berry® works synergistically in your body and provides a wide spectrum of antioxidant protection. Our hand-selected Vegetable Power™ and Super Antiox™ Blends help your body protect against unstable free radicals that can damage cells and assist in promoting overall health & wellbeing.* Greens First Berry® is GLUTEN-FREE! It has been specifically formulated for those who want to get their fruits & vegetables in a delicious and convenient whole food drink mix without gluten or other common allergens. CONTAINS NO yeast, corn, wheat, soy, dairy, egg, MSG, preservatives, artificial color or artificial flavor – Contains only whole food, nutritional goodness!
EATING RIGHT JUST GOT EASIER—THE GREENS FIRST WELLNESS SHAKE!
The Greens First Wellness Shake is made by mixing & matching 1 scoop of Greens First® (Original or Berry) together with 1 scoop of either flavor of Greens First Boost® (Chocolate or Vanilla) in 8-10 oz. of cold water. Shake well & enjoy! It's the perfect nutritious and delicious "instant breakfast" or an anytime "energy booster" and part of The Alkalize Now-pH Balance Program.
DIRECTIONS FOR USE: Mix one level scoop with 6-8 oz. of cold water. Shake in a closed container & enjoy. It's perfect first thing in the morning within 30 minutes upon arising or anytime! Refrigerate after opening.
Supplement Facts
Serving Size 9.6g (1 Scoop)
Servings Per Container: 30
Amount Per Serving
Calories 35
Calories from Fat 0
Amount Per Serving / % Daily Value
Total Fat 0g 0%
Saturated Fat 0g 0%
Trans Fat 0g 0%
Cholesterol 0g 0%
Sodium 25mg 1%
Total Carbohydrate 8g 3%
Dietary Fiber 1g 4%
Sugars 3g
Protein 0g
VEGETABLE POWER™ BLEND –
Proprietary 1,085 mg †
Carrot Powder (Certified Organic),
Beet Powder (Certified Organic),
Tomato Powder (Certified Organic),
Broccoli Powder (Certified Organic),
Spinach Powder (Certified Organic),
Lycopene (Lyc-o-mato),
Lutein (Floraglo).
SUPER ANTIOX™ FRUIT BLEND –
Proprietary 5,805 mg †
Red Raspberry Powder (Certified
Organic), Strawberry Powder (Certified
Organic), Cranberry Powder (Certified
Organic), Cherry Powder (Certified
Organic), Blackberry, Plum,
Pomegranate Powder (Certified
Organic), Blueberry Powder (Certified
Organic), Pear, Apple Pectin, Mango
Powder (Certified Organic), Papaya,
Watermelon, Blood Orange, Peach, Red
Currant, Elderberry, Pineapple, Grape
Seed Extract (95%), Noni, Bilberry, Kiwi,
Guava.
FRUIT & VEGETABLE BLEND
100 mg †
Green Tea Leaf Ext, Plum, Grape Seed
Ext, Cranberry, Rasberry, Tart Cherry,
Pine Bark Ext, Broccoli, Tomato, Carrot,
Spinach, Kale, Brussel Sprout.
Acerola 450 mg †
Rice Bran 225 mg †
Flax Seed 200 mg †
HEALTHY DIGEST
PROBIOTIC BLEND – 200 mg †
Lactobacillus Acidophilus,
Lactobacillus Casei, Lactobacillus
Rhamnosus, Lactobacillus Plantarum,
Bifidobacterium Breve, Bifidobacterium
Longum.
Polygonum Cuspidatum 15 mg †
(Resveratrol 25%)
Astaxanthin (1%) 1 mg †
*Percent Daily Values are based on a 2,000 calorie diet. † Daily Value not established.
Other Ingredients: Lo Han, Cranberry Powder and Natural Flavors. This product contains natural ingredients which may vary by season resulting in minor variances in the specific supplement facts.