Greens First Boost Vanilla 10.58oz
Greens First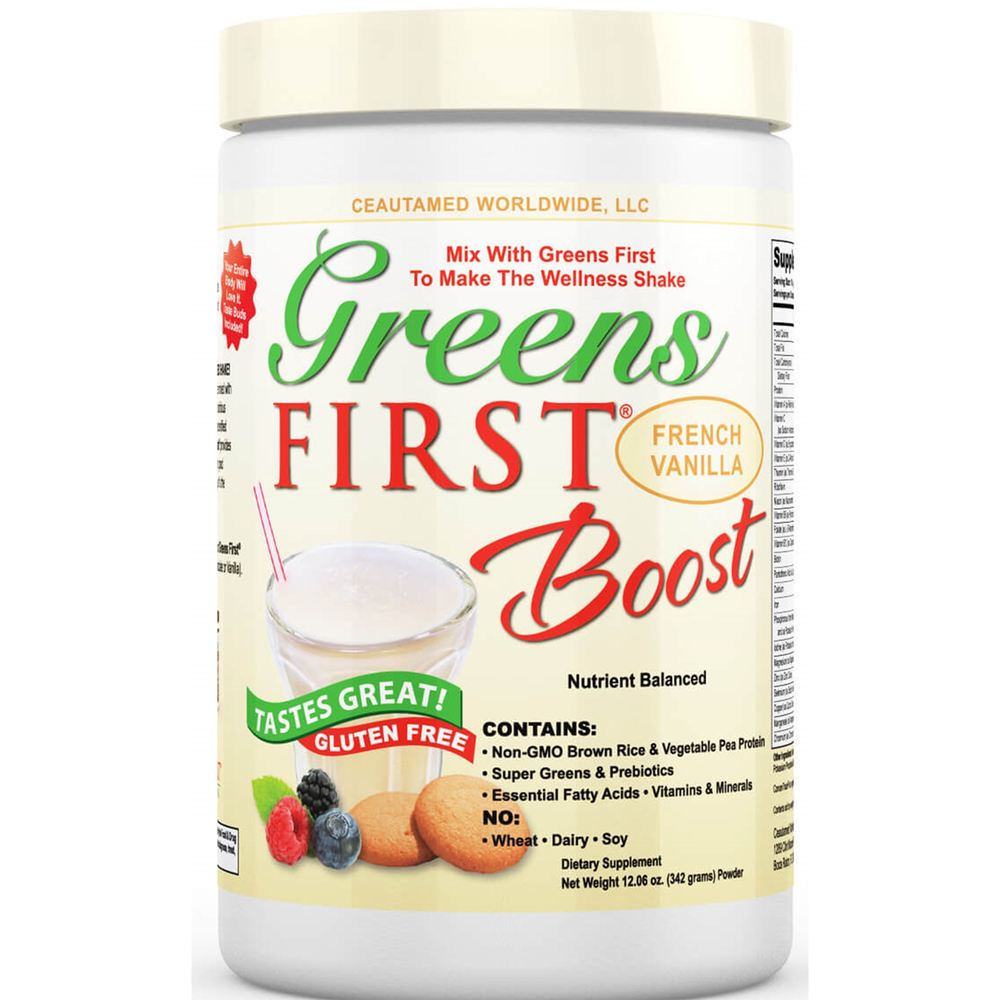 SKU: DFN-GFBV
Greens FIRST Boost French Vanilla

Supplement Facts
Seving Size: 10 g (1 scoop)
Serving per Container: 30
Amount per Serving:

Total Calories 38
Calories From Fat 6.4
Total Fat .8g
Saturated Fat .8 g
Trans Fat 0 g
Cholesterol 0 g
Sodium 44 mg
Total Carbohydrate 3.6 g
Dietary Fiber 1.2 g
Sugars .2 g
Protein 4.5 g
Vitamin A (as Acetate) 640 IU
Vitamin C (as sodium ascorbate and acerola powder) 24 mg
Vitamin E (as d-alpha tocopheryl succinate) 4.5 IU
Vitamin D2 (as Ergocalciferol) 40 IU
Vitamin B1 (as Thiamin HCl) .6 mg
Vitamin B2 (as Riboflavin) .68 mg
Niacin (Niacinamide) 8 mg
Vitamin B6 (Pyridoxine HCl) .8 mg
Folic Acid 40 mcg
Vitamin B12 (Cyanacobalamin) 2.4 mcg
Biotin 30 mcg
Vitamin B5 (d-calciun pantothenate) 1 mg
Calcium (Calcium citrate and Hydrilla) 100 mg
Phosphorus (Magnesium Phosphate, Potassium Phosphate) 80 mg
Iodine (Potassium iodide) 15 mcg
Magnesium (as Phosphate) 50 mg
Zinc (as oxide) 1.8 mg
Selenium (Sodium Selenite) 7 mcg
Copper (as oxide) .2 mg
Manganese (as sulfate) .2 mg
Chromium (as Dinicotinate Glycinate) 12 mcg
Molybdenum (sodium molybdate) 7.5 mcg
Potassium (as Potassium Phosphate, as Potassium Chloride) 136 mg

Vegetable Protein Blend 5.7 g
--Non GMO Vegetarian/Vegan blend of vegetable pea protein concentrate and brown rice protein

Complex Carbohydrate -- Super Greens Blend 40 mg
--Organic cabbage leaf, organic cauliflower, organic spiruline, chlorella, mustard seed, nettle leaf, alfalfa leaf, bitter mellon fruit extract, broccoli powder, brussels sprout leaf

Healthy Oil --Essential Fatty Acid Blend 1560 mg
--Contains Omega 3, 6 fatty acid, olive oil powder, safflower powder, flaxseed oil powder.

Trace Mineral Blend 400 mcg
--Concen Trace Alfalfa

Flora Support and Enzyme Blend 1100 mg
--Inulin (natural food fiber), guar gum, gum acacia, bromelain, lipase and protease

Digestion Blend 25 mg
--Olive leaf extract, grape leaf extract, pomegranate fruit extract

Anti-Oxidant and Energy Blend 50 mg
--Organic strawberry fruit powder, organic raspberry, fruit powder, green tea leaf extract, cinnamon twig extract, licorice root extract, polygonum caspidatum (resveratrol), 5 HTP, panax ginseng root extract, apple pectin, banana fruit powder, cayenne fruit, chamomile flower, citrus pectin, ginkgo leaf extract, jujube fruit, rhodiola root extract, asian ginseng root and peppermint leaf.

Other Ingredients
Carrageenan, vanilla and natural flavors, silica, stevia,

No nuts. No peanuts.

Suggested Use
Wellness Shake (Greens FIRST & Greens FIRST Boost): Mix 1 scoop of Greens FIRST & 1 scoop of Greens FIRST Boost together in 8-10 oz of cold water. Shake well & enjoy. Follow with 6 oz of water for best results.

Meal Replacement: Mix 1 scoop of Greens FIRST Boost in 8 oz of cold water. Shake & enjoy! Follow with 6 oz of water for best results.

Weight Loss: Consume 1 Wellness Shake for breakfast (1 scoop of Greens FIRST & 1 scoop of Greens First Boost in 8-10 oz water). Then, take 1 Greens FIRST Boost as a meal replacement for either lunch or dinner. Eat healthy snacks & one sensible whole meal food.

**Follow the greens first weight loss to wellness 12-week challenge along with a sensible diet & regular exercise. Results may vary. Do not use as a replacement for more than 2 meals or consume less than 1200 calories per day. Always consult your healthcare provider before starting any weight loss program.