Greens First Original PRO 10oz
Greens First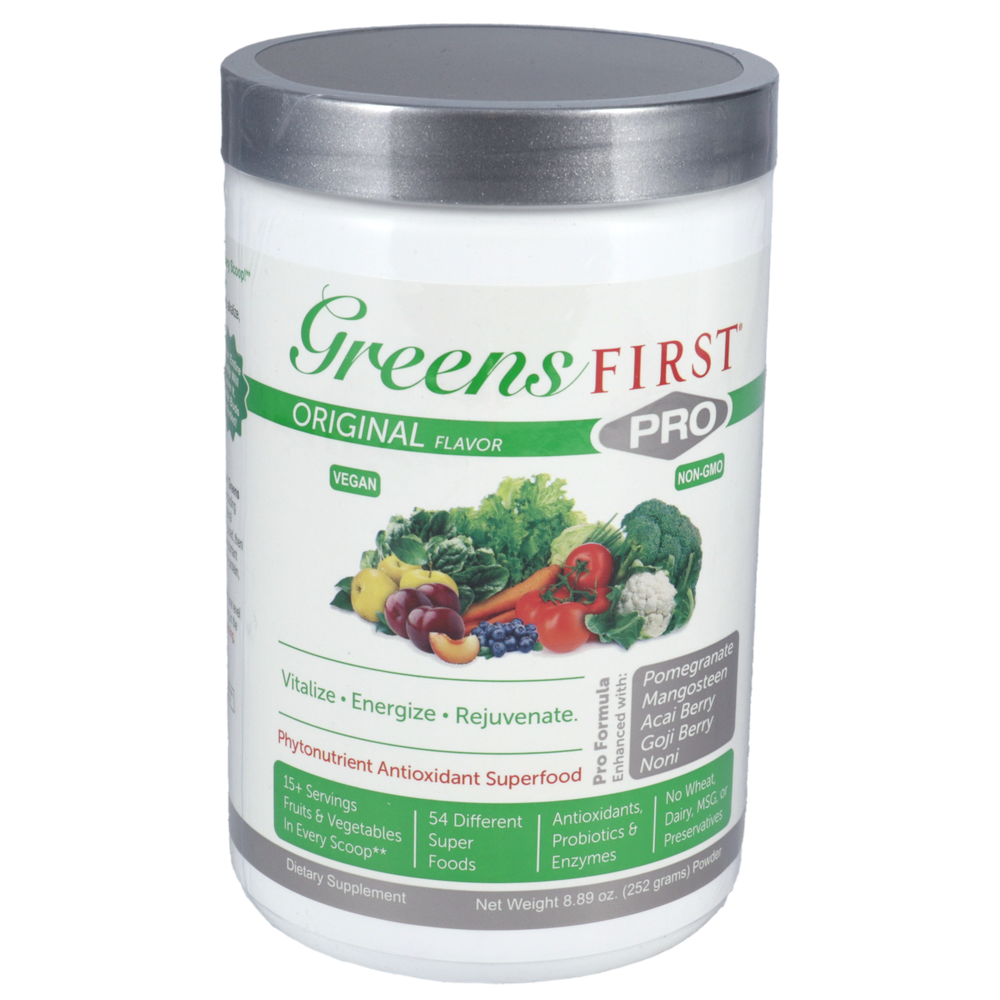 SKU: DFN-GFPRO
Greens First Pro Original 9.95 oz
Dietary Supplement
Antioxidant Power of 15+ Servings of Fruits and Vegetables in Every Scoop!**
GREENS FIRST PRO® HELPS TO SUPPORT pH ALKALINE BALANCE*
Greens First Pro® is a nutrient-rich, antioxidant super food that may help to alkalize, balance and nourish your whole body…plus, it gives you something unexpected…GREAT TASTE!
HEALTHY NEVER TASTED SO GOOD!
What makes Greens First Pro® The Number One Choice in Super Food Drink Mixes? Greens First Pro® is guaranteed to be great tasting and refreshing; Just mix with cold water. Greens First Pro® is fortified with proprietary OxiSure™ Blend, so each serving has the phytonutrient and antioxidant power of 15+ servings of fruits and vegetables!**
Greens First Pro® is fortified with Beta-Glucan, a USDA patented oat fiber! Greens First Pro® contains 54 different super foods, extracts and concentrates, including supergreens, vegetables, fruits, probiotics, soluble fiber, herbs, spices, natural flavonoids, enzymes and lecithin. Greens First Pro® superfoods are first juiced, then naturally spray dried without solvents at low temperature, leaving all the important nutrients intact. Greens First Pro® CONTAINS NO yeast, corn, wheat, soy protein, dairy, egg, MSG, preservatives, artificial color or artificial flavor.
DIRECTIONS FOR USE: Put 6-8 oz. of cold water into a shaker cup. Add one level scoop of product. Shake in a closed container & enjoy. It's perfect first thing in the morning within 30 minutes upon arising or anytime! Refrigerate after opening.
Supplement Facts:
Serving size: 9.4 g (1 scoop)
Servings per container: 30
Amount per serving:
Calories 40
Calories from fat 10
Total Fat 1g
Saturated Fat 0g
Trans Fat 0g
Cholesterol 0g
Sodium 15mg
Total Carbohydrate 6g
Dietary Fiber 1g
Sugars 1g
Protein 1g
Amount per serving
Greens Blend - Proprietary 2500 mg
Barley Grass Juice Powder (Certified Organic),
Chlorella (Cracked Cell Wall),
Spirulina USA (Certified Organic)
Vegetable Blend - Proprietary 1500 mg
(Certified Organic)
Carrot Juice Powder, Cauliflower Juice Powder,
Broccoli Juice Powder, Spinach Juice Powder,
Parsley Juice Powder, Kale Juice Powder
OxiSure™ Blend - Proprietary 300 mg
Carrot Root Powder, Green Tea Extract, Plum, Grape
Seed Extract, Tart Cherry, Broccoli, 'HiActives' Tomato
2000, 'HiActives' Carrot 1200, 'HiActives' Spinach
700, 'HiActives' Kale, Pine Bark Extract,'HiActives'
Brussels Sprout, Cranberry, Raspberry, Blueberry.
Fiber Blend - Proprietary 1950 mg
Oat Betaglucan (Certified Organic),
Apple Fiber Pectin, Brown Rice Bran
Lecithin (Non GMO Soy) 1800 mg
Enzyme Blend 200 mg
Bromelain Extract (80 GDU Per Gram), Papain,
Protease, Amylase, Lipase, Cellulase, Lactase
Probiotics (Dairy Free) 200 mg
L.Acidophilus, B.Longum, L.Casei, L.Rhamnosus
Sprouted Barley (Certified Organic) 200 mg
ResveraMax™ Blend - Proprietary 100 mg
Polygonum Cuspidatum Extract
(25% Trans-Resveratrol), Acerola Cherry Powder
(Certified Organic), Concord Grape Powder
Green Tea Extract (Decaffeinated) 100 mg
(60% Polyphenols)
Quercetin (95% Dihydrate) 100 mg
Milk Thistle Seed Extract (80% Silymarin) 75 mg
Red Beet Powder (Certified Organic) 50 mg
Cinnamon (Cassia) Bark Powder 50 mg
(Certified Organic)
Aloe Leaf Powder (Certified Organic) 50 mg
Turmeric Rhizome Extract 20 mg
(95% Curcuminoids)
Atlantic Kelp Powder (Certified Organic) 15 mg
Mangosteen Fruit Powder 5 mg
Goji (Lycium) Berry Powder 5 mg
Acai (Cabbage Palm) Berry Powder 5 mg
Pomegranate Fruit Powder 5 mg
Noni Fruit Powder 5 mg
Licorice Root Extract 5 mg
Other Ingredients: Citric Acid, Stevia Leaf Extract, Natural Flavors (Spearmint & Orange).
Contents sold by weight not volume. Some settling will occur. This product has been sealed for your protection. Do not use if seal on cap is broken.
*These statements have not been evaluated by the Food & Drug Administration. This product is not intended to diagnose, treat, cure or prevent any disease.