Berry Green SuperFood
Amazing Grass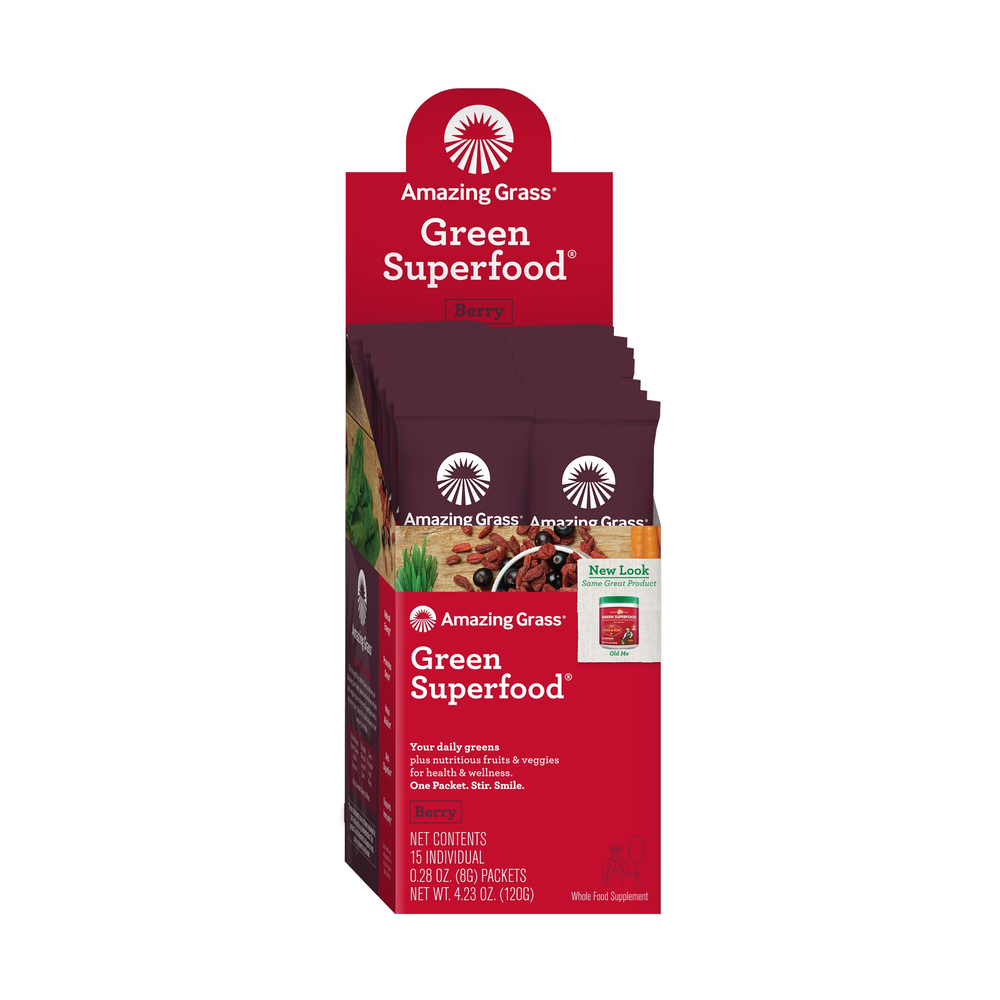 SKU: AZG-15CTBGSFB
Amazing Grass Berry Green SuperFood is a delicious drink powder infused with acai and goji berries to help you achieve your 5 to 9 daily servings of fruits and vegetables. A full spectrum of alkalizing green superfoods, antioxidant rich fruits, and support herbs unite with organic Acai and Goji berries to provide a powerful dose of whole food nutrition with a delicious berry taste.

• Naturally detoxifies & boosts your immune system
• Probiotics and Enzymes to aid digestion & absorption
• Complete raw food with powerful antioxidants
• Alkaline green plant foods balance acidic pH levels
• Contains over 70% Organic ingredients
• More organic whole leaf greens per gram than other green superfoods - not from juice
• Featuring Sambazon organic pure açaí powder
• No soy lecithin fillers
• Nitrogen packed for freshness
One box of single serving packets, 15 individual packets per box. Serving size: one packet, 8 grams. Mix a packet with 8 to 16 oz of your favorite juice or water. We like orange, apple, or grape juice, or try it in a smoothie. Take it first thing in the morning to jump-start your day! We recommend 1-3 servings daily.
Serving Size: one packet (8 grams)
Amount Per Serving
Calories ... 30
Calories from fat ... 5
Total Fat ... 1g
Total Carbohydrate ... 4g
Dietary Fiber ... 2g
Sugars ... 0g
Protein ... 2g
Vitamin A ... 4945IU
(as beta carotene)
Vitamin C ... 28mg
Vitamin K ... 39mcg
Riboflavin ... 0.37mg
Niacin ... 0.5mg
Vitamin B6 ... 60mcg
Folic Acid ... 52mcg
Vitamin B12 ... 1.4mcg
Calcium ... 30mg
Iron ... 2mg
Iodine ... 9mcg
Selenium ... 4mcg
Manganese ... 240mcg
Sodium ... 8mg
Potassium ... 131mg
Chlorophyll ... 30mg
Amazing Grass Green Food Blend ... 5722mg
Organic wheat grass, organic barley grass, organic alfalfa, organic spirulina, organic spinach, organic chlorella (cracked cell-wall), organic broccoli
Amazing Grass Antioxidant Blend ... 1081mg
Organic acai, organic maca, organic carrot, organic beet, raspberry, organic rose hips, organic pineapple, organic Goji Berries, green tea, acerola cherry
EFA Fiber Blend ... 670mg
Organic flax seed powder, apple pectin fiber
Digestive Enzyme & Active Culture Pre & Probiotic Blend ... 429mg
F.O.S. (Fructooligosaccharide from Chicory Root), Lactobacillus Acidophilus, Protease (Aspergillus oryzae), Amylase (Aspergillus oryzae), Lipase (Aspergillus niger), Lactase (aspergillus oryzae), Cellulase (Trichoderma reesei)
Other Ingredients: Natural Flavors, Peppermint, silica
.