Chocolate Protein Peanut Green SuperFood Bars
Amazing Grass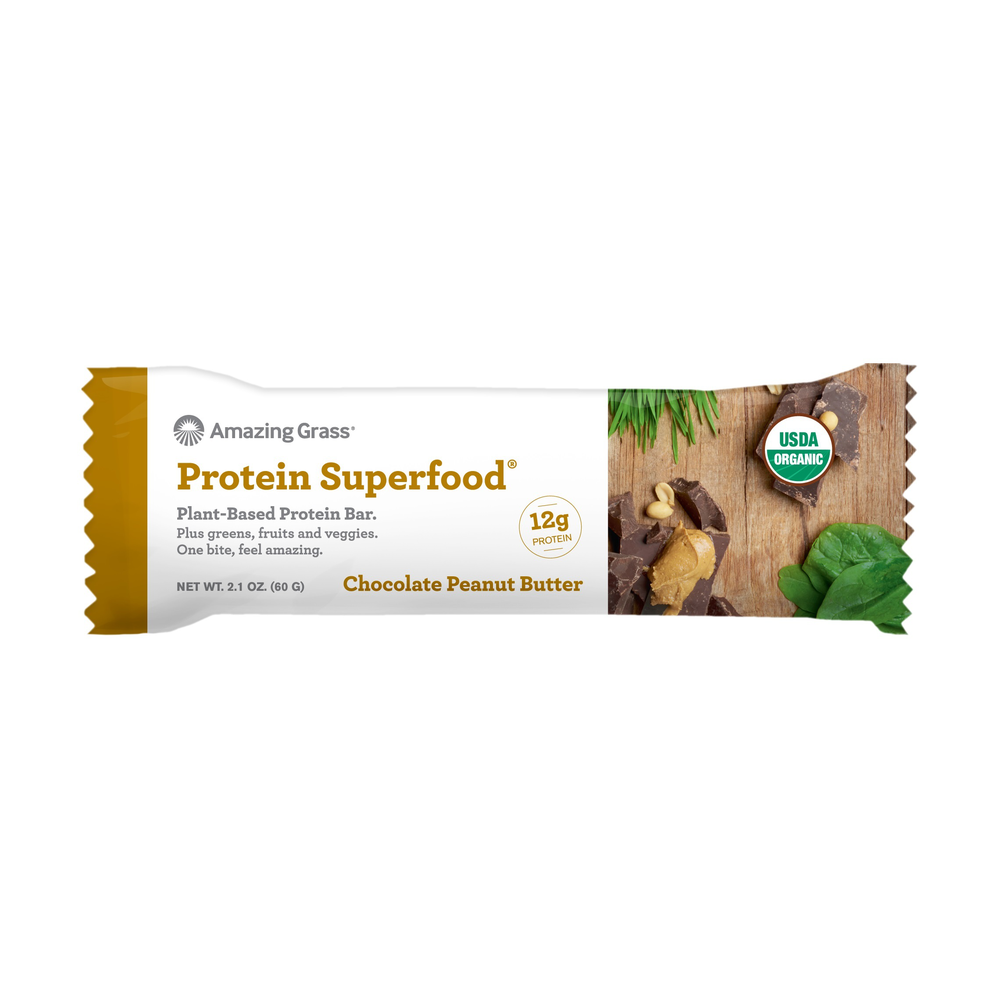 SKU: AZG-PROPBAR
Organic Green SuperFoods in the Palm of Your Hand! Amazing Grasss Chocolate Peanut Butter Protein Bar is a premium blend of organic peanuts and whey protein in a chocolate covered bar that will satisfy your hunger anytime of the day. One caddy contains 12 - 60 gram bars. 270 calories 14 grams of fat (healthy omegas) 12 grams of protein 19 grams of sugar 28 grams of carbohydrates Weve taken our alkalizing Green SuperFood, with antioxidant rich fruits and vegetables and combined them in a bar that will satisfy your hunger and deliver nutrients to your body the way Mother Nature intended...unprocessed, organic and delicious. Gluten Free . Fair Trade . Whey Protein.
Enjoy
Serving Size: 1 bar (63g)
Amount Per Serving
Calories ... 270
Calories from Fat ... 130
Fat ... 14g
Saturated Fat ... 4g
Trans Fat ... 0g
Cholesterol ... 15mg
Sodium ... 190mg
Potassium ... 250mg
Carbohydrates ... 28g
Fiber ... 3g
Sugars ... 19g
Protein ... 12g
Vitamin A ... 35%
(100% as Beta-carotene)
Vitamin C ... 15%
Calcium ... 10%
Iron ... 8%
Vitamin K ... 15%
Vitamin B12 ... 6%
Ingredients: Organic Peanut Butter, Organic Agave Nectar, Organic Dates, Whey Protein Concentrate, Organic Peanuts, Organic Rice Crisps, Amazing Grass Green Super Food (Organic Wheat Grass, Organic Barley Grass, Organic Alfalfa, Organic Spirulina, Organic Spinach, Organic Chlorella, Organic Broccoli, Organic Acai, Organic Maca, Organic Carrot, Organic Beet, Raspberry, Organic Rose Hips, Organic Pineapple, Green Tea, Organic Flax Lignans, L. Acidophilus, Alpha and Beta Amylase, Protease, Lipase, Lactase, Cellulase, Organic Peppermint), Natural Flavor, Peanut Extract, Organic Vanilla Extract, Sea Salt
Organic Dark Chocolate Coating: Cane Sugar, Unsweetened Chocolate, Cocoa Butter, Non-GMO Soy Lecithin, Natural Vanilla Flavor
Allergy Information: Contains Almonds and Cashews. Manufactured in a plant that processes wheat, milk, eggs, soy, peanuts and tree nuts. Contains minimally processed whole food ingredients, which therefore may include pit, stem, or shell pieces.
It looks like there are no similar
products available