Energy Green SuperFood
Amazing Grass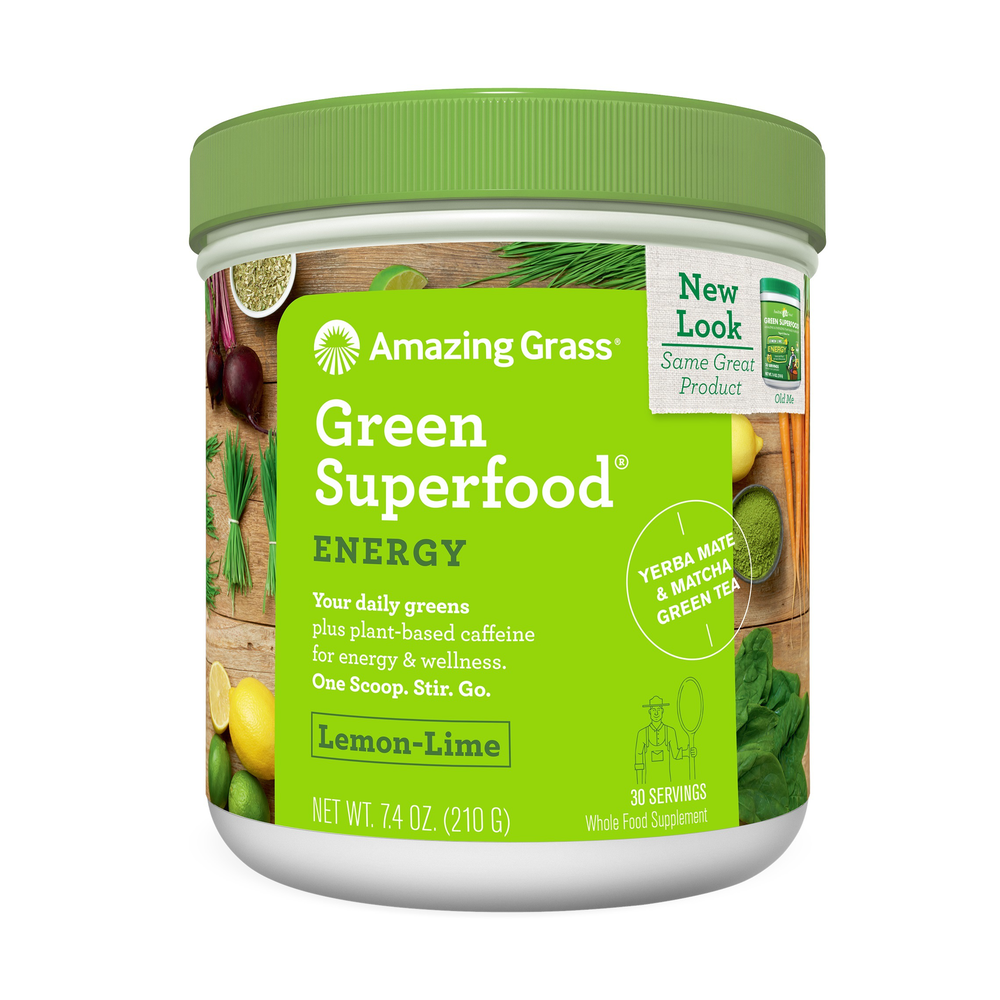 SKU: AZG-74OZEGSF
Amazing Grass Green SuperFood just got an added kick of energy. Featuring Yerba Mate from Guayaki and organic Matcha green tea. These plant ingredients are loaded with polyphenols that support energy, vitality and clarity. Blended to perfection in a delicious tasting lemon lime powder that mixes well with juice, water or your favorite beverage.
Infused with a kick of energy from yerba mate & matcha
Helps you achieve your recommended 5 To 9 daily servings of fruits and vegetables
Boost energy levels with natural stimulants
Contains plant based caffeine
Contains probiotics and enzymes to aid digestion and absorption
Contains over 70% organic ingredients
More organic whole leaf greens per gram than other green superfoods - not from juice
Featuring Sambazon aai powder
Featuring Guayaki yerba mate
No soy lecithin fillers
Mix 1 scoop with 6 or more oz. of water, juice or your favorite smoothie. Take it first thing in the morning to jump-start your day or whenever you are tired! This product contains approximately 85mg of plant-based caffeine.
Serving Size: one scoop (7 grams)

Amount Per Serving
Calories ... 30
Calories from fat ... 5
Total Fat ... 1g
Total Carbohydrate ... 4g
Dietary Fiber ... 2g
Sugars ... 0g
Protein ... 2g
Vitamin A ... 4945IU
(as beta carotene)
Vitamin C ... 28mg
Vitamin K ... 39mcg
Riboflavin ... 0.37mg
Niacin ... 0.5mg
Vitamin B6 ... 60mcg
Folic Acid ... 52mcg
Vitamin B12 ... 1.4mcg
Calcium ... 30mg
Iron ... 2mg
Iodine ... 9mcg
Selenium ... 4mcg
Manganese ... 240mcg
Sodium ... 8mg
Potassium ... 131mg
Chlorophyll ... 30mg
Amazing Grass Green Food Blend ... 3586mg
Organic wheat grass, organic barley grass, organic alfalfa, organic spirulina, organic spinach, organic chlorella (cracked cell-wall), organic broccoli
Energy Blend ... 931mg
Organic Yerba Mate extract, Matcha Green Tea
Amazing Grass Antioxidant Blend ... 522mg
Organic acai, organic maca root, organic carrot, organic beet, raspberry, organic rose hips, organic pineapple, acerola cherry
EFA Fiber Blend ... 420mg
Organic flax seed powder, apple pectin fiber
Digestive Enzyme & Active Culture Pre & Probiotic Blend ... 268mg
F.O.S. (Fructooligosaccharide from Chicory Root), Lactobacillus Acidophilus, Protease (Aspergillus oryzae), Amylase (Aspergillus oryzae), Lipase (Aspergillus niger), Lactase (aspergillus oryzae), Cellulase (Trichoderma reesei)
Stevia Leaf Extact ... 10mg
Other Ingredients: Natural Flavors, Citric Acid, Peppermint Leaf, Silica