Raw Reserve Green SuperFood
Amazing Grass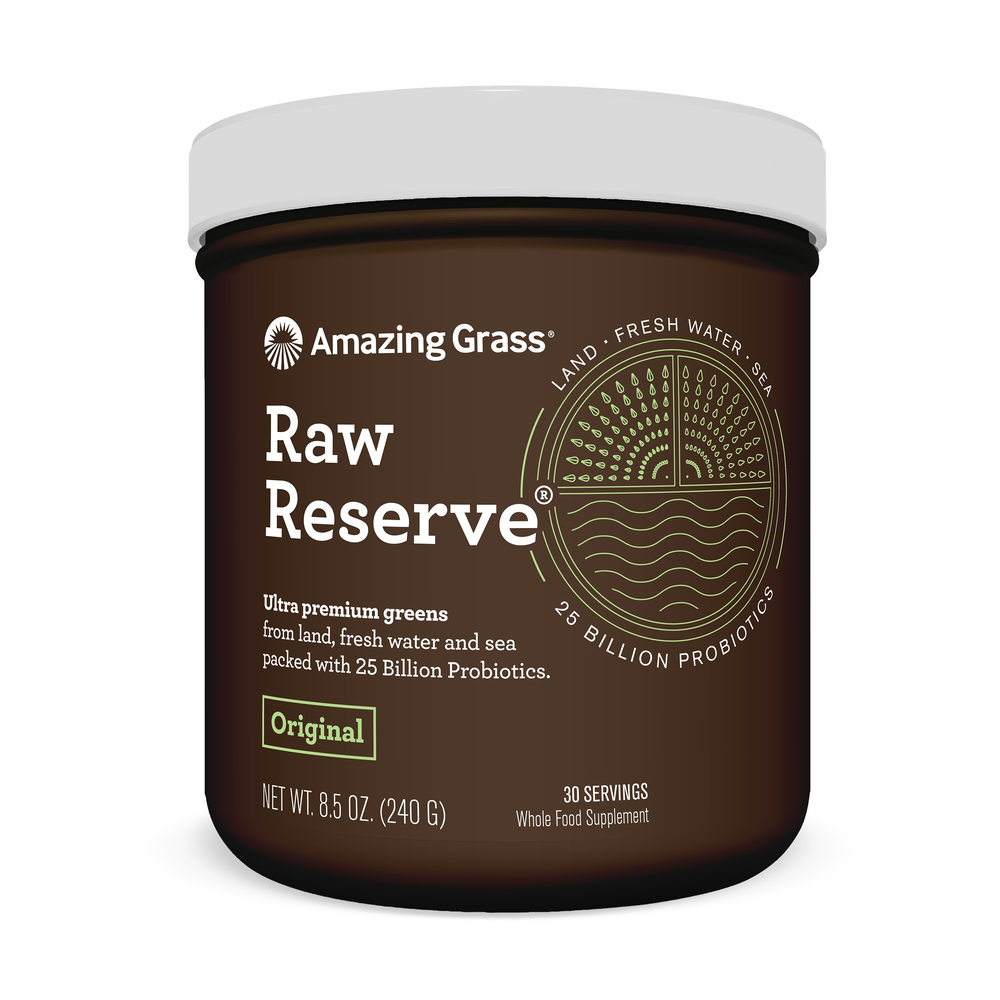 SKU: AZG-85OZRRG
A Confluence Of Algaes, Cereal Grasses, Sea Vegetables & Other Functional Foods
On Amazing Grasss family run farm in the middle of Kansas they've devoted hundreds of acres to growing the most nutrient dense cereal grasses on the face of the Earth. Building on this foundation, we've added some of the most functional food sources available from land, fresh water and the sea. A blend of AFA's, spirulina, chlorella and sea vegetables from the coast of Maine, like kelp and sea lettuce. Offering an array of free radical fighting plants and herbs, each ingredient in Raw Reserve is completely raw, vegan and of the highest quality. Plus, each serving contains over 25 billion live probiotics at the time of bottling. Nothing short of Amazing, Raw Reserve is our testament to the incredible power of nutrition.
• Gluten free, Raw, & Vegan
• Twenty-five Billion Probiotics Per Serving
• USDA Certified Organic
• Nitrogen packed for freshnes
The box of packets has 15 individual 8 gram packets. Serving size: one packet, 8 grams. Mix a packet with 6 or more oz. of your favorite juice or water. We like orange, apple, or grape juice, or try it in a smoothie. Take it first thing in the morning to jump-start your day! We recommend 1-2 servings daily.
Serving Size: one packet (8 grams)
Amount Per Serving
Calories ... 25
Calories from fat ... 5
Total Fat ... >1g
Total Carbohydrate ... 4g
Dietary Fiber ... 2g
Sugars ... > 1g
Protein ... 2g
Vitamin A ... 3695IU
(as beta carotene)
Vitamin C ... 20mg
Vitamin K ... 80mcg
Thiamin ... 0.4mcg
Riboflavin ... 0.6mg
Vitamin B6 ... 0.2mcg
Calcium ... 50mg
Iron ... 2.7mg
Chlorophyll ... 43mg
Greens Blend ... 5, 500mg
Amazing Grass proprietary aquatic algae blend (Organic Spirulina, Organic Chlorella, E3 Live AFA-Organic Aphanizomenon Flos-Aquae), Organic Barley Grass, Organic Wheat Grass, Organic Alfalfa, Organic Nettle, Organic Kale, Organic Dandelion, Organic Kelp, Organic Bladderwrack, Organic Rockweed, Organic Sea Lettuce, Organic Dulse, Organic Alaria
Herbal & Support Foods Blend ... 1, 555mg
Organic Maca, Organic Burdock Root, Organic Ginger, Organic Aloe Vera, Organic Cayenne
EFA Fiber Blend ... 700mg
Organic flax seed powder, Chia Seed
Probiotic & Digestive Enzyme Blend 25 Billion CFUs ... 255mg
Bifidobacterium bifidum, Bifidobacterium breve, Bifidobacterium longum, Lactobacillus acidophilus, Lactobacillus casei, Lactobacillus helveticus, Lactobacillus paracasei, Lactobacillus plantarum, Lactobacillus lactis lactis, Steptococcus thermophilus, Protease (Aspergillus oryzae), Amylase (Aspergillus oryzae) Lipase (Aspergillus niger), Lactase (Aspergillus oryzae) Cellulase (Trichoderma reesei)
It looks like there are no similar
products available