Proper PH
GUNA Biotherapeutics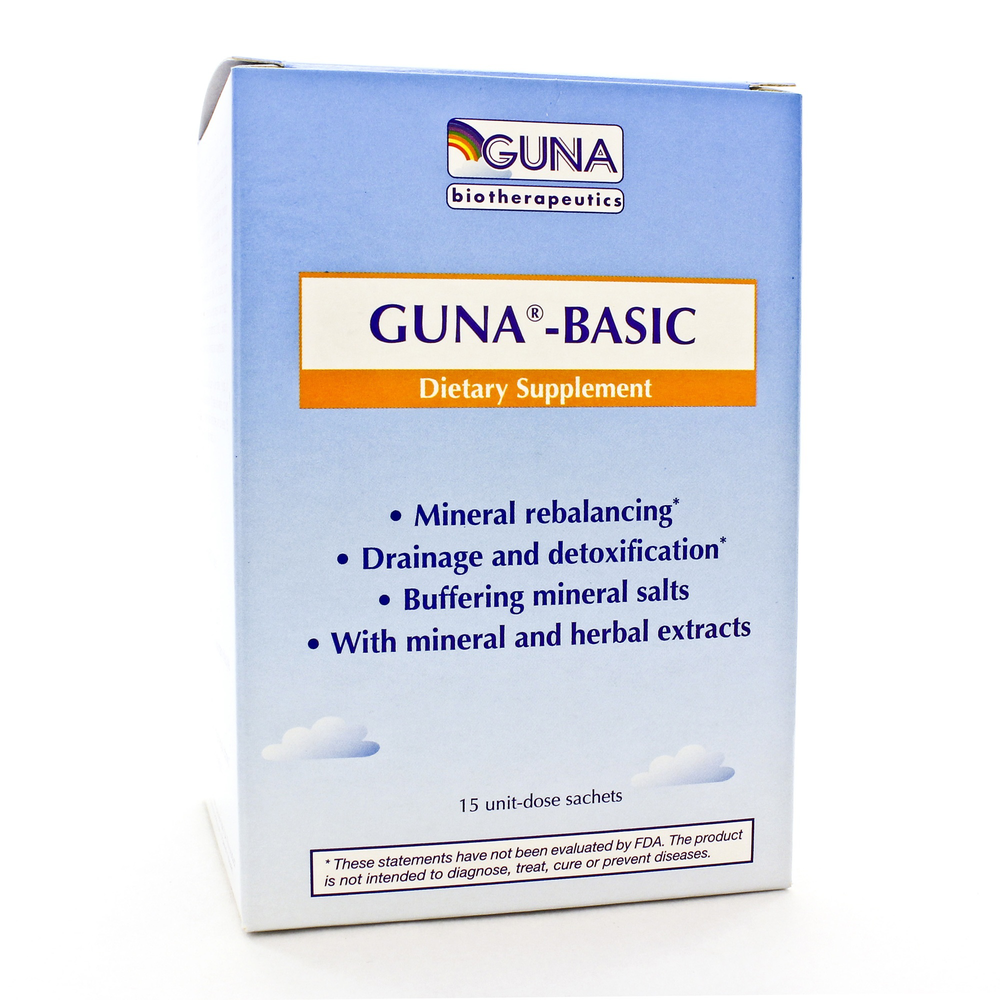 SKU: GUNA-40336
Dietary Supplement
Mineral rebalancing
Drainage and detoxification
Buffering mineral salts
With mineral and herbal extracts
Guna Basic is ideal:
If you are over 50
If you ingest a high protein diet
If you smoke, drink alcohol, have a sedentary lifestyle, or are under a lot of stress
If you are an athlete
If you ingest a low-calorie diet
If you drink a lot of soft drinks or other acidic drinks
If you ingest a lot of protein supplements
Contains: 15 unit dose sachets.
Adults and Children 4 or more years of age- 1 unit dose sachet dissolved in 1/2 glass of water, on an empty stomach in the evening before bedtime, for at least 15 days. To help digestion take it after meals.
Maltodextrins, Magnesium citrate, Potassium citrate, Calcium carbonate, Nettle (Urtica dioica) root dry extract, Carrot (Daucus carota) root dry extract standardized to 1, 8% Beta-carotene, Lemon balm (Melissa officinalis) leaf dry extract standardized to 2% rosmarinic acid, Small-leaved Linden (Tilia cordata) flower dry extract standardized to 1% bioflavonoids, Fennel (Foeniculum vulgare) seeds dry extract standardized to 1% essential oil, Dandelion (Taraxacum officinale) root dry extract, Magnesium oxide, Zinc citrate, Iron phosphate, sweetener: Sucralose; Manganese carbonate, Bamboo fiber (Bambusae sspp.) standardized to 90% Silicon, Selenium methionine, Copper citrate, Ammonium molybdat
Accidental overdose of iron containing products is a leading cause of fatal poisoning in children under 6. Keep this product out of the reach of children. In case of accidental overdose, call a doctor or poison control center immediately.
These statements have not been evaluated by the Food & Drug Administration. This product is not intended to diagnose, treat, cure or prevent any disease.
It looks like there are no similar
products available