Guna-Cell
GUNA Biotherapeutics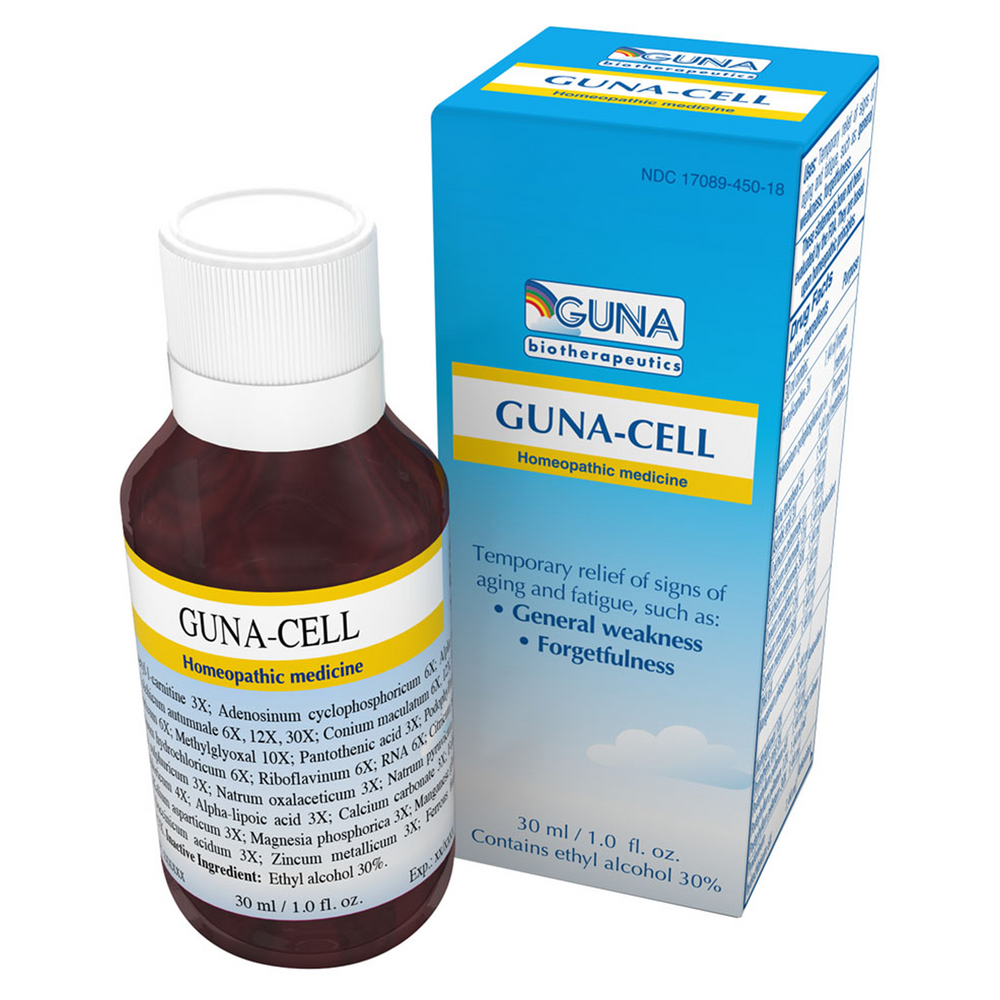 SKU: GUNA-45018
Temporary relief of signs of aging and fatigue, such as: general weakness, forgetfulness
Adults: 10 drops 3 times a day in a little water. Take 15 minutes before meals.
Alpha-lipoic ac 3X HPUS, Acetyl-L-Carnitine 2X, Adenosinum cyclophosphoricum 6X HPUS, Alpha tocopherol 2X, Ascorbic acid 2X, Calcium gluconate 3X, Citricum ac 3X HPUS, Cobalamin 2X, Colchicum autumnale 6X, 12X, 30X, Conium maculatum 6X, 12X, 30X HPUS, Cuprum sulphuricum 3X HPUS, DNA 6X HPUS, Ferrum fumaricum 3X, Folic acid 2X, Fumaricum ac 3X HPUS, Kalium asparticum 3X, Mag phos 3X HPUS, Manganese gluconate 3X, Manganum phosphoricum 6X HPUS, Methylglyoxal 10X, Natrum oxalaceticum 3X HPUS, Nat pyr 3X HPUS, Niacin 2X, Pantothenic acid 2X, Phosphorus 4X HPUS, Podophyllum pelatum 6X, 12X, 30X HPUS, Pyridoxinum hydrochloricum 6X HPUS, Riboflavinum 6X HPUS, RNA 6X HPUS, Selenomethionine 3X, Succinicum acidum 3X, Sulphur 3X HPUS, Thiaminum hydrochloricum 4X HPUS, Zinc gluc 3X HPUS
Keep this and all medicines out of the reach of children.
Stop use and ask a doctor if symptoms persist for more than 5 days or worsen. If pregnant or breast-feeding, ask a health professional before use.