Guna-Geriatrics
GUNA Biotherapeutics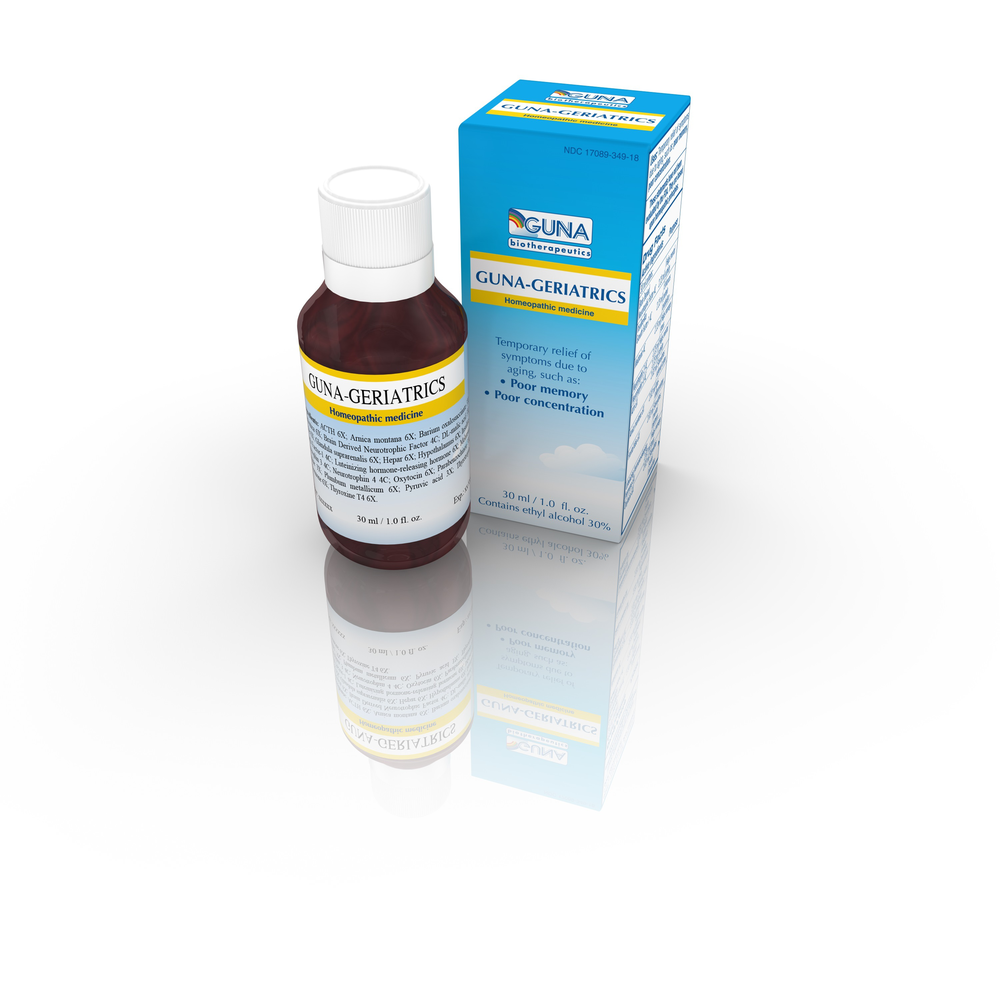 SKU: GUNA-34918
Temporary relief of symptoms due to aging, such as: poor memory, poor concentration
Take 15 minutes before meals
Adults and children 12 years and older: 20 drops in a little water 2 times per
day.
Children between 12 and 6 years of age: 10 drops in a little water 2 times per
day.
Children under 6 years of age: 5 drops in a little water 2 times per day.
Active ingredients: Purposes:
ACTH 6X________Adrenal Support
Arnica montana 6X_______Anti-inflammatory
Barium oxalosuccinate 3X_____Forgetfulness
Baryta carbonica 6X_____Improves Mental Attention
Brain Derived Neurotrophic Factor 4C_____Helps Mental Activity
DL-malic acid 3X_____Promote Cell Metabolism
Frontal lobe 6X_____Stimulates Mental Alertness
Glandula suprarenalis 6X_____Detoxification
Hepar 6X_____Detoxification
Hypothalamus 6X_____Improves Mental Attention
Insuline-like Growth Factor-1 4C_____Enhances Protein Anabolism
Luteinizing hormone-releasing hormone 6X_____Helps Manage Stress
Melatonin 4C_____Helps Manage Stress
Neurotrophin 3 4C_____Helps Mental Activity
Neurotrophin 4 4C_____Helps Mental Activity
Oxytocin 6X_____Stimulates Social Recognition
Parabenzochinon 3X_____Antioxidant
Phenylalanine 3X_____Stimulates Mental Alertness
Plumbum metallicum 6X_____Antiaging
Pyruvic acid 3X_____Antioxidant
Thyrotropin-releasing hormone 6X_____Helps Manage Stress
Thyroxine T4 6X_____Stimulates Mental Alertness
Inactive Ingredient: Ethyl alcohol 30%
Stop use and ask doctor if symptoms of poor memory, impaired concentration
worsen or persist more than 5 days.
Keep out of reach of children.
If pregnant of nursing consult your healthcare professional before using this
product.
*This statement has not been evaluated by the Food and Drug Administration. This
product is not intended to diagnose, treat, cure or prevent any disease.
It looks like there are no similar
products available