Gut Health Formula
Codeage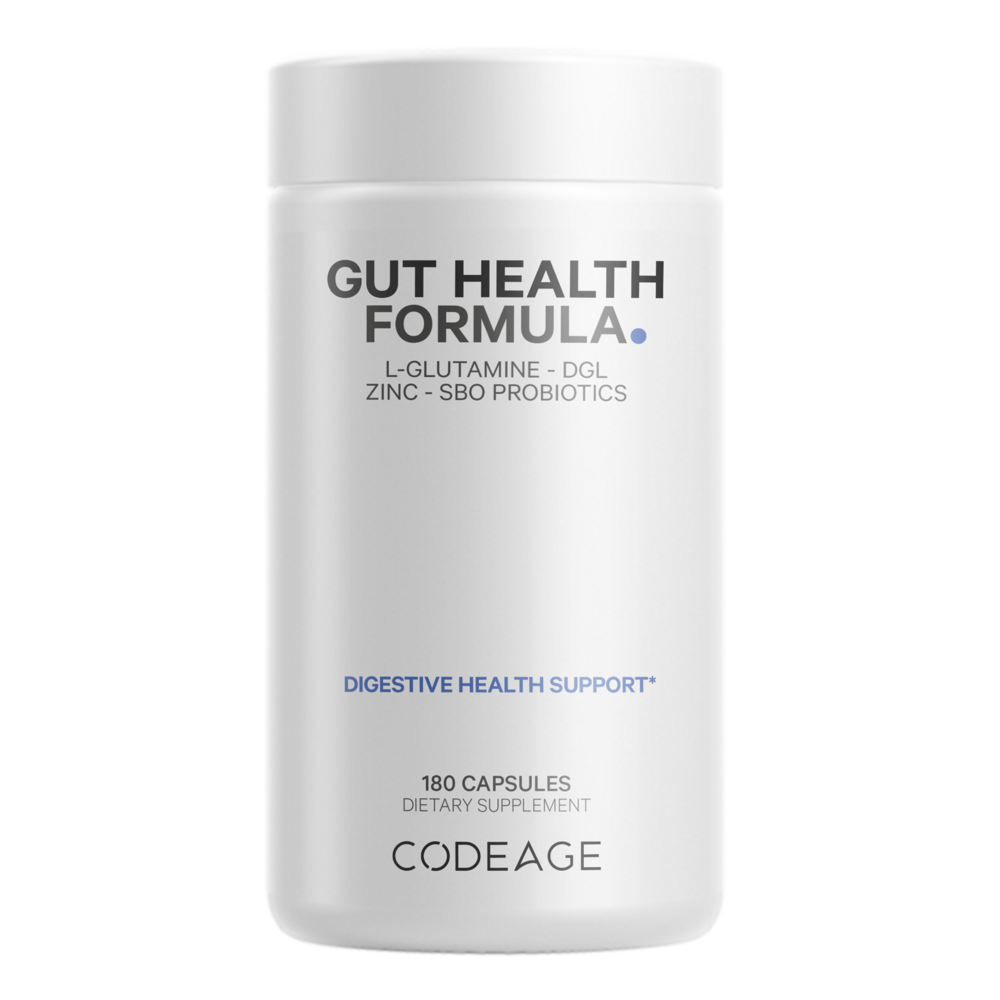 SKU: COD404-853919008250
Codeage Gut Health Formula blend features high-quality prebiotics and probiotics with 10 Billion CFUs per serving, along with L-Glutamine, licorice root, and also a premium blend of minerals, fermented zinc, tonic mushrooms, microalgae, adaptogenic herbs, and bioavailable amino acids.
The ingredients used in this proprietary blend is known to:
Promote healthy digestion*
Be used as a microbiome aid*
Help support the intestinal lining*
Support overall digestive health*
Suggested Use:
Adults take 3 capsules daily with 8 ounces of water or your favorite beverage. May be taken with or without food.
Serving Size:
3 Capsules
Amount Per Serving
Zinc
... 15 mg
(as Citrate)
Gut Integrity Blend
... 850 mg
L-Glutamine, Deglycyrrhizinated Licorice (root), Marshmallow (root)
Tonic Mushroom, Micro Algae and Mineral Blend
... 610 mg
Spirulina, Maitake (Grifola frondosa; Fruiting Bodies), Turkey Tail Mushroom Powder (Trametes versicolor; Fruiting Bodies)
Soil and Plant Based Probiotic and Prebiotic Blend
(10 Billion CFU) ... 390 mg
Saccharomyces boulardii, Bacillus clausii, Bacillus coagulans, Bacillus subtilis, Myoviridae T4, Myoviridae LH01, Myoviridae LL12
Other Ingredients:
Methylcellulose Capsule.
Does not contain:
GMO, gluten, dairy, soy, fillers (or) flow agents.
Ideal for Vegan and Keto Diet
Warning
: Do not exceed recommended dose. Pregnant or nursing mothers and individuals with a known medical condition should consult a physician before using this or any dietary supplement. Please use caution if you have any allergies or sensitivities to any of the listed ingredients. Not intended for those under the age of 18.