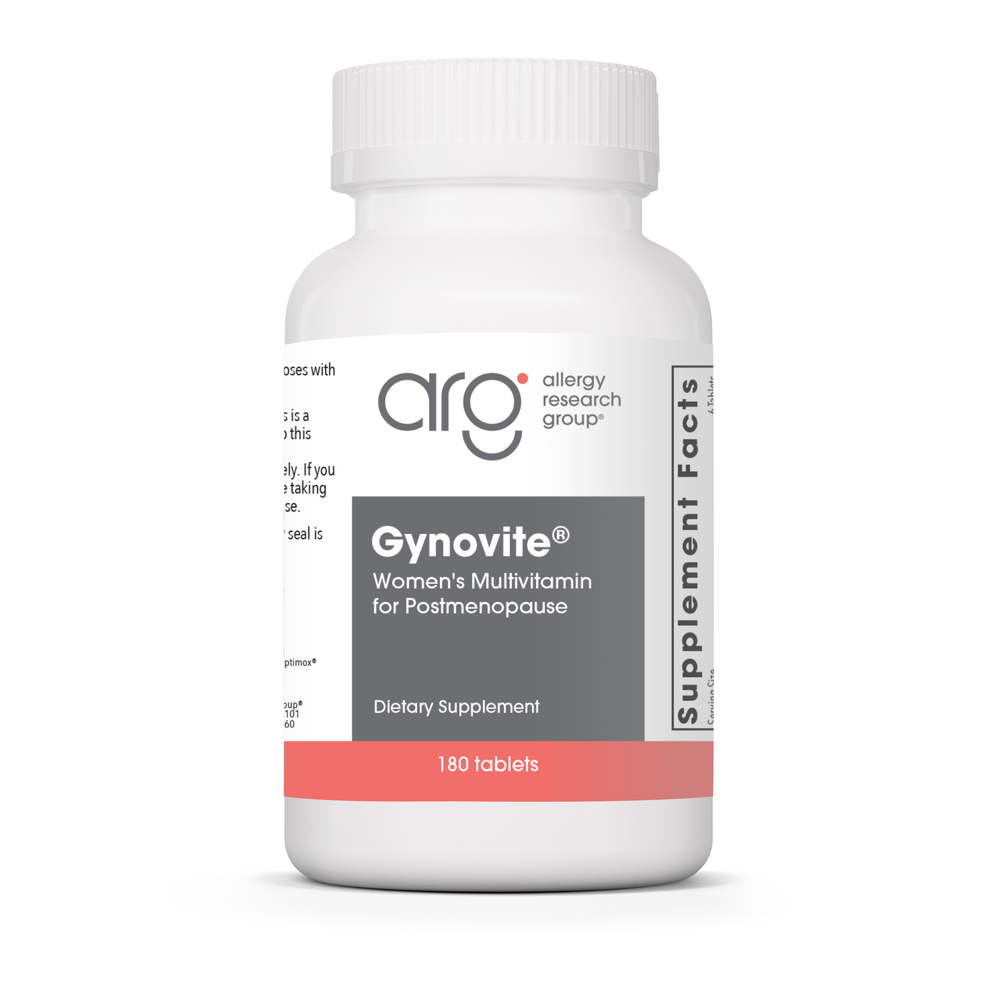 SKU: ALL121-802
Gynovite® Plus is a complete nutritional supplement formulated for postmenopausal complaints.* This supplement emphasizes magnesium over calcium. Based on a review of the published literature, magnesium also plays an important role for healthy bones, for instance, in laboratory animal studies.*(1) Countries with the highest consumption of calcium had the highest incidence of hip fracture, and the lowest hip fracture rates in post menopausal women were observed in countries with daily calcium intake as low as 400-500 mg.*(1) Several other nutrients which play important roles in bone integrity are in Gynovite® Plus.*
An increase in bone density was observed in 19 post-menopausal women following supplementation with Gynovite® Plus.*(1) Compared to a 0.7% increase in 7 women not on Gynovite® Plus, a increase of 11% was observed in the 19 women followed for the same period of time less than one year.* Repeated bone density measure following 2 years on Gynovite® Plus showed a further increase in bone density.*(1) Fifteen of the 19 women were below fracture threshold at the beginning of the study. Within one year only 7 of them still had values below that threshold.*(2) For best results, Gynovite® Plus should be used as part of a total dietary program.
References:
Abraham GE. J Nut Med. 2:165-178, 1991.
Abraham GE, Grewal H. J Reprod Med. 1990 May;35(5):503-7. PMID: 2352244.
Six tablets daily with meals as a dietary supplement, or as directed by a healthcare practitioner.
Serving Size: 6 tablets
Amount Per Serving
Vitamin A ... 5000IU
(as retinyl palmitate)
Vitamin C ... 180mg
Vitamin D ... 400IU
(as cholecalciferol)
Vitamin E ... 400IU
(as d-alpha tocopheryl succinate)
Thiamin ... 10mg
(as thiamine mononitrate)
Riboflavin ... 10mg
Niacin ... 20mg
(as niacinimide)
Vitamin B6 ... 20mg
(as pyridoxine HCl)
Folic Acid ... 400µg
Vitamin B12 ... 125µg
(as hydroxyocobalamin)
Biotin ... 125µg
Pantothenic Acid ... 10mg
(as Ca pantothenate)
Calcium ... 500mg
(as calcium citrate)
Iron ... 18mg
(as amino acid chelate)
Iodine ... 150µg
(as hydrolyzed protein complex)
Magnesium ... 600mg
(as magnesium oxide)
Zinc ... 15mg
(as amino acid chelate)
Selenium ...200µg
(as hydrolyzed protein complex)
Copper ... 2mg
(as amino acid chelate)
Manganese ... 10mg
(as amino acid chelate)
Chromium ... 200µg
(as hydrolyzed protein complex)
p-Aminobenzoic Acid ... 25mg
(PABA)
Betaine HCl ... 100mg
Pancreatin 4X ... 93mg
Inositol ... 50mg
Hesperidin ... 35mg
Rutin ... 25mg
Boron ... 3mg
(hydrolyzed protein complex)
Other Ingredients: Micosolle®' a silica-based excipient' cellulose, croscarmellose sodium' silica' stearic acid' pharmaceutical glaze' magnesium stearate' natural flavor and natural berry as natural source of color.
WARNING: Accidental overdose of iron-containing products is a leading cause of fatal poisoning in children under 6. Keep this product out of the reach of children. In case of accidental overdose, call a doctor or poison control center immediately. If taking any prescription drug, consult physician before use. Do not use for pernicious anemia, or if you have hemochromatosis or hemosiderosis. Read brochure inside bottle before use.
Store in a cool, dry place tightly capped.

Prop 65 Warning: birth defects or other reproductive harm