Healthy Glucose
Priority One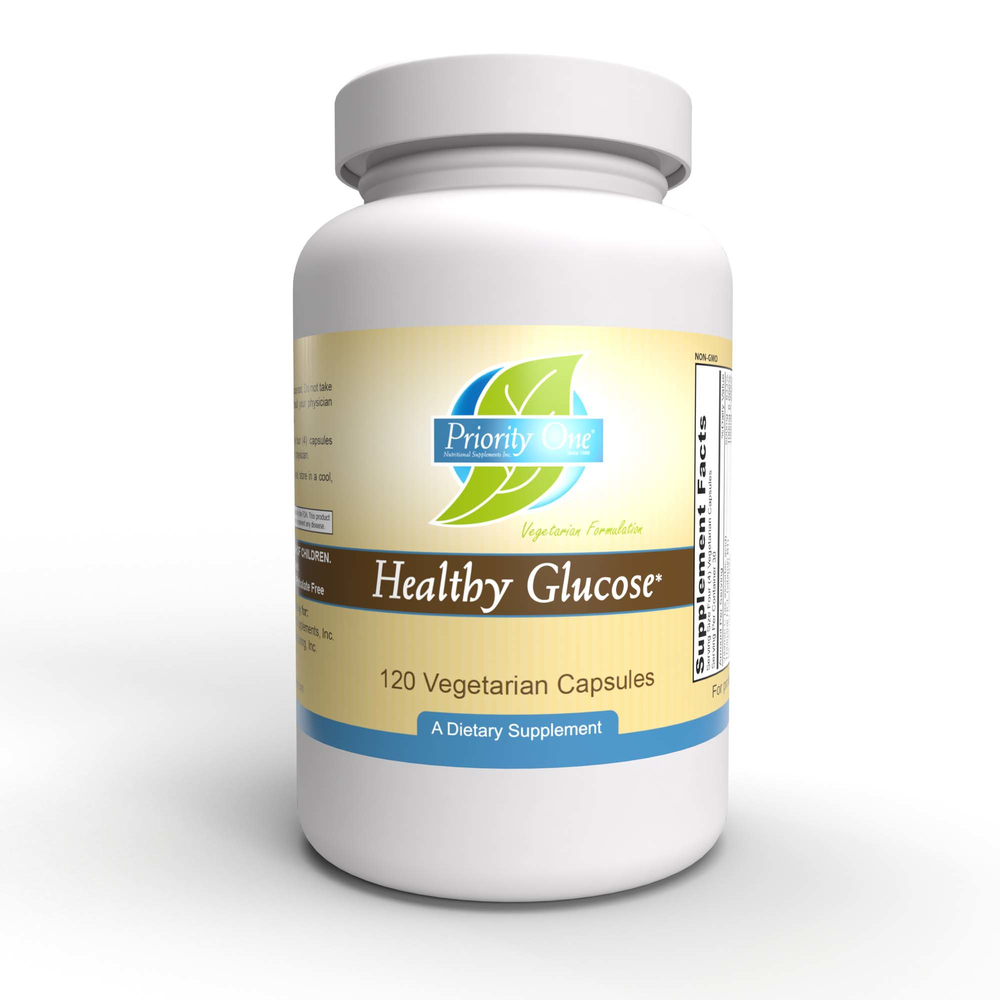 SKU: PR7-1667
NUTRITIONAL BENEFITS
A vegetarian B complex formula.
MAY BE HELPFUL FOR
Nutritional support for healthy glucose levels relieving symptoms of stress and improving energy.
RECOMMENDATIONS: Two (2) capsules two (2) times daily or as directed by your physician.
Serving Size: Four (4) Vegetarian Capsules
Amount Per Serving
Vitamin C ...500mg / 833% DV
(Ascorbic Acid & Rose Hips)
Vitamin B-1 ...100mg / 6666% DV
(Thiamine HCL)
Vitamin B-2 ...100mg / 5882% DV
(Riboflavin)
Vitamin B-6 ...100mg / 5000% DV
(Pyridoxine HCL
Vitamin B-12 ...500mcg / 8333% DV
(Cyanocobalamin)
Pantothenic Acid ...500mg / 5000% DV
(D-Calcium Pantothenic)
Folic Acid ...400mcg / 100% DV
Biotin ...100mcg / 33% DV
Betaine HCI ...100mg**
Choline (Bitartrate) ...100mg**
Inositol ...100mg**
Para-Amino Benzoic Acid ...20mg**
(PABA)
Niacinamide ...100mg**
Chromium (Polynicotinate) ...200mcg / 167% DV
Zinc (Picolinate) ...80mg / 533% DV
Licorice Root ...250mg**
Lemon Bioflavonoids ...250mg**
Eleuthero ...250mg**
Gymnema Sylvestre ...100mg**
(24% Extract)
Vanadium ...5mg**
Devils Claw ...15mg**
(oplopanax horridus)
** No U.S. Daily Value has been established.
Contains:
Rice Powder, Magnesium Stearate
KEEP CONTAINER TIGHTLY CLOSED. STORE IN A COOL, DRY TEMPERATURE.
KEEP OUT OF REACH OF CHILDREN.
If you are pregnant or breast feeding, consult your physician before using this product.