Healthy Heart w BioVin
Priority One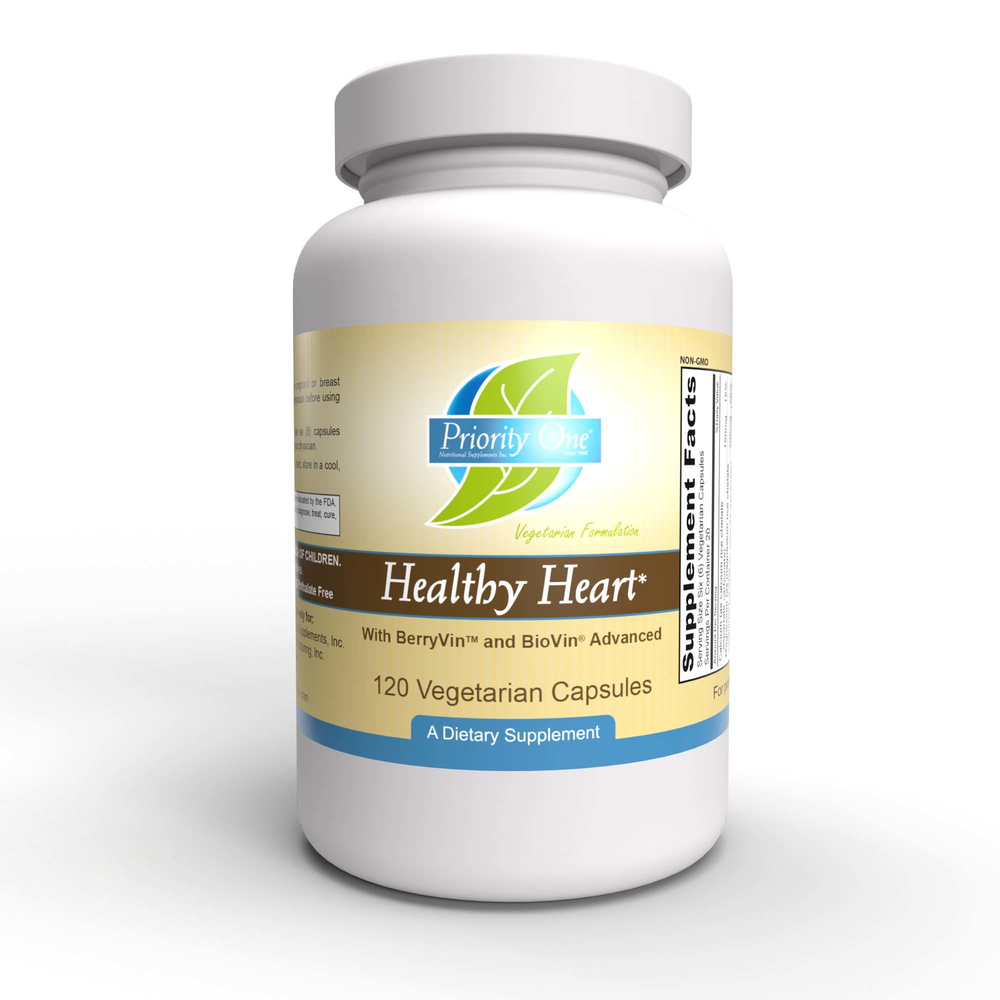 SKU: PR7-1235
Priority One
Vegetarian Formula!
Now with BerryVin and BioVin Advanced
A Dietary Supplement
For professional use only
RECOMMENDATIONS: Six (6) capsules daily or as directed by your physician.
Serving Size: Six (6) Vegetarian Capsules
Amount Per Serving
Magnesium ...324mg / 80% DV
(Chelate/Aspartate)
Calcium ...160mg / 16% DV
(Chelate/Aspartate)
Chromium ...200mcg / 167% DV
(Picolinate)
Selenium (Aspartate) ...100mcg / 142% DV
Potassium ...318mg**
(Chloride/Aspartate)
Taurine ...600mg**
L-Tyrosine ...500mg**
Choline (bitartrate) ...250mg**
Hawthorn Berries ...250mg**
(Crateagus oxycantha)
L-Carnitine ...150mg**
Inositol ...125mg**
Alpha-Lipoic Acid ...100mg**
Bromelain (2, 400 GDU) ...55mg**
Co Enzyme Q10 ...100mg**
Ginkgo Biloba ...60mg**
(24% ginkgocides)
Methionine ...30mg**
Gentian Root ...54mg**
BerryVin ...150mg**
(High Orac Berries)
BioVin Advanced ...75mg**
** No U.S. Daily Value has been established.
Other Ingredients: Rice Powder.
BerryVin and BioVin are trademarks of Cyvex Nutrition Inc.
If you are pregnant or breast feeding, consult your physician before using this product.
KEEP CONTAINER TIGHTLY CLOSED.
STORE IN A COOL, DRY PLACE.
KEEP OUT OF REACH OF CHILDREN.