Heartburn Free w/ROH10
Nature's Way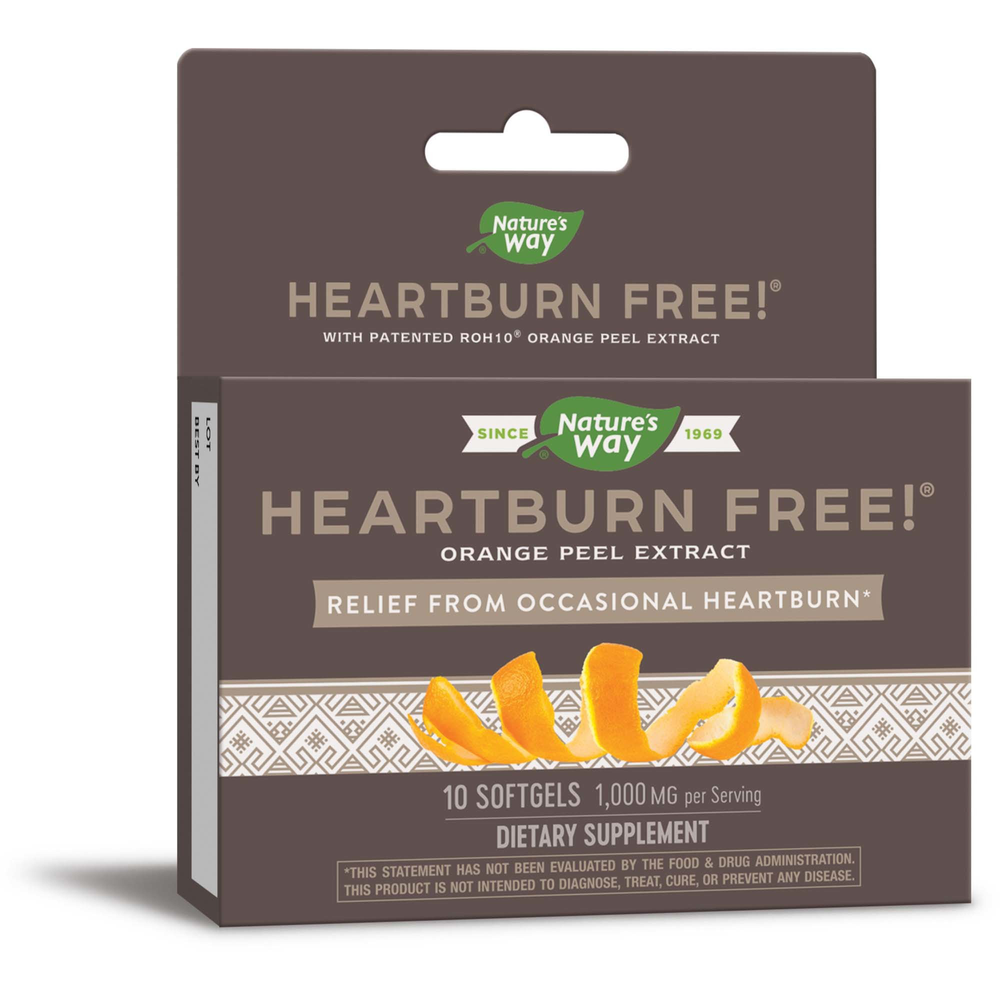 SKU: EN2-09110
Lasting relief from occasional heartburn for six months or more!*
Why use an orange peel extract to battle occasional heartburn?
Because orange peel extract works with the body, rather than fighting against it*
Unlike many traditional products, orange peel extract will not reduce mineral absorption, inhibit protein digestion, or shut down acid production.* Contrary to many common solutions, it works with your bodys natural digestive processes.*
Why use Heartburn Free® with ROH10®?
It provides lasting relief from occasional heartburn for up to six months or more:*
Heartburn Free® with ROH10® delivers relief from occasional heartburn, acid indigestion, and upset stomach.* With Heartburn Free, every-other-day supplementation brings everyday occasional heartburn relief - your stomach and esophagus will thank you for it.* After completing the initial regimen, symptoms of occasional heartburn occur much more infrequently.* And, if they do return after the initial 10 capsule regimen, a single capsule of Heartburn Free should provide relief.*
Unique formulation you wont find anywhere else
Its key ingredient, orange peel extract (ROH10®), provides lasting relief without shutting down the production of stomach acid.* Heartburn Free also doesnt reduce mineral absorption or inhibit protein digestion.*
Adult (18 and older): Upon first experiencing symptoms, take one softgel every other day for 20 days, and one softgel as needed for occasional relief thereafter. Best if taken one-half hour before or one hour after meals, with water or your favorite beverage. Swallow whole. Do not bite or open softgel.
Serving Size: 1 Softgel
Amount Per Serving
Orange Peel Extract ... 1g
(Citrus sinensis)
standardized to 98.5% d-limonene
Other Ingredients: gelatin, glycerin, water
This product does not contain
artificial coloring
artificial flavoring
corn
dairy products
gluten
preservatives
salt
soy
sugar
this product contains natural ingredients; color variations are normal
wheat
yeast
Warning
Do not use if you are pregnant, nursing, have gastritis or peptic ulcer disease. If taking any medications, consult a healthcare professional before use.
Store in a cool, dry location.