Heme Iron Complex
EuroMedica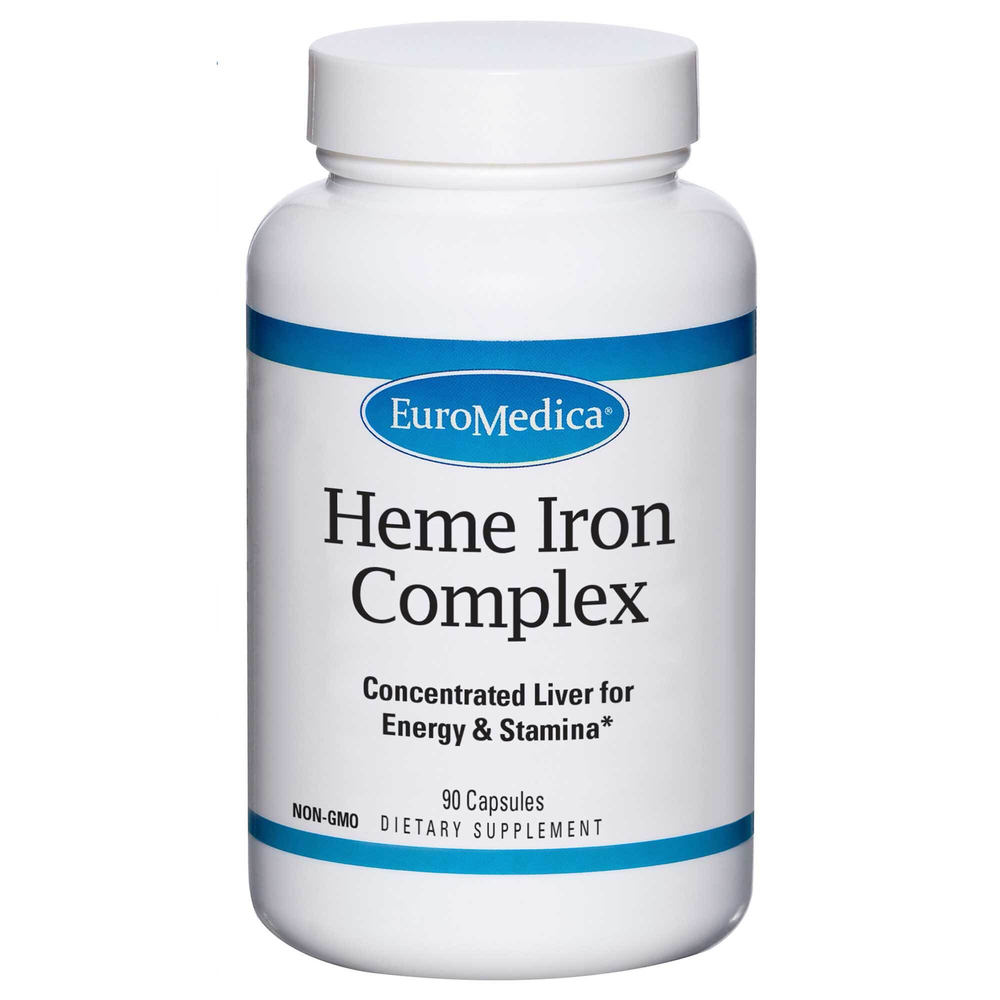 SKU: EUR866-70089
Concentrated Liver for Energy & Stamina*
Supports endurance, stamina, and athletic recovery*
Helps build healthy red blood cells*
Highly absorbable heme iron PLUS iron chelated to glycine
Bioactive methylcobalamin form of B12
Bioactive folate (methylfolate) that works synergistically with B12
Concentrated Beef Liver
Bound to hemoglobin, heme iron sources are up to 33% absorbed compared to non-heme iron, which can have as little as 2% absorption. This supplement features predigested beef liver concentrate extract from animals raised in Argentina without the use of chemical sprays, pesticides, or antibiotics.
Active Supporting Nutrients
Additionally, Heme Iron Complex includes a non-toxic and a non-constipating iron bound to the amino acid glycine that is well absorbed and gentle on the stomach.
It also includes the active forms of folate and vitamin B12, which require no conversion by the liver to their active form, making them more efficiently used by the body.
Suggested Use:
Take 2 capsules, twice daily.
Serving Size:
2 Capsules
Amount Per Serving
Calories
... 5
Protein
... 1g
Folate
... 340mcg DFE
[from (6S)-5-methyltetrahydrofolic acid, glucosamine salt]†
Vitamin B12
... 1,000mcg
(as methylcobalamin)
Iron
... 5mg
(from Ferrochel® ferrous bisglycinate chelate)
Livers Fractions
... 1,300mg
(from predigested liver concentrate, containing natural heme iron)
Other Ingredients:
gelatin capsule, silica, cellulose powder, vegetable magnesium stearate, citric acid, maltodextrin.
No:
sugar, salt, yeast, wheat, gluten, corn, soy, dairy products, artificial coloring, artificial flavoring, or artificial preservatives.
Ferrochel® is a registered trademark of Albion Laboratories, Inc.
†US Patent No. 7,947,662
WARNING: Accidental overdose of iron-containing products is a leading cause of fatal poisoning in children under 6. Keep this product out of reach of children. In case of accidental overdose, call a doctor or poison control center immediately.

If pregnant or nursing, consult a healthcare practitioner before use.