EfaGold Hemp Protein and Fiber Powder
Nature's Way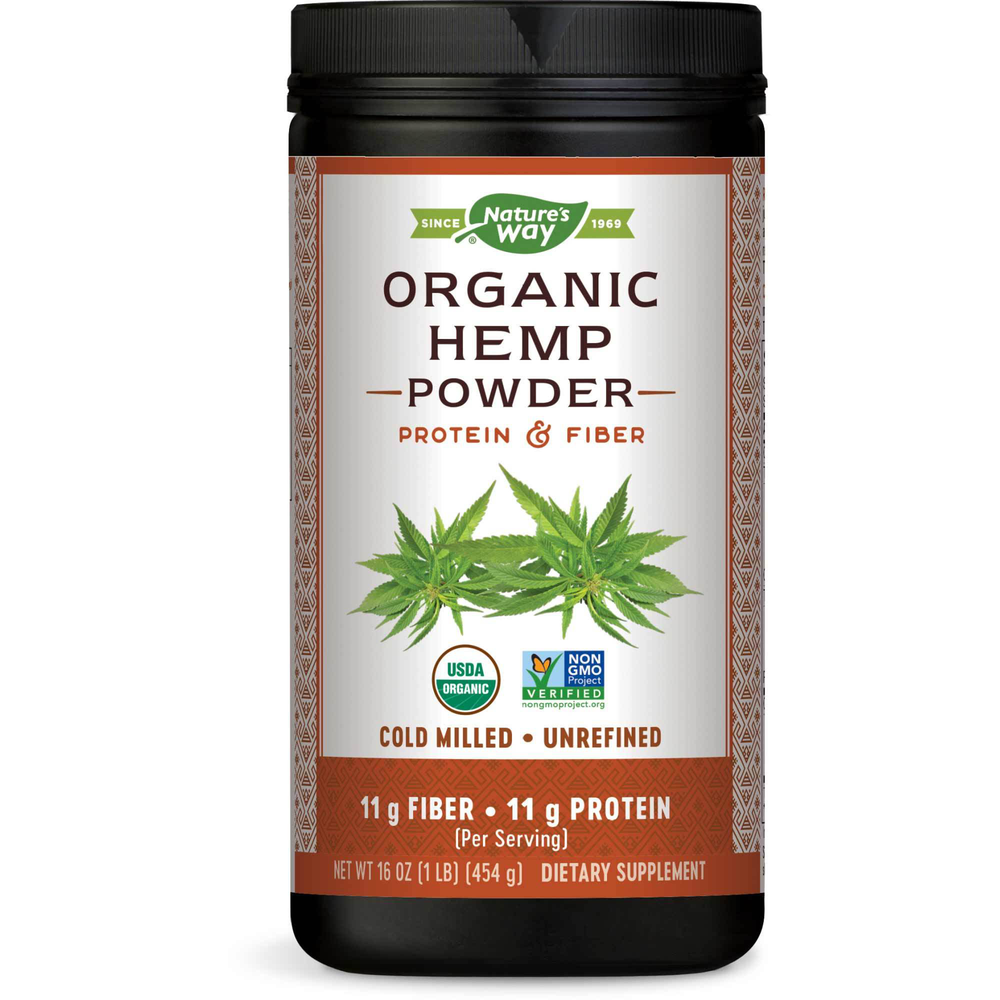 SKU: NW-15455
Natures Way EFAGold is the highest quality Hemp seed powder and one of natures richest sources of protein, fiber and essential fatty acids - guaranteed to contain 13 grams Fiber and 11 grams Protein per serving all from non-GMO seeds.
Our Hemp powder is delicious and has a wonderful natural taste. It is Organic, cold milled, unrefined, hexane free and has zero trans fat. You can get your daily fiber (soluble & insoluble) and protein needs plus additional vitamins, minerals, lignans, all 8 essential amino acids and EFAs.
We believe in quality control from the soil to the oil: Our involvement begins in the fields with the growers and continues through harvesting, seed selection, milling and purity testing.
Amino Acids
Amino acids are the building blocks of protein and a key part of every bodily function. Of the 28 amino acids, 8 are considered essential since they must be obtained through the diet.
Tryptophan
Lysine
Methionine
Phenylalanine
Threonine
Valine
Leucine
Isoleucine
Fiber
Soluble fiber is beneficial for cardiovascular health. Insoluble fiber is helpful for digestion and appetite.
Add 4 tablespoons to a favorite juice, smoothie or other beverage. Can be sprinkled on cereals and yogurt, or added to a favorite muffin recipe. Keep tightly sealed. Refrigerate after opening.
Serving Size: 4 tbls (30 g) Powder Amount/Serving %DV
Calories 130
Calories from fat 25
Total Fat 3g 5%**
Total Carbohydrate 14g 4%**
Dietary Fiber 14g 56%**
Soluble Fiber 1g *
Insoluble Fiber 13g *
Protein 11g 22%**
Vitamin C 8mg 13%
Calcium 40mg 4%
Iron 2.5mg 14%
Magnesium 95mg 24%
Sodium 15mg <1%
Amino Acids 11g *
Glutamic Acid 2g *
Arginine 1.3g *
Aspartic Acid 1.1g *
Serine 570mg *
Leucine 771mg *
Threonine 388mg *
Valine 567mg *
Proline 494mg *
Alanine 503mg *
Glycine 508mg *
Phenylalanine 514mg *
Histidine 318mg *
Isoleucine 458mg *
Tyrosine 360mg *
Lysine 452mg *
Methionine 257mg *
Cystine 190mg *
Tryptophan 137mg *
Essential Fatty Acids 2.2g
Omega-6 Fatty Acids 1.5g *
Omega-3 Fatty Acids 460mg *
Omega-9 Fatty Acids 300mg *