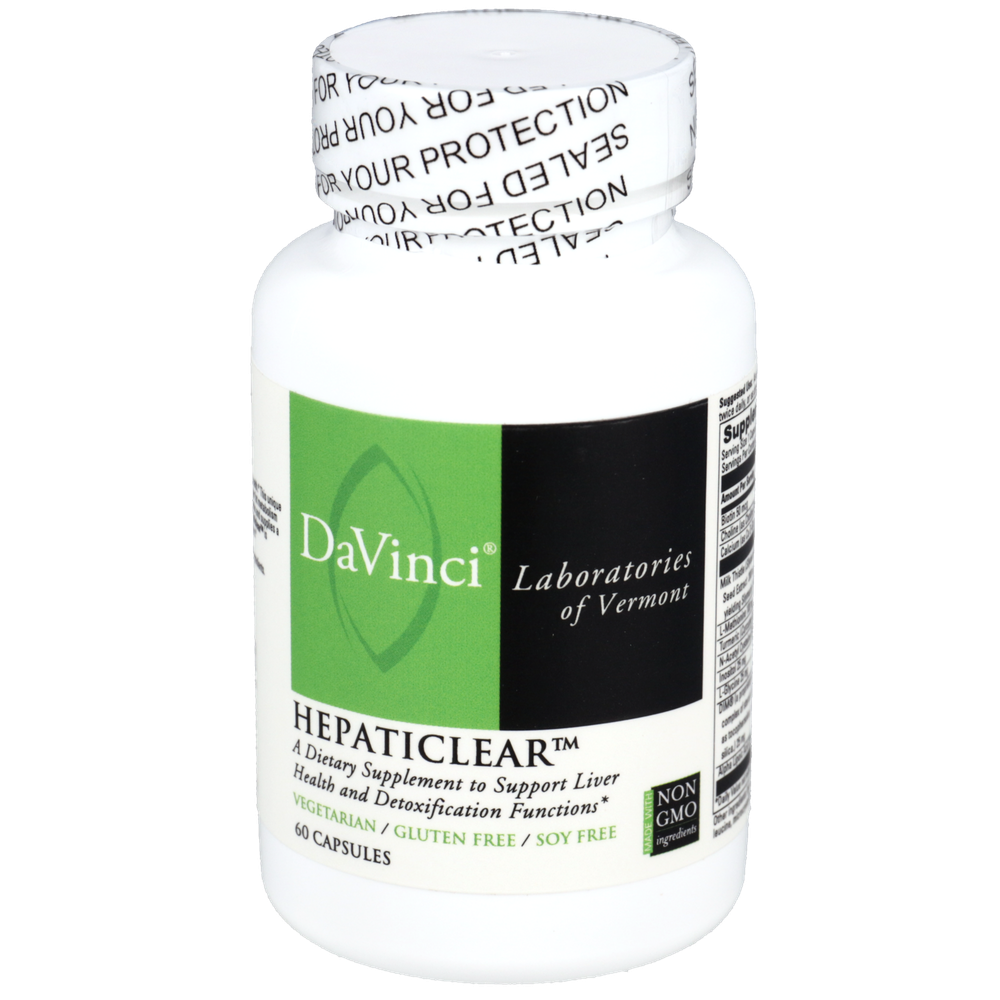 SKU: DAV-0200423060
Hepaticlear
-A dietary supplement to support liver health and detoxification functions.*
Hepaticlear is a comprehensive formula designed to support liver health when
environmental toxins are present.* This unique combination of amino acids,
herbs, and other nutrients aids in fat metabolism within the liver, promotes
glutathione synthesis, supports the safe elimination of toxins, and supplies
a broad range of antioxidants to help reduce free radical damage.*
Hepaticlear is recommended to support Phase I and Phase II detoxification
pathways.*
As a dietary supplement, take 1 capsule, twice daily, or as directed by your
healthcare practitioner.
Serving Size: 1 Capsule
Amount Per Serving
Biotin ...50mcg
Calcium D-Glucarate ...50mg
Choline Bitartrate ...200mg
Milk Thistle Seed Extract ...200mg
yielding Silymarin ...160mg
L-Methionine ...100mg
Turmeric ...80mg
N-Acetyl Cysteine ...50mg
Inositol ...25mg
L-Glycine ...25mg
DIM ...25mg
(a patented enhanced bioavailability complex of starch, diindolylmethane,
Vitamin E as d-alpha tocopheryl succinate, soy phosphatidylcholine, silica)
Alpha Lipoic Acid ...20mg
Other ingredients: vegetable cellulose, vegetarian leucine, rice flour.
Contains: Soy.
Color of this product may vary due to color variations of the natural
ingredients.
If pregnant or nursing, consult your healthcare practitioner before taking
this product.
Keep out of reach of children.
Store in a cool, dry place.
*This statement has not been evaluated by the Food and Drug Administration.
This product is not intended to diagnose, treat, cure or prevent any disease.