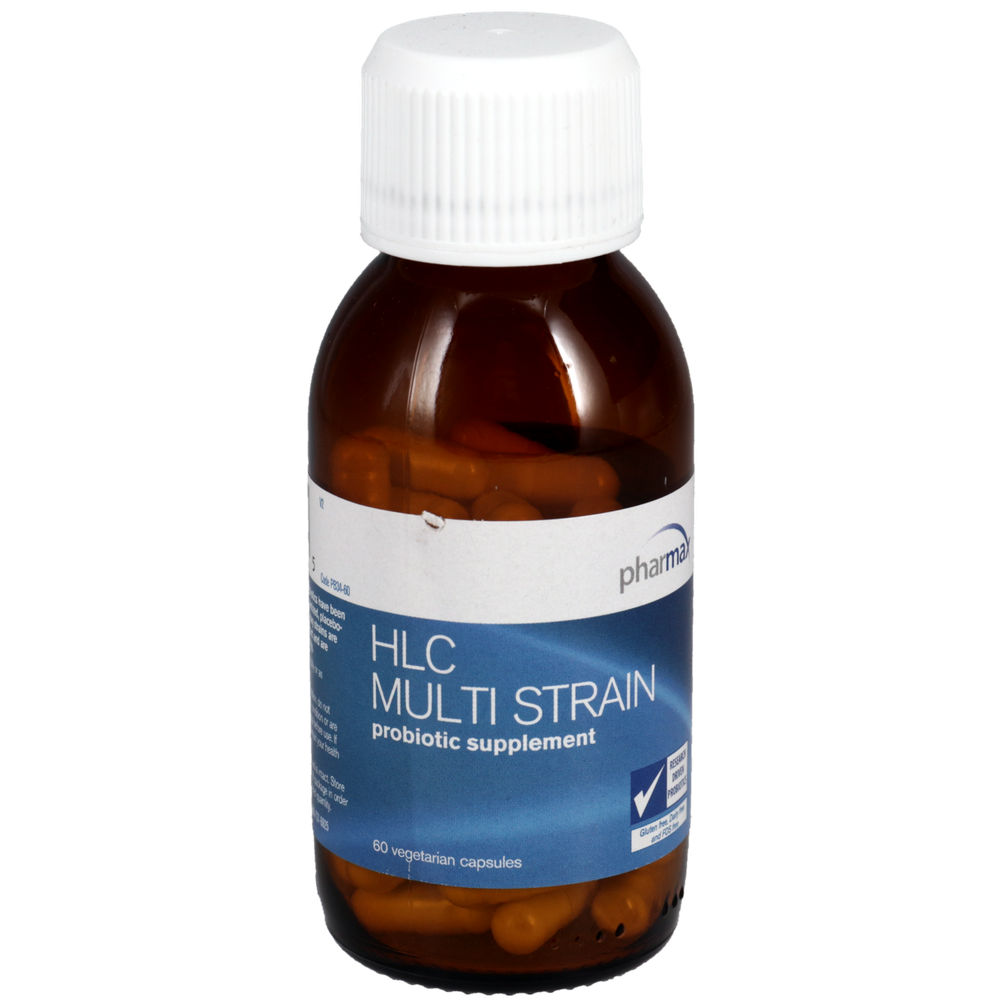 SKU: PX-PB3460
Multistrain probiotic formula, including four tested strains
Promotes gastrointestinal health*
Provides 16 probiotic strains and 15 billion CFU per capsule
100% pure vegetable-sourced
HLC Multi Strain is a 15 billion CFU probiotic formula, providing four strains of proprietary, human-sourced Lactobacillus acidophilus, Bifidobacterium bifidum and Bifidobacterium animalis subsp. lactis that supports a healthy gut microflora. The intestinal microbiota, which contains more than 400 bacterial species, can be altered by aging, or impacted by premature or caesarean birth. The intestines are a critical barrier that selectively allow absorption or promote the excretion of compounds, and their optimal function depends on a healthy microbiome. The most commonly used probiotics are Lactobacilli and Bifidobacteria. They effectively colonize the intestines, but after ingestion ends, their counts decline. Probiotics also reinforce the epithelial barrier, and they control permeability by mediating tight junction integrity.*
Adults, Adolescents and Children (6 years and older): One capsule taken once daily or as professionally directed. Take at least 2-3 hours before or after taking antibiotics.
Serving Size: 1 Capsule
Amount Per Serving
Probiotic Consortium ... 15 billion viable cells
Lactobacillus acidophilus (CUL-60)
Lactobacillus acidophilus (CUL-21)
Bifidobacterium bifidum (CUL-20)
Bifidobacterium animalis subsp. lactis (CUL-34)
Lactobacillus salivarius (CUL-61)
Lactobacillus paracasei (CUL-08)
Lactobacillus plantarum (CUL-66)
Lactobacillus casei (CUL-06)
Lactobacillus fermentum (CUL-67)
Lactobacillus gasseri (CUL-09)
Bifidobacterium animalis subsp. lactis (CUL-62)
Bifidobacterium breve (CUL-74)
Streptococcus salivarius subsp. thermophilus (CUL-68)
Lactobacillus acidophilus (NCFM™)
Bifidobacterium animalis subsp. lactis (HN019)
Lactobacillus rhamnosus (HN001)
Other Ingredients: Hypromellose, cellulose, silica
Risk information: If you have an immune compromised condition, do not use. If symptoms of digestive upset occur, worsen or persist beyond three days, discontinue use and consult your healthcare practitioner.
Safety-sealed for your protection and for product freshness. Do not use if outer seal is missing or broken. Store under refrigeration (below 46°F).
Keep out of reach of children.