HLC Synbiotic Intensive
Pharmax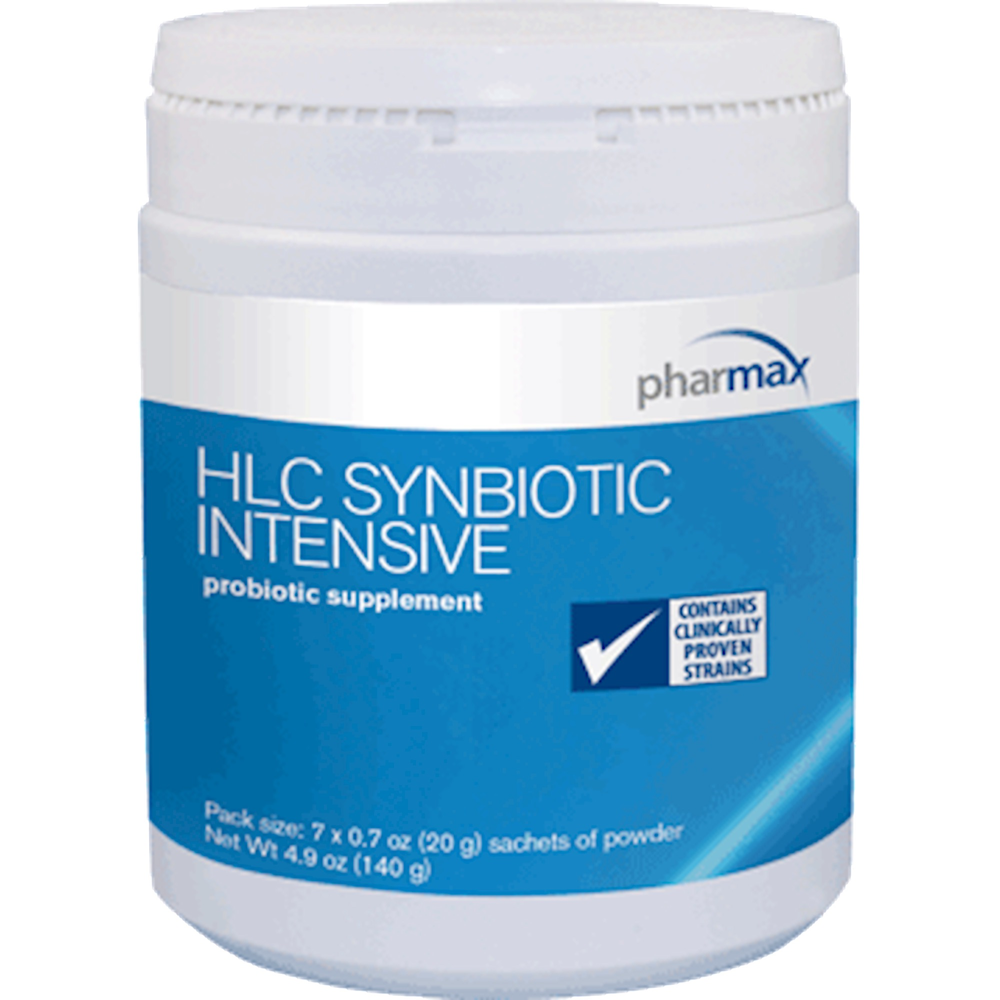 SKU: PX-PB087
High-dose formula promoting healthy gut flora*
Promotes optimal gastrointestinal and digestive health*
Provides 150 billion CFU per day from two strains of Lactobacillus acidophilus, Bifidobacterium bifidum, Bifidobacterium animalis subsp. lactis, and Lactobacillus salivarius
Contains 10 g of fructooligosaccharides (FOS)
HLC Synbiotic Intensive is a combination of FOS and probiotics that supports a healthy intestinal microflora. The intestines contain more than 400 bacterial species, and bacterial balance is necessary for a healthy intestinal tract. Probiotics promote naturally healthy microflora composition and support intestinal function. Lactobacillus and Bifidobacterium promote optimal digestive health. Prebiotics, including FOS, are fermented by microbes in the colon. They increase short-chain fatty acid production, which provides energy to colon cells, and support healthy mucin levels to reinforce the epithelial barrier. Consequently, synbiotic products promote the growth of existing beneficial bacteria and supplemented probiotic strains. In a randomized, placebo-controlled trial involving 52 adults, daily probiotic supplementation supported optimal gastrointestinal health.*
Adult intake: In a glass, add water to one sachet (20 g) and mix. Take once daily with a meal, at least 2 - 3 hours before or after taking antibiotics, or as professionally directed.
Serving Size: 1 Sachet (20 g)
Amount Per Serving
Calories ... 50
Sodium ... 5mg
Total Carbohydrate ... 18g
Dietary Fiber ... 10g
Sugars ... 8g
HLC Consortium ... 150 billion viable cells
Lactobacillus acidophilus (CUL-60)
Lactobacillus acidophilus (CUL-21)
Bifidobacterium bifidum (CUL-20)
Bifidobacterium animalis subsp. lactis (CUL-34)
Lactobacillus salivarius (CUL-61)
Fructooligosaccharides ... 10g
(FOS)
Other Ingredients: Apricot powder
Risk information: If you have an immune-compromised condition, do not use. If symptoms of digestive upset occur, worsen or persist beyond three days, discontinue use and consult your healthcare practitioner.
Safety-sealed for your protection and for product freshness. Do not use if outer seal is missing or broken. Store under refrigeration (below 46° F).
Keep out of reach of children.