HMF Intensive 50
Seroyal/Genestra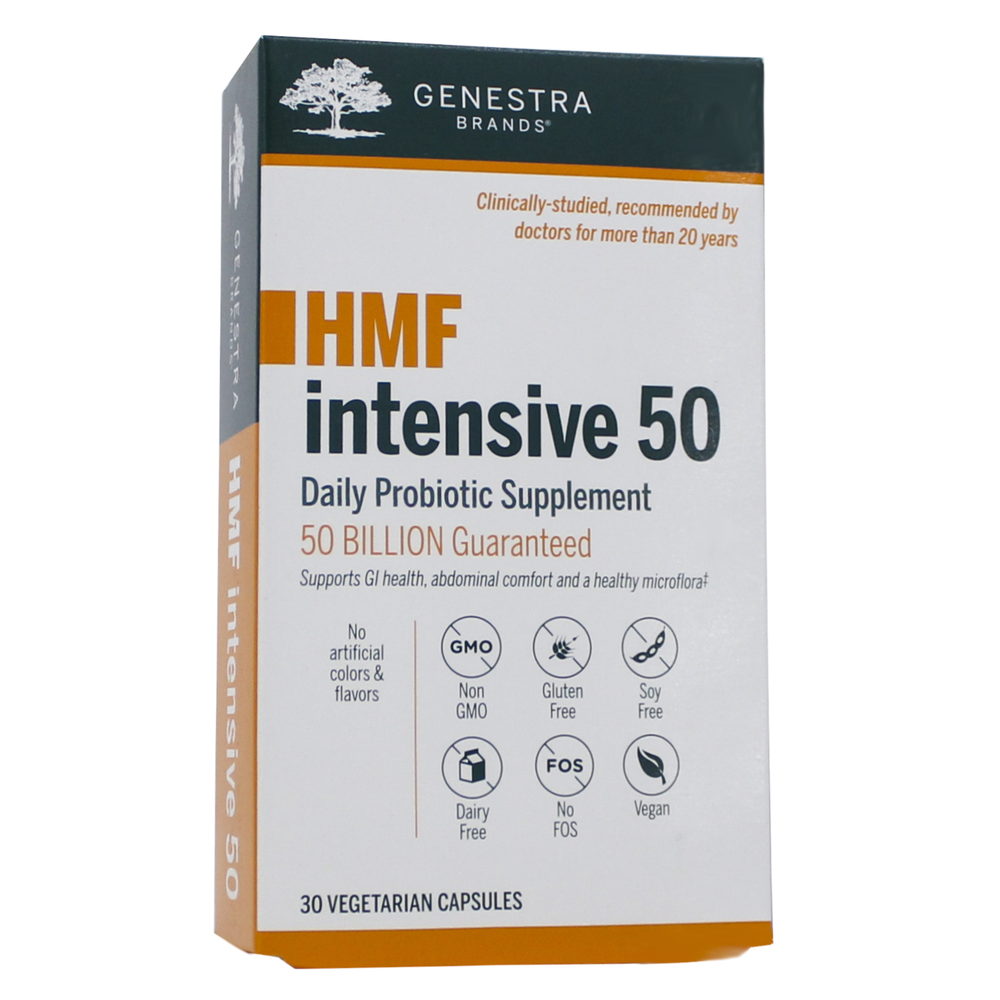 SKU: GN-10354
Delayed-release, shelf-stable probiotic formula
Supports gastrointestinal and immune health*
Provides 50 billion CFU per dose from a combination of four proprietary strains
Formulated with acid-resistant and delayed-release capsules for targeted delivery to the intestines
Convenient, once-daily capsule format
HMF Intensive 50 is a shelf-stable probiotic formula that offers 50 billion CFU from a combination of four proprietary strains. These microorganisms have been used in a wide body of clinical research and are one of the most studied probiotic combinations worldwide. Research has demonstrated that these strains contribute to a favorable gut flora balance, support gastrointestinal comfort and maintain immune health. In addition, these human-sourced strains were selected based on their high quality and viability, strong epithelial adherence, and naturally high tolerance to stomach and bile acid. To further enhance probiotic survivability through the stomach, HMF Intensive 50 is produced with delayed release capsules. Each capsule is formulated with unique polymer properties that resist stomach acid and delay the release of probiotics after swallowing, allowing for complete, targeted release in the intestines and optimal probiotic activity.*
Take one capsule daily with a meal or as recommended by your healthcare practitioner.
Serving Size:
1 Capsule
Amount Per ServingProbiotic Consortium
... 50 billion CFU
Lactobacillus acidophilus (CUL-60 & CUL-21)Bifidobacterium animalis subsp. lactis (CUL-34) & Bifidobacterium bifidum (CUL-20)
Other Ingredients:
Delayed-release capsule (hypromellose, gellan gum), cellulose, stearic acid, silica.
WARNING:
Do not use if you have an immune-compromised condition. Consult your healthcare practitioner prior to use if you are pregnant, breastfeeding, taking any medication, or have any health condition. Discontinue use and consult your healthcare practitioner if symptoms of digestive upset occur. This product was sealed for your protection. Do not use if box or contents are open or damaged. Store in a cool, dry place. Keep out of reach of children.