HMF Replenish
Seroyal/Genestra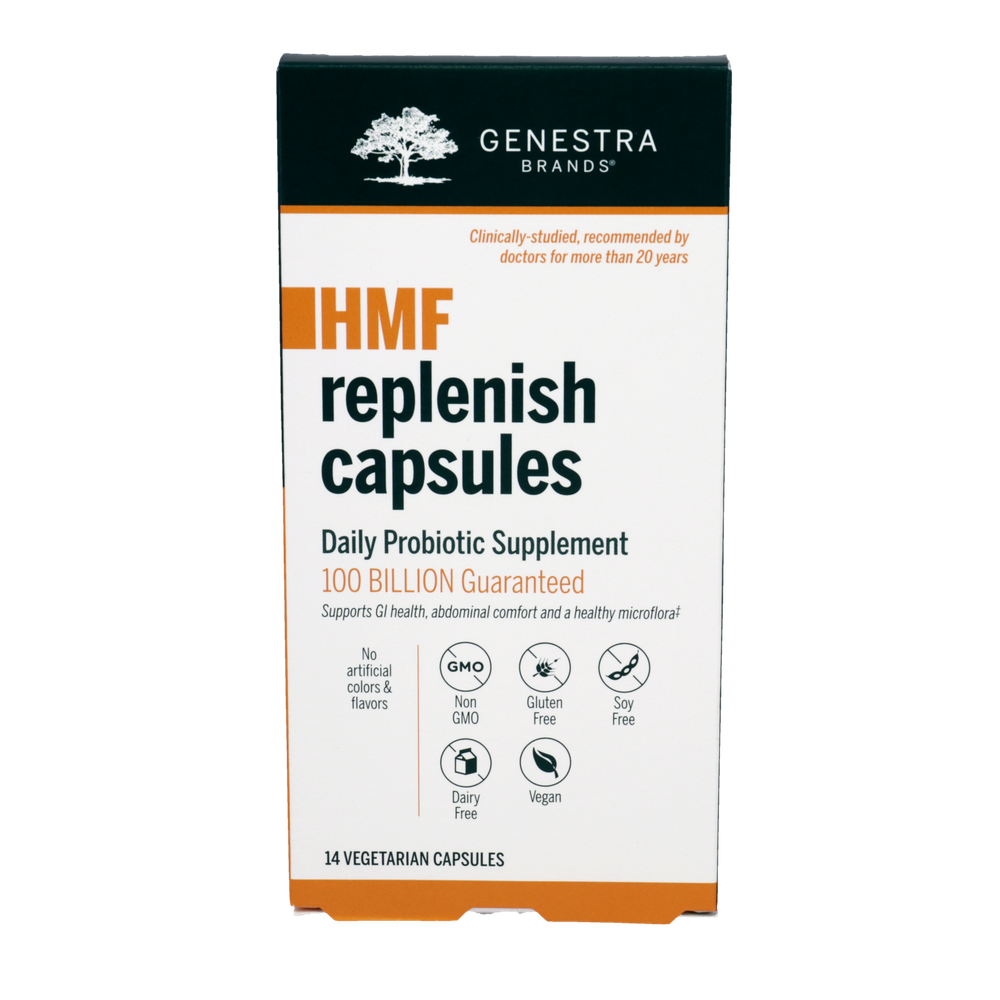 SKU: GN-10457
Promotes gastrointestinal health*
Supports a healthy gut microflora*
Promotes healthy digestive function*
Provides 100 billion CFU per dose from two strains of Lactobacillus acidophilus, Bifidobacterium bifidum, Bifidobacterium animalis subsp. lactis, and Lactobacillus salivarius
HMF Replenish Capsules contain five strains of proprietary human-sourced probiotics that support gastrointestinal health. Lactobacillus and Bifidobacterium promote healthy intestinal microflora and support healthy digestion. In a randomized, placebo-controlled trial involving 52 adults, daily supplementation with probiotics supported digestive health.*
Suggested Use:
Adults, Adolescents and Children (6 years and older): Take 1 capsule daily with a meal, or as recommended by your healthcare practitioner.
Serving Size: 1 Capsule

Amount Per Serving
Probiotic Consortium ... 100 billion CFU
Lactobacillus acidophilus (CUL-60 & CUL-21)
Bifidobacterium animalis subsp. lactis (CUL-34) & Bifidobacterium bifidum (CUL-20)
Lactobacillus salivarius (CUL-61)

Other Ingredients: Hypromellose, fructooligosaccharides (FOS), sunflower lecithin, silica.


This product is Non-GMO, Gluten Free, Soy Free, Dairy Free, Vegan. No Artificial Colors & Flavors.
Warning: If you have an immune compromised condition, do not use. If you are experiencing nausea, fever, vomiting, bloody diarrhea or severe abdominal pain, consult your healthcare practitioner prior to use. If symptoms of digestive upset occur, worsen or persist beyond three days, discontinue use and consult your healthcare practitioner.

Keep out of reach of children.
Quality Assurance: Safety-sealed for your protection and for product freshness. Do not use if the blister pack has been tampered with. Store under refrigeration (below 46 °F).