Hormonious: Hormonal Balance & Support Capsules
Ora Organic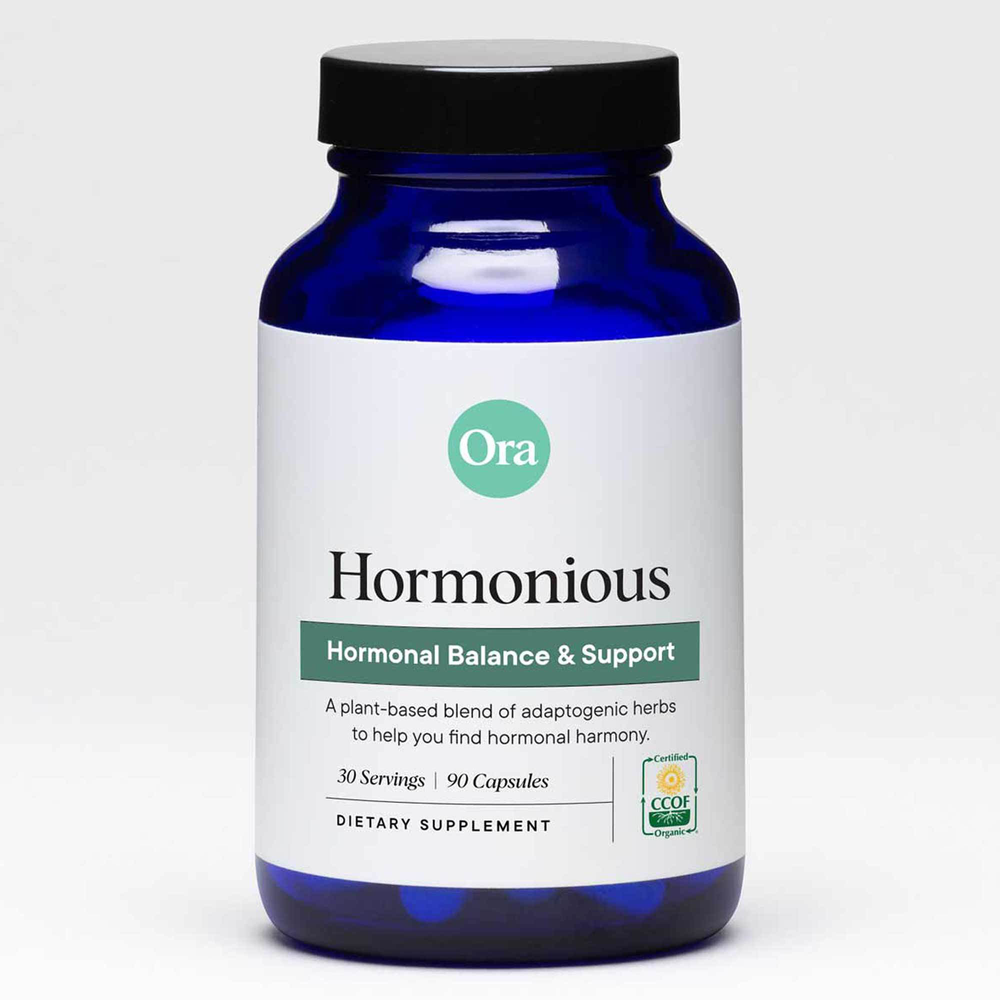 SKU: ORA858-10167
As synthetic hormones sneak their way into our food, 'magic pill' fixes become more popular, and stress only continues to increase, a healthy hormone balance can be tough to maintain. When your hormones are out of whack, your mood, energy levels, skin, and even hair can pay the price.
Who doesn't feel self-conscious about hormonal acne? Many topical hormonal acne treatments promise clear skin, but more often than not, they come up short, and they do nothing to help deal with the other symptoms of hormonal imbalance. That's where Hormonious comes in. Unlike many other hormonal supplements on the market, it doesn't contain any artificial ingredients, isn't outrageously expensive, and contains ingredients with real scientific benefits.
Hormonious wants to help get you and your hormones to a place called 'homeostasis.' That means Ora Organics want your hormones to maintain a relatively stable level despite the best efforts of external stressors that might otherwise lead to an undesirable increase or decrease in specific hormones such as cortisol (considered the 'stress hormone'), testosterone, progesterone, or estrogen (sex hormones).


Suggested Use:
Take 3 capsules daily. Hormonious can be taken anytime during the day, with or without food.
Tips: Put a capsule (or both if you can handle it) in your mouth, drink some water and then tilt your head forward before swallowing. The air in the capsules will help them float to the back of your throat and should make the capsules easier to swallow.
Serving Size:
3 capsules
Amount Per ServingVitamin C
(
from organic acerola extract
) … 90 mg
Ora Organic Hormone Support Blend
… 1761 mg
Organic acerola extract (malpighia glabra) (fruit), organic burdock (arctium lappa) (root), organic ashwagandha (withania somnifera) (root), organic cordyceps (ophiocordyceps sinensis) (mycelium), organic holy basil (ocimum tenuiflorum) (leaf)
Other Ingredients:
Vegan Capsule (Pullulan).
Contains NO:
Dairy, gluten, soy, tree nuts, added sugars, artificial colors, flavors, sweeteners or preservatives.
Warning
:
If you are pregnant, nursing, or have a medical condition, consult your qualified healthcare professional before using this product.

Keep out of reach of children.
Storage: Store in a cool, dry place and keep away from moisture. Refrigeration is not required.