Hoxsey Formula
Professional Formulas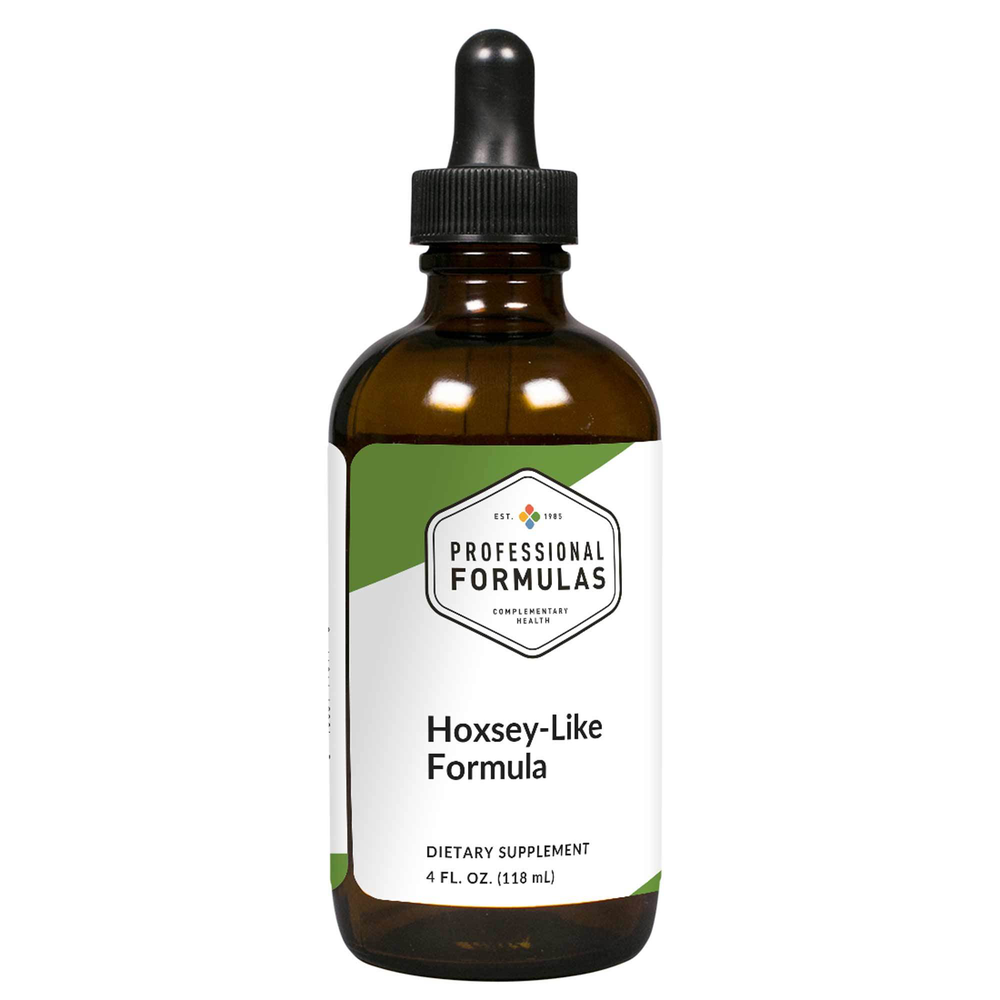 SKU: PRO511-E12
Supports healthy immune system function.
Suggested Use:
As a nutritional supplement, take about 30 drops two times daily, or as directed by your healthcare professional.
Serving Size: 30 Drops (1.25 mL)
Amount Per Serving
Burdock Root Extract (1:1) … 0.27mL
(Arctium lappa)
Red-Clover Aerial Parts Extract (1:1) … 0.27mL
(Trifolium pratense)
Oregon Grape Root Extract (1:1) … 0.15mL
(Mahonia aquifolium)
Poke Root Extract (1:5) .. .0.15mL
(Phytolacca decandra)
Queen's-Delight Root Extract (1:2) … 0.15mL
(Stillingea sylvatica)
Cascara Sagrada Bark Extract (1:1) … 0.06mL
(Rhamnus purshiana)
Northern Prickly-Ash Bark Extract (1:2) … 0.06mL
(Zanthoxylum americanum)
Wild Indigo Root Extract (1:2) … 0.06mL
(Baptisia tinctoria)
Licorice Root Extract (1:1) … 0.05mL
(Glycyrrhiza glabra)
Anise Seed Extract (1:1) … 0.01mL
(Pimpinella anisum)
Other Ingredients: Ethanol (35%) and purified water.
This product is Gluten Free and Vegetarian.
Warning: Keep out of the reach of children. In case of overdose, get medical help or contact a poison control center right away. Not intended for use while pregnant or breastfeeding. Tamper resistant. If seal is broken, do not use. After opening, close container tightly and store at room temperature away from heat. Shake well before using.
NOTICE: This product contains Cascara Sagrada (Rhamnus purshiana) Bark. Read and follow directions carefully. Do not use if you have or develop diarrhea, loose stools, or abdominal pain because Cascara Sagrada may worsen these conditions and be harmful to your health. Consult your physician if you have frequent diarrhea or if you are pregnant, nursing, taking medication, or have a medical condition.