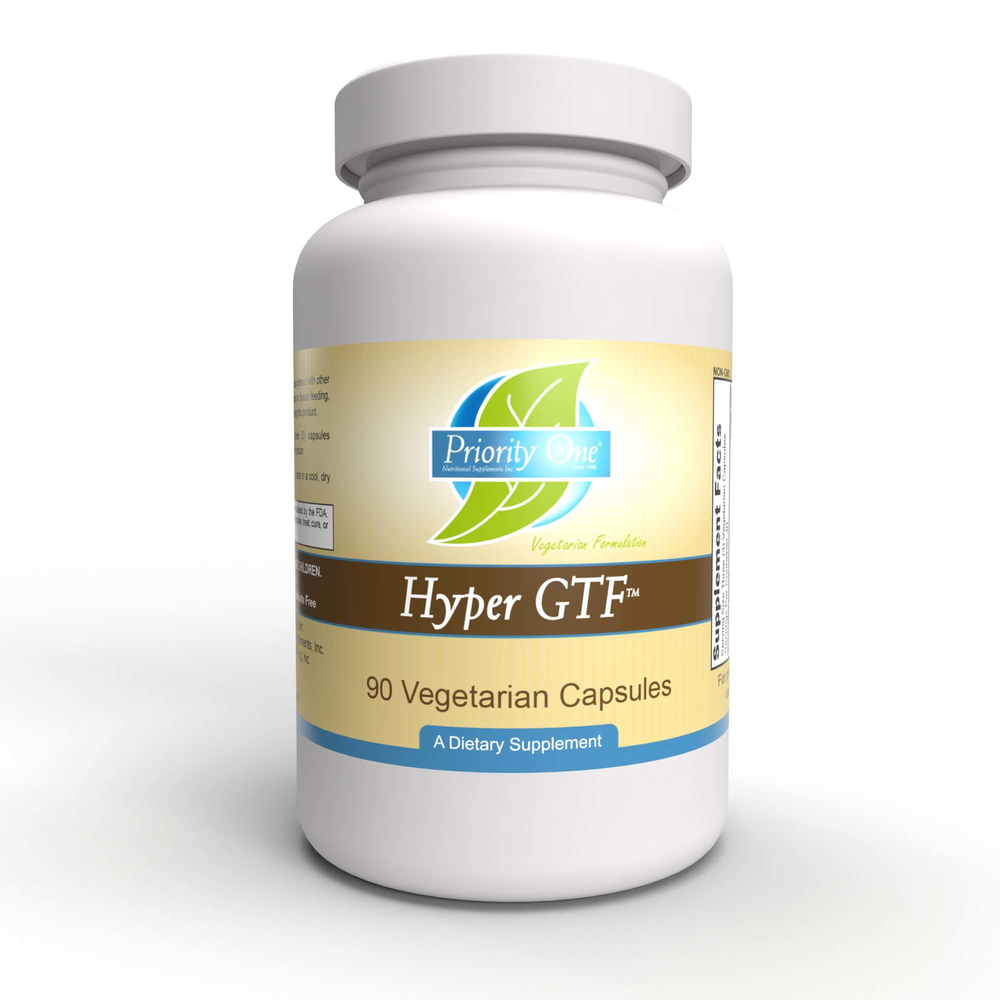 SKU: PR7-1360
This comprehensive blend of nutrients is designed to maintain optimal blood sugar levels and support cellular integrity within the normal range.*
Hyper GTF utilizes the unique oxygen-coordinated, niacin bound chromium complex called ChromeMate®. The University of Texas determined that 4mg a day combination with exercise helped subjects maintain their healthy body composition.1*
Those with normal glucose levels who consume Bitter Melon promote the enzyme AMPK (naturally produced in the body) which mediates the movement of glucose transporters in the healthy cell, which is an important step in the uptake of glucose from the circulatory system into the tissues.2*
Take three (3) capsules daily, or as directed by your physician.
Serving Size: Three Vegetarian Capsules
Amount Per Serving
Chromium ... 500mcg
(as chromium polynicotinate)
(ChromeMate®)
Gymnema sylvestre ... 1, 500mg**
(leaf)
(standardized extract 25% gymnemic acid)
Bitter Melon ... 120mg**
(fruit)(extract 4:1)
(Momordica charantia)
Fenugreek ... 150mg**
(seed)(extract 4:1)
(Trigonella foenum-graecum)
Jambolan ... 51mg**
(seed)(extract 16:1)
(Syzgium jambolanum)
Blueberry ... 150mg**
(fruit)(Vaccinium corymbosum)
Other Ingredients: Rice chelate, silicon dioxide, gluten free maltodextrin, arabic gum, vegetarian capsule (hypromellose, purified water).
This product does not include
Bisphenol-A (BPA)
Phthalate
GMOs
ChromeMate® is a registered trademark of InterHealth NutraCeuticals Inc.
Warning: Some ingredients may interact with other medications. If you are pregnant or breast feeding, consult your physician before using this product.
Keep container tightly closed, store in a cool, dry place.
Keep out of reach of children.