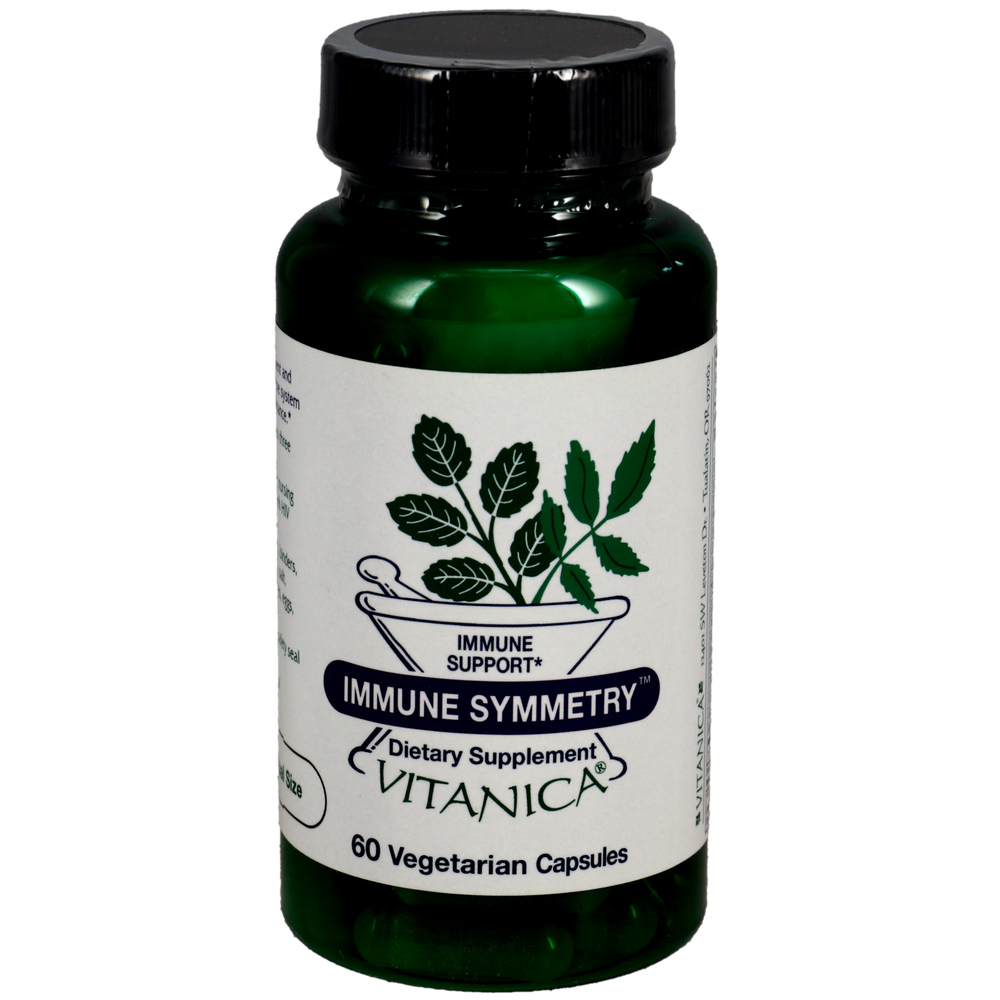 SKU: VTC-01175
Immune Symmetry 60c is available by Vitanica.

For short term acute and longer term chronic infections, this immune nutrient and botanical formulation is intended to help resolve acute infections more quickly, reduce the susceptibility to future infections, and to reduce and resolve chronic infections. For general immune support during stressful times, winter conditions and exposure to contagion, this formula of scientifically based, as well as traditional immune ingredients will serve as reassurance in efforts to maintain your health.
Suitable for Vegetarians
Two (2) capsules one (1) to three (3) times daily.
Serving Size: 2 Capsules
Vitamin A ...8000 IU
(as Betatene, natural mixed carotenoids)
Vitamin A (as retinyl palmitate) ...1600 IU
Vitamin C (as calcium ascorbate) ...450mg
Vitamin E (as d-alpha succinate) ...100 IU
B6 (as pryridoxal-5-phosphate) ...15mg
Vitamin B12 (as cyanocobalamin) ...50mcg
Folate (as folic acid) ...200mcg
Zinc (as picolinate) ...15mg
Selenium (as L-selenomethione) ...65mcg
Bioflavnoids (from citrus) ...100mg
Licorice root ...150mg
(Glycyrrhiza glabra)
Garlic extract (10, 000 ppm allicin) ...130mg
Siberian Ginseng extract ...100mg
(1% eleutheroside E)
Oregon Grape Root ...120mg
(Beberis aquifolium)
Echinacea root ...70mg
(Echinacea angustifolia)
Echinacea purpurpea root extract ...50mg
(4% echinacosides)
Green tea leaf extract ...50mg
(95% polypherols, 80% catechins, 55% EGCg)
Astragalus root ...30mg
(Astragalus membranaceus)
Myrrh gum ...30mg
(Commophora molmol)
Contains - Vegetable cellulose and water
Does Not Contain - Preservatives, binders, artificial colorings or flavorings, sucrose, glucose, starch, lactose, salt, corn, wheat, milk derivatives
Keep in a cool, dry place out of reach of children.
Avoid the use of this product if pregnant.