Immune System Health Pack
Standard Process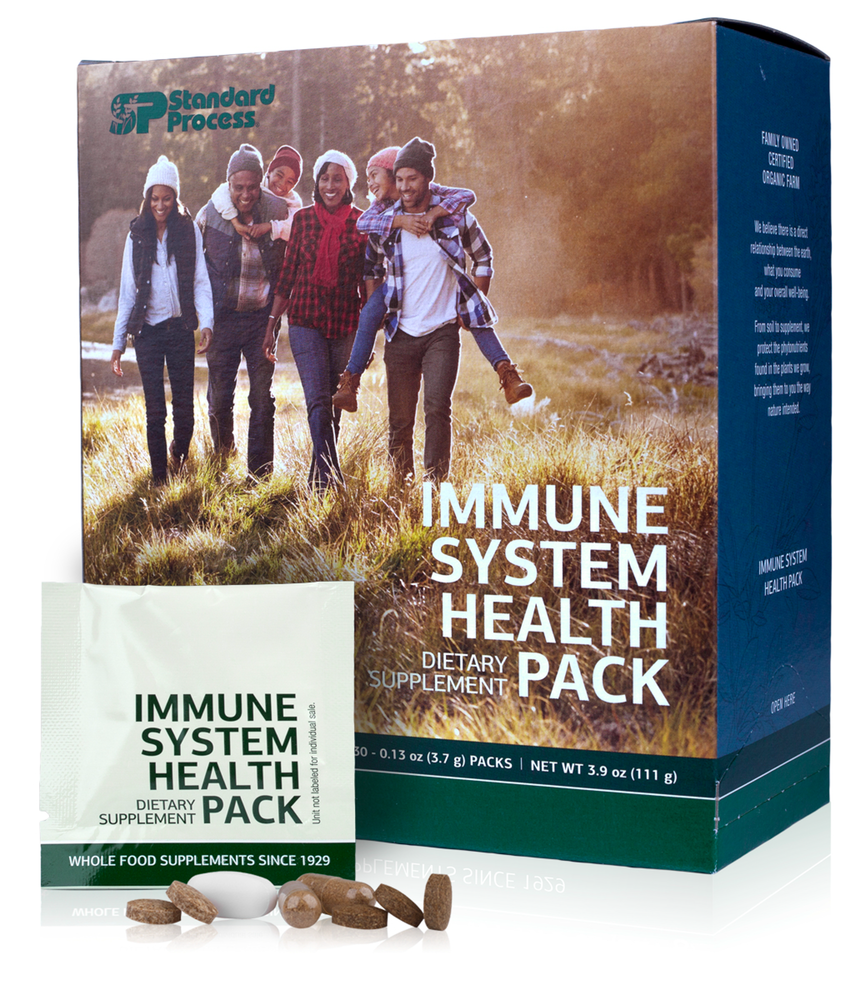 SKU: STP-13070
Immune System Health Packs are designed to provide support in three convenient daily immune system supplement packs.*

Excellent source of iron, zinc, copper, chromium, folate, iodine, and vitamins A, B6 and B12 and antioxidant vitamins C and E

Good source of selenium

At the suggested use of three packs per day, this product provides an excellent source of calcium and a good source of magnesium.
1 pack three times per day

Serving Size: 1 Pack

Amount Per Serving
Calories ... 10
Cholesterol ... 5mg
Total Carbohydrate ... 1g
Protein ... <1g
Vitamin A ... 300 mcg RAE
Vitamin C ... 71mg
Vitamin E ... 4.9mg
Vitamin B6 ... 3.6mg
Folate ... 165 mcg DFE
(100 mcg folic acid)
Vitamin B12 ... 2 mcg
Calcium ... 110mg
Iron ... 5mg
Iodine ... 190 mcg
Magnesium ... 15mg
Zinc ... 9mg
Selenium ... 6 mcg
Copper ... 0.2mg
Chromium ... 30 mcg
Sodium ... 35mg
Proprietary Blend ... 1441mg
Veal bone PMG™ extract, bovine liver PMG™ extract, defatted wheat germ, nutritional yeast, bovine adrenal, bovine liver, organic carrot, bovine spleen PMG™ extract, organic sweet potato, bovine thymus PMG™ extract, bovine thymus Cytosol™ extract, bovine prostate, organic buckwheat (aerial parts) juice powder, organic buckwheat flour, organic alfalfa (aerial parts) juice powder, organic alfalfa (aerial parts), bovine spleen, ovine spleen, bovine orchic extract, organic shiitake mushroom powder, organic reishi mushroom powder, oat flour, veal bone, bovine bone, calcium phosphate, organic flaxseed oil, sunflower lecithin, organic echinacea purpurea (root), echinacea angustifolia (root), rice bran, and bovine liver fat extract.

Other Ingredients: Calcium lactate, honey, magnesium citrate, gelatin, zinc amino acid (rice) chelate, ascorbic acid, organic acerola (berry), iron amino acid (rice) chelate, camu camu (berry), calcium stearate, maltodextrin, manioc (root), chromium yeast, water, d-alpha tocopherol (vitamin E sunflower), arabic gum, modified tapioca starch, glycerine, selenium yeast, pyridoxine hydrochloride, copper amino acid (rice) chelate, modified corn starch, dicalcium phosphate, prolamine iodine (zein), vitamin A palmitate, sucrose, folic acid, and cyanocobalamin.
Accidental overdose of iron- containing products is a leading cause of fatal poisoning in children under 6. Keep this product out of reach of children. In case of accidental overdose, call a doctor or poison control center immediately. Caution contraindicated in known allergy to plants of the daisy family. This product is processed in a facility that manufactures other products containing soy, milk, egg, wheat, peanut, tree nuts, fish, and shellfish.