Immunitone Plus
Designs for Health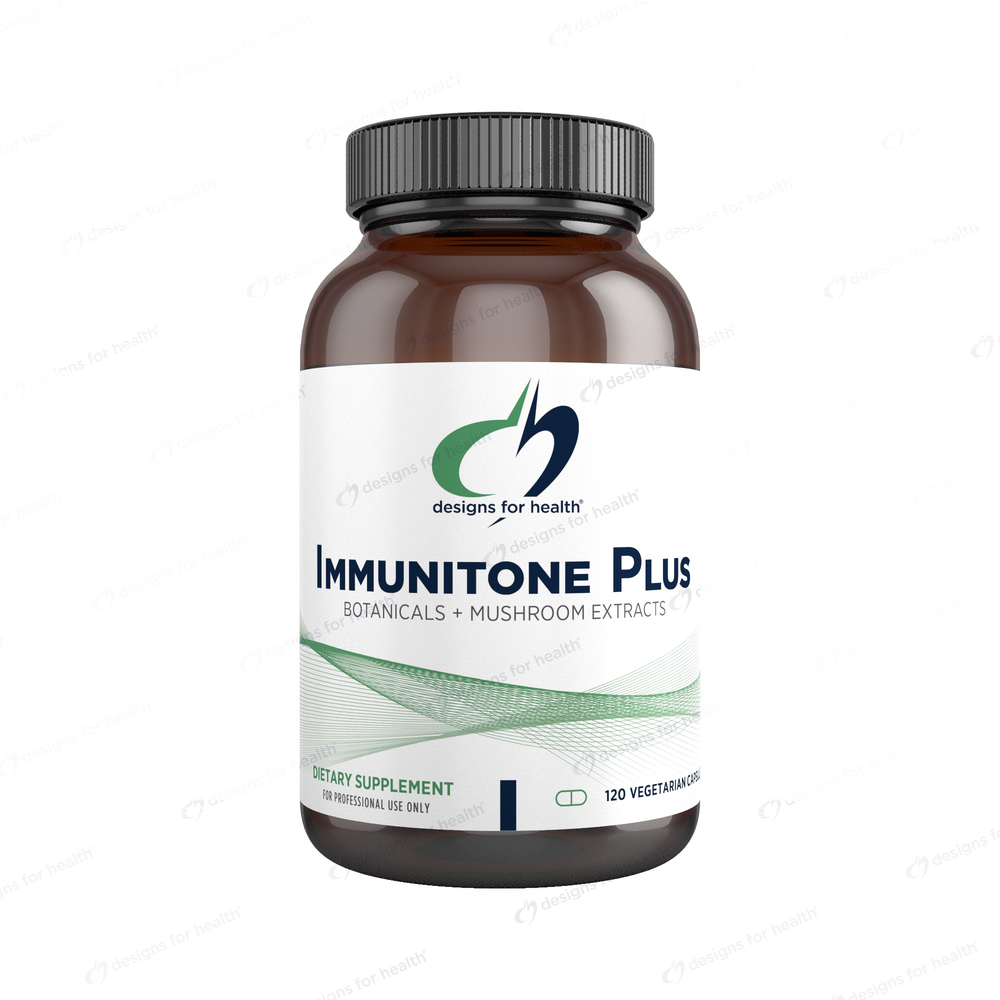 SKU: DFH-IMP090
Immunitone Plus™ is a comprehensive, synergistic formula that combines herbs, mushroom extracts and other natural compounds to help the body maintain a normal immune system response.*
Some of its significant botanicals include echinacea, astragalus, elderberry and green tea that is standardized to a very high level of its key active component epigallocatechin gallate (EGCg). In addition, Immunitone Plus™ includes an impressive combination of the immune supportive mushrooms cordyceps, shiitake, maitake and reishi.*

As a dietary supplement, take four capsules per day with meals, or as directed by your health care practitioner
Serving Size: Four Capsules
Amount Per Serving
Echinacea ... 600mg
(Echinacea angustifolia)(root)
[standardized to contain 4% echinacosides]
Astragalus Extract ... 200mg
(Astragalus membranaceus)(root)
Elderberry ... 200mg
(Sambucus nigra)(fruit)
Andrographis ... 200mg
(Andrographis paniculata)(stems)
[standardized to contain 4% andrographolides]
Green Tea Extract ... 100mg
(Camellia sinensis)(leaves)
[standardized to contain 98% polyphenols, 45% EGCg]
Arabinogalactan ... 100mg
(as ImmunEnhancer™)(Larix laricina)(larch tree)
Lauric Acid ... 100mg
Cordyceps mushroom ... 50mg
(Cordyceps sinensis)
Shiitake mushroom ... 50mg
(Lentinula edodes)
Maitake mushroom ... 50mg
(Grifola frondosa)
Reishi mushroom ... 50mg
(Ganoderma lucidum)
Beta 1, 3 Glucan ... 9mg
Other Ingredients: cellulose (capsule), microcrystalline cellulose, tricalcium phosphate, vegetable stearate, silicon dioxide.
This product does not contain gluten.
ImmunEnhancer™ is a registered trademark of Larex, Inc.
Warning: Not recommended for pregnant or lactating women.
Notice: Color, size or shape may appear di?erent between lots.
Store at room temperature.
Keep out of reach of children.
ImmunEnhancer™ is provided under license by Larex, Inc.