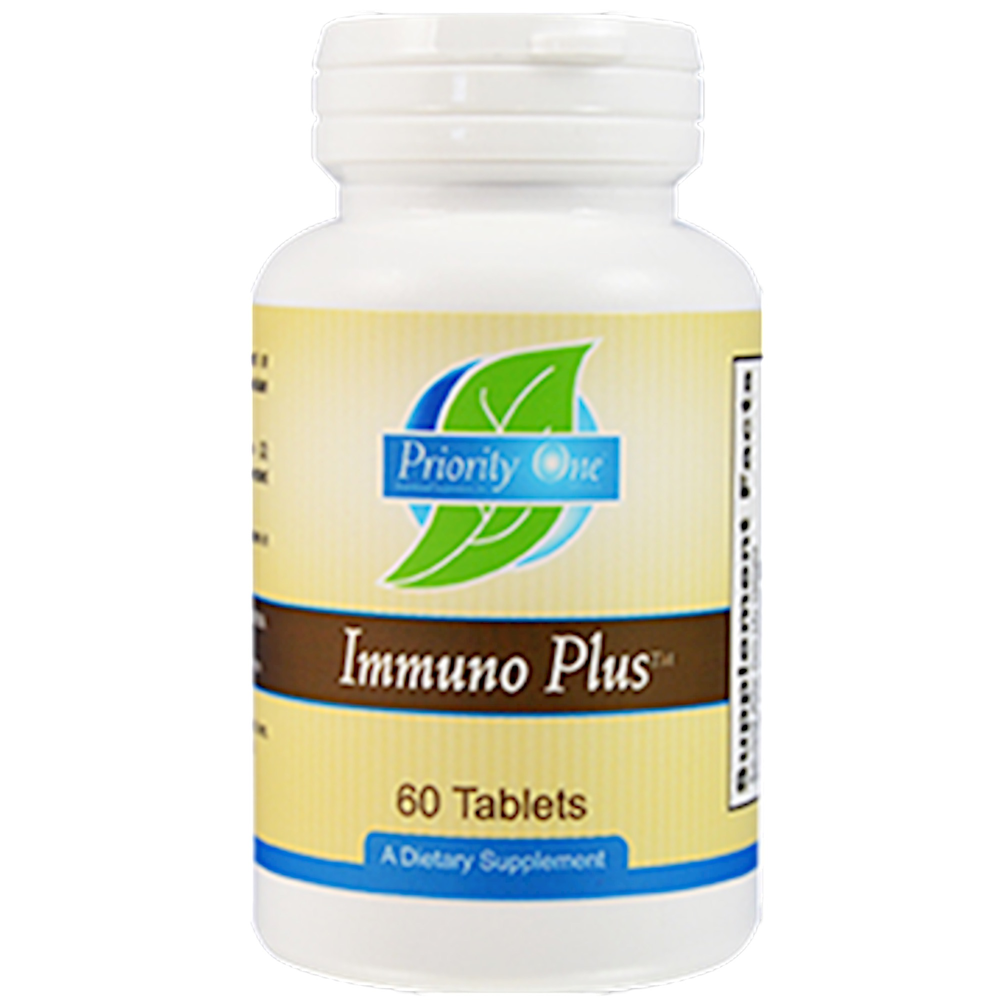 SKU: PR7-1059
Immuno Plus is designed to support the body's normal immune response, and help maintain already normal white blood cell activity.*
Therapeutic levels of whole gland thymus and supportive nutrients.*
Glandular therapy is based on the thought that glandular concentrates support like organs to maintain an already healthy state. A theory pioneered by Dr. John Bastyr N.D.*
Take two (2) tablets three times daily or as directed by a physician.
Serving Size: Two Tablets
Amount Per Serving
Vitamin A ... 2, 000IU
(100% as beta carotene)
Vitamin C ... 250mg
(as ascorbic acid)
Vitamin E ... 100IU
(as d-alpha and mixed tocopherols)
(Sunvitol®)(non-GMO from sunflower oil)
Thiamine HCl ... 30mg
(vitamin B1)
Zinc ... 8mg
(as zinc rice chelate citrate oxide)
Selenium ... 25mcg
(as sodium selenite aspartate)
Copper ... 0.15mg
(as copper rice chelate citrate carbonate)
Thymus ... 550mg**
(including polypeptide fractions)
Spleen ... 130mg**
Lymph ... 66mg**
Pituitary ... 10mg**
L-Lysine HCL ... 250mg**
Trypsin ... 26mg**
(1:75)
Bromelain ... 50mg**
(3, 600MCU/g)
Papain ... 20mg**
(6, 000USP/mg)
Echinacea purpurea ... 300mg**
(root)
Shiitake ... 76mg**
(mushroom)(Lentinus edodes)
Quercetin 95% ... 76mg**
(from japanese sophora (flower))
Other Ingredients: Dicalcium phosphate, microcrystalline cellulose, vegetable stearic acid, vegetable magnesium stearate, silicon dioxide croscarmellose sodium, hypromellose, gluten free maltodextrin, rice (protein, hull), tapioca, coating (methylcellulose).
Contains milk.
This product does not contain
Bisphenol-A (BPA)
Phthalate Free
GMOs
Warning: If you are pregnant or breast feeding, consult your physician before using this product.
Keep container tightly closed, store in a cool, dry place.
Keep out of reach of children.