Inflacalm SAP
Nutritional Fundamentals for Health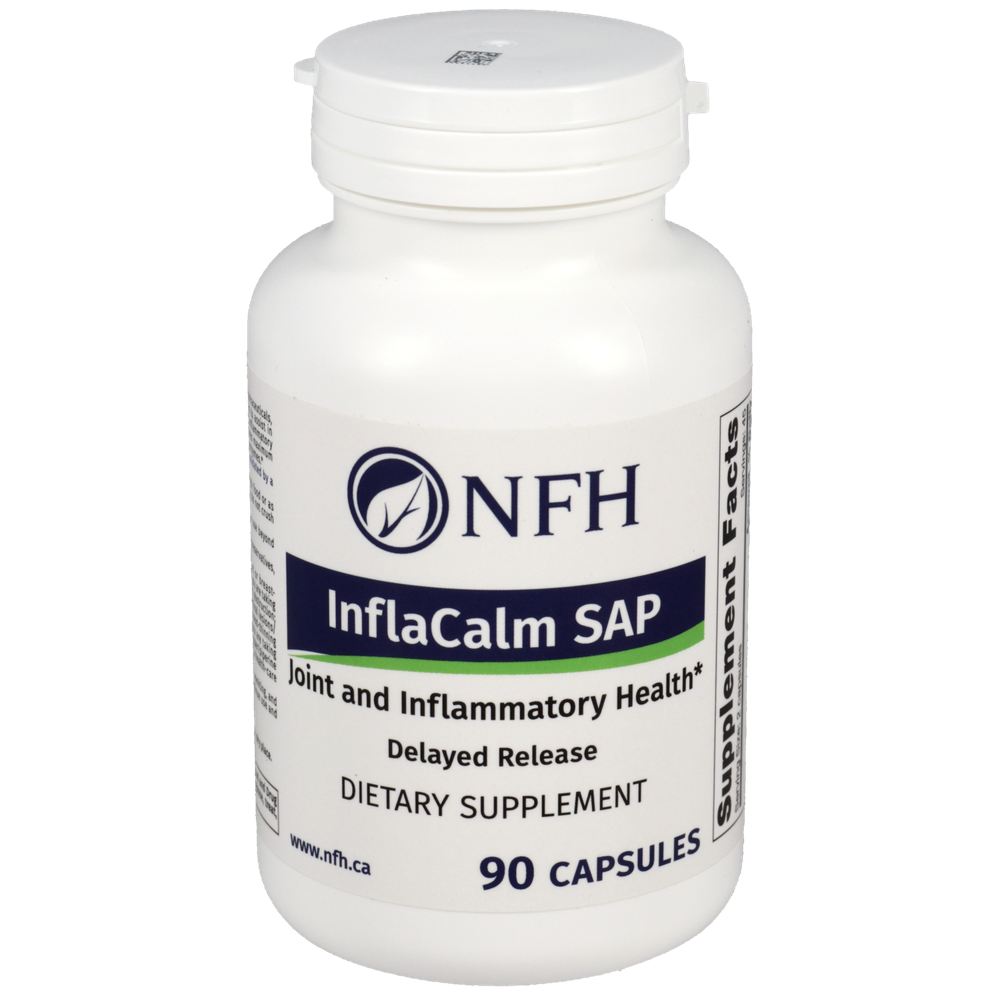 SKU: NFH-1073
InflaCalm SAP™ is a comprehensive, synergistic blend of nutraceuticals, proteolytic enzymes, and herbs scientifically researched to assist in maintaining optimal joint health, and supporting a healthy inflammatory response.* The enteric-coated vegetable capsule ensures maximum absorption, utilization, and efficacy.*
Adults: Take 2 capsules once daily with food or as directed by your health-care practitioner. Swallow whole; do not crush or chew.
Serving Size: 2 Capsules
Amount Per Serving
Bromelain ... 300mg
(stem bromelain from Ananas comosus) (10, 800, 000 FCC PU)
Curcumin root extract ... 300mg
(Curcuma longa) 95% curcuminoids
Quercetin ... 200mg
[fava d'anta (Dimorphandra mollis) seeds and pods]
Rutin ... 200mg
Indian frankincense gum ... 200mg
(Boswellia serrata) resin, 70% organic acids, 35% boswellic acids
Trypsin ... 100mg
(from Sus scrofa) (15, 000 USP trypsin units)
Serratiopeptidase ... 40mg
(96, 000 FCC SU)
Black pepper seed ... 3mg
(Piper nigrum) 95% piperine
Other Ingredients: Vegetable magnesium stearate, silicon dioxide, maltodextrin (non-GMO) (used in small quantity for the manufacture of the enzymes), and a non-GMO vegetable capsule composed of vegetable hypromellose and purified water, with an enteric coating.
Contains no: Preservatives, artificial flavour or colour, sugar, dairy, starch, wheat, gluten, yeast, soy, citrus, corn, or eggs.
Duration of use: Consult a health-care practitioner for use beyond 7 days
Cautions and Warnings: Do not use if you are pregnant or breastfeeding, or if you are taking sedatives. Consult a health-care practitioner prior to use if you are taking antiplatelet medication; if you have gallstones or a bile duct obstruction; if you have excess stomach acid; if you have gastrointestinal lesions/ulcers, are taking anticoagulant agents, antiinflammatory agents, or antibiotics; before having surgery; or if you are taking other medications or natural health product, as black pepper / piperine may alter their effectiveness. Discontinue use and consult a health-care practitioner if symptoms persist or worsen. Known adverse effects: Hypersensitivity/allergy, nausea, vomiting, and diarrhoea have been known to occur; in which case, discontinue use and consult a health-care practitioner.

Note: Color of product may vary. This product is non-GMO. Do not use if seal is broken. Keep out of reach of children.