Inflama-Complete™
Innate Response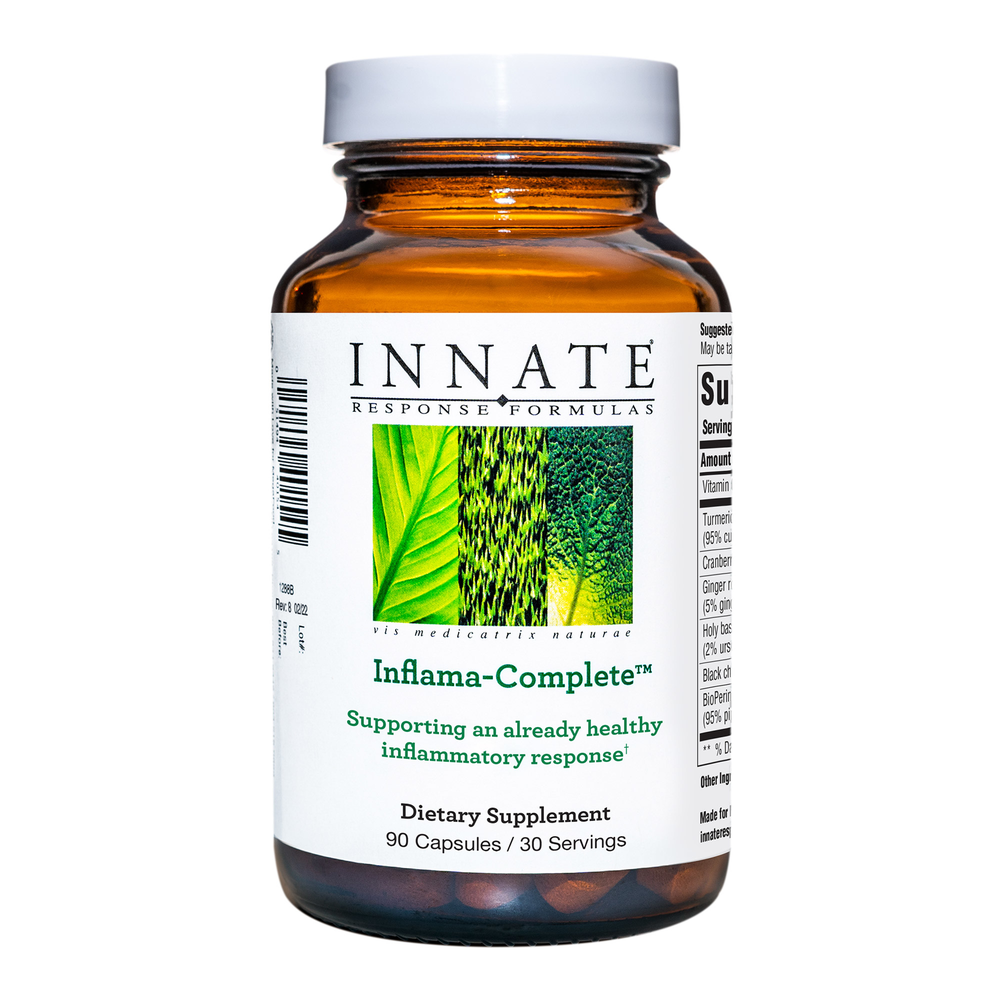 SKU: INR-40154
Maintains a healthy whole body inflammatory response*
750 mg of turmeric (95% curcuminoids) enhanced with BioPerine for systemic use*
Synergistic combination of holy basil and ginger root
Black cherry extract and FoodState© cranberry are high in anthocyanins and proanthocyanidins*
Take 3 capsules daily, or as directed by your healthcare practitioner. May be taken anytime throughout the day.
Serving Size:
3 Capsules
Amount Per ServingVitamin C
... 6mg
(as Ascorbyl Palmitate)
Turmeric Root Extract
... 750mg
(Curcuma longa) (95% curcuminoids)
Cranberry
... 200mg
(Vaccinium macrocarpon)
Ginger Root Extract
... 200mg
(Zingiber officinale) (5% gingerols)
Holy Basil Leaf Extract
... 200mg
(Ocimum sanctum) (2% ursolic acid)
Black Cherry Extract
... 150mg
(Prunus serotina)
BioPerine® Black Pepper Fruit Extract
... 3mg
(95% piperine) (Piper nigrum)
Other Ingredients:
Cellulose, Stearic Acid, Silica, Guar Gum.
Bioperine® is a trademark of the Sabinsa Corporation. U.S. Patents #5,536,506, #5,744,161, #5,972,382, and #6,054,585
Warning:
If you are pregnant or nursing or are using any prescription medication, consult your healthcare practitioner before taking this product.