Integrative Digestive Formula
EcoNugenics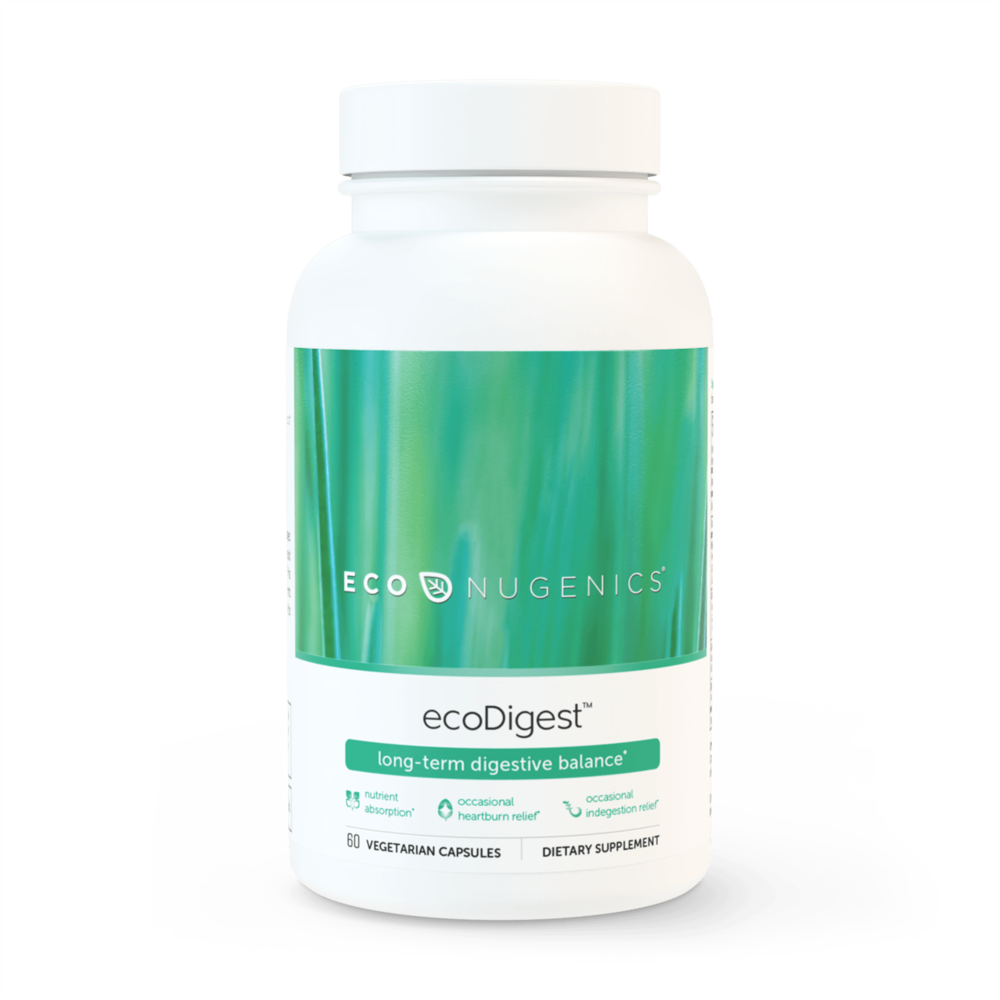 SKU: EC2-6190
Integrative Digestive Formula is available by EcoNugenics.
Integrative Digestive Formula is a multi-nutrient compound containing minerals, medicinal mushrooms, herbs and essential nutrients. This blend has been formulated to promote digestive health utilizing the principles of Traditional Chinese, Tibetan & Ayurvedic medicine, integrated with modern alternative medicine.
-Promotes healthy digestive function
-Promotes downward digestive movement to alleviate occasional heartburn, indigestion, gas & bloating
-Helps regulate, smooth & strengthen the small intestine
-Boosts immunity & supports the liver in the digestive process
EcoNugenics
Dietary Supplement

FORMULATED BY
Dr. Isaac Eliaz M.D., L.Ac
OptiZinc is a registered trademark of Interhealth.
EcoNugenics, Inc.
Santa Rosa, CA
As a dietary supplement, take 1 capsule twice daily at the start of meals or as suggested by your health care professional.
Serving Size: 1 Capsule
Zinc (as OptiZinc) ...7.5mg
Chromium (as polynicotinate) ...100mcg
Integrative Asian Digestive Blend ...350mg
Pomegranate seed (Punica granatum), lesser galangal root extract (Alpinia officinarium), pepper fruit (Piper nigrum), cassia bark (Cinnamomum cassia), Chinese cardamom fruit extract (Amomum kravanh)
Traditional Chinese Herbal Digestive Blend ...110mg
Tangerine fruit (Citrus reticulate), de-glycyrrhizinated licorice root (Glycyrrhiza glabra), ginger root (Zingiber officinale), henon bamboo herb (Phyllostachys nigra), sacred lotus seed extract (Nelumbo nucifera)
USDA Certified Organic Digestive Mushroom Blend ...60mg
Hericium (Hericium erinaceus), maitake (Grifola frondosa), poria (Wolfporia cocos)
Digestive Enzyme Support Blend ...52mg
Amylase, alpha-galactosidase, protease, phytase, invertase, liapse
Contains - Vegetable capsule (Natural vegetable cellulose, water), microcrystalline cellulose, magnesium stearate