Intesticalm
Professional Formulas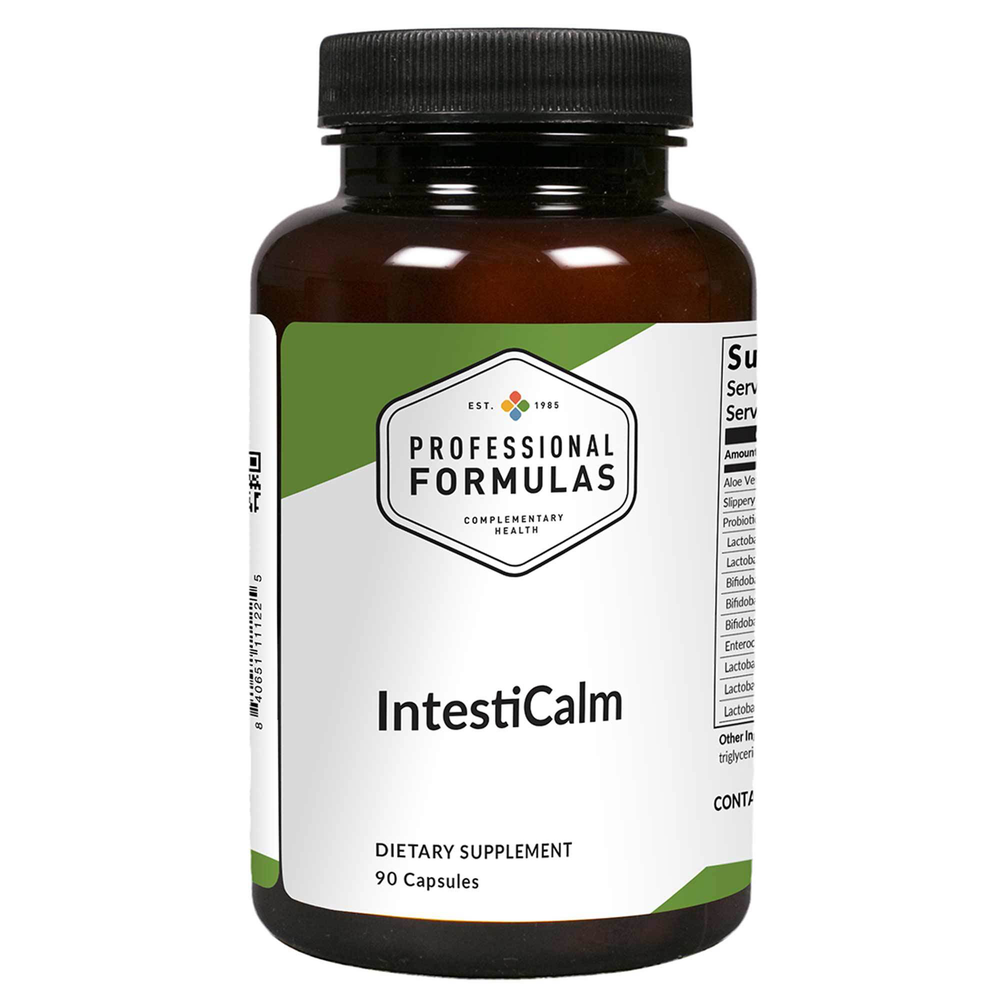 SKU: PRO511-PICM
Support for maintaining a healthy upper gastrointestinal tract and gut flora.
Suggested Use:
As a nutritional supplement, take 1-2 capsules three times daily, or as directed by your healthcare professional.
Serving Size: 2 Capsules
Amount Per Serving
Aloe Vera … 400mg
(Aloe barbadensis) (Leaves)
Slippery Elm … 400mg
(Ulmus rubra) (Bark)
Probiotic blend … 200mg
Lactobacillus acidophilus 4-8%
Bifidobacterium infantis 1-2%
Bifidobacterium bifidum 0.5-1%
Bifidobacterium longum 0.5-1%
Lactobacillus helveticus 0.5-1%
Lactobacillus reuteri 0.5-1%
Lactobacillus rhamnosus 0.2-1%
Lactobacillus casei 0.1-0.5%
Lactobacillus plantarum 0.1-0.5%
Lactobacillus salivarius 0.1-0.5%
Pediococcus acidilactici 0.1-0.5%
Streptococcus thermophilus 0.1-0.5%
Meadowsweet … 100mg
(Filipendula ulmaria) (Aerial Parts)
Plantain … 100mg
(Plantago lanceolata) (Leaves)
True Chamomile … 100mg
(Matricaria recutita) (Flowers)
Sarsaparilla … 50mg
(Smilax ornata) (Root) (4:1 Extract)
Other Ingredients: Vegetarian capsule (hypromellose and water), organic brown rice, and vegetable medium chain triglycerides.
Contains: Milk.


This is Gluten Free and Vegetarian.
Warning: Keep out of the reach of children. Not intended for use while pregnant or nursing. Tamper resistant. If seal is broken, do not use. Store away from heat.