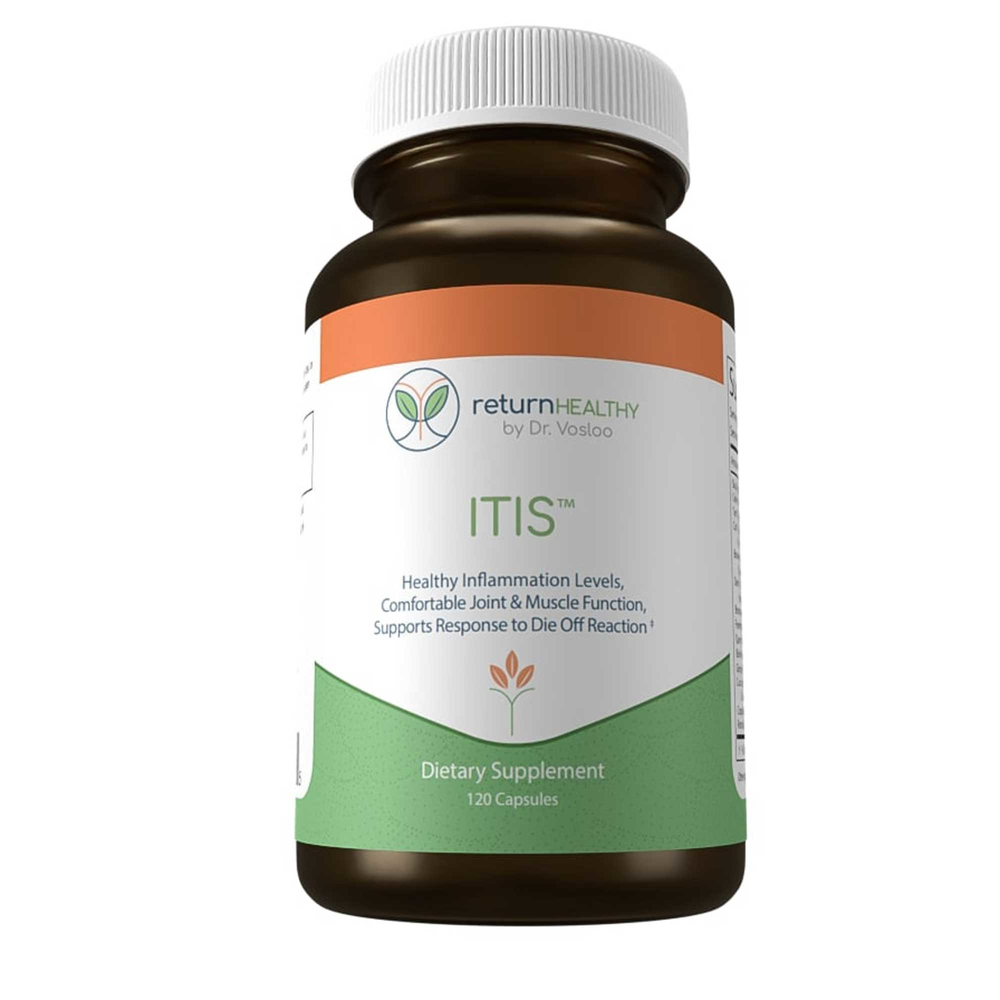 SKU: RTN790-IT120
ITIS is formulated to support a healthy nervous system and includes ingredients that calms the immune response to the Die-Off Reaction.*

- Healthy inflammation levels*
- Maintains comfortable joint & muscle function*
- Supports response to the Die-Off Reaction*


Suggested Use:
Take 4 capsules two to three times per day, or as directed by your health care practitoner. Can be taken with or without food.

Serving Size: 4 Vegetarian Capsules

Amount Per Serving
Skullcap Extract ... 1000mg
(Scutellaria baicalensis, root, wildcrafted)
Celery Seed Powder ... 350mg
(Apium graveolens)
Tart Cherry Extract 4:1 ... 250mg
(Prunus cerasus, fruit)
Cat's Claw Powder ... 202.5mg
(Unicaria tomentosa, wildcrafted bark)
Boswellia serrata Extract ... 200mg
(Standardized to 65% Boswellic Acid, Non-GMO)
Devil's Claw Root Powder ... 180mg
(Harpagophytum procumbens, Non-GMO, Organic)
Bromelain (600 GDU/g) ... 225mg
Feverfew Powder ... 90mg
(Tanacetum parthenium, herb, Organic)
Quercetin Dihydrate ... 90mg
BioPerine Black Pepper Extract ... 2.25mg
(Piper nigrum, fruit)
Ginger Essential Oil ... 20mg
(Zingiber officinale, root)
Curcumin Extract 95% ... 202.5mg
(Curcuma longa root extract)
Copaiba Essential Oil ... 20mg
Roman Chamomile Essential Oil ... 20mg

Other Ingredients: Cellulose (capsule).


Caution
: Individuals who are pregnant or lactating should consult with their healthcare practitioner before using this product.