Jade and Ginseng Therapeutic Hand and Foot Soak
Jadience Herbal Formulas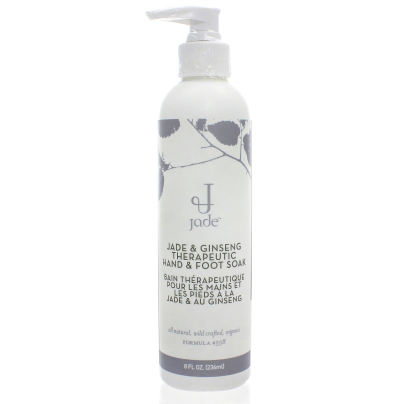 SKU: JAD858-558C
This exclusive therapeutic formula hydrates, nourishes and protects
dry, overworked hands and feet. Jade Powder and Ginseng detoxify
and revitalize hands and feet, while tea tree oil provides powerful
antiseptic action. Active herbal ingredients, including Salvia
Root, Clematis and Angelica Root, quickly increase circulation to
alleviate tension and stress of tired hands and feet. Leaves hands
and feet feeling refreshed, incredibly soft and rejuvenated.
Perfect for manicures, pedicures and regular maintenance of hands
and feet.
Use 2-4 Times a Week or As Needed [AM/PM]: Add 2-3 pumps of
Jadience Herbal Formula's Jade & Ginseng Therapeutic Hand & Foot
Soak to warm water and soak hands and feet for 5-10 minutes. For
best results use with Jadience Herbal Formulas Jade & Ginseng
Smoothing Foot Treatment, Jade & Ginseng Hydrating Lotion – For
Hands & Body and Jadience Herbal Formula's Jade & Ginseng
Exfoliating Hand & Foot Scrub.
Herbal Extracts: (Ginseng, Salvia Root, White Mulberry Leaf,
Angelica Root, Szechwan Lovage Root, Clematis, Mulberry Bark, Huang
Qi, Folium Perillae, Inula, Lycium, Euphoriae, Licorice Root) Tea
Tree Oil, Jojoba Oil, Jade Powder, Potassium Sorbate, Caprylyl
Glycol, Bergamot, Natural Fragrances
It looks like there are no similar
products available