Jarro-Dophilus + FOS Powder
Jarrow Formulas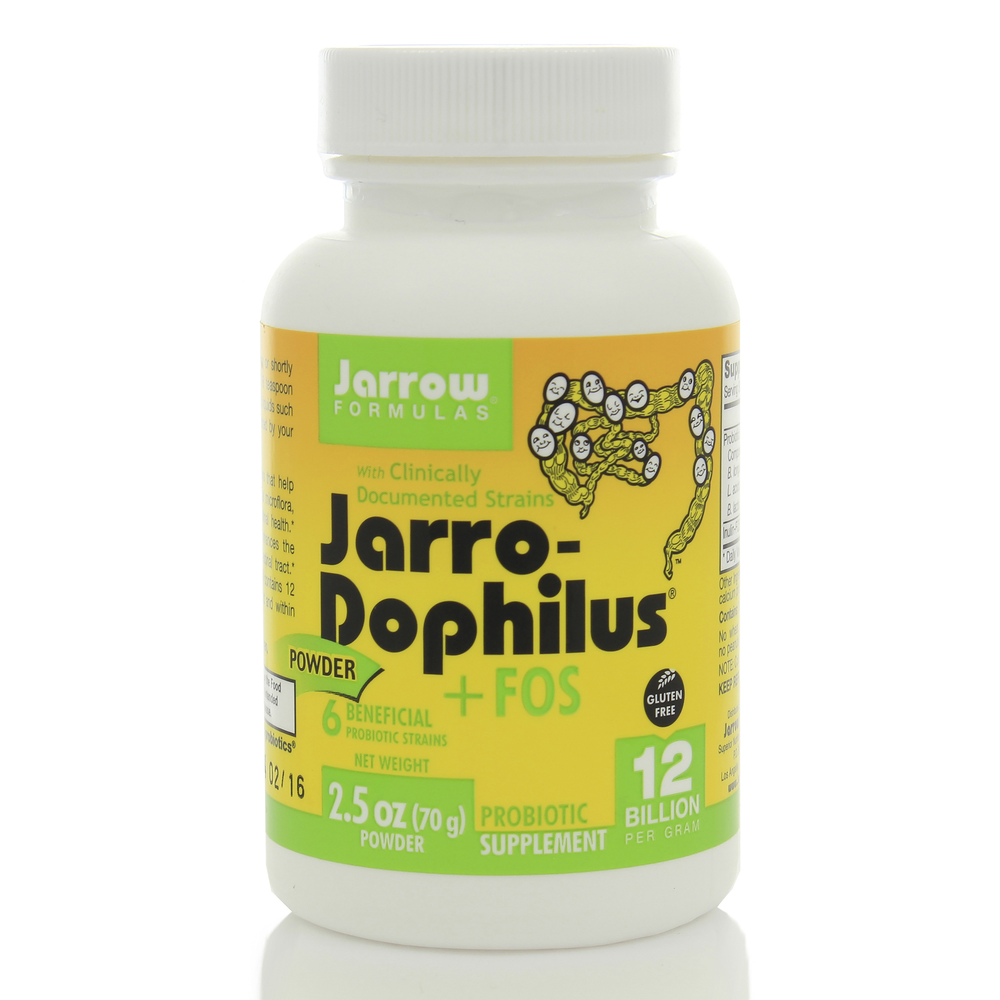 SKU: JAR-PD
Jarro-Dophilus + FOS Powder
Jarro-Dophilus + Inulin-FructoOligoSaccharides
-For Intestinal Health and Immune Support*
-Synbiotic Formula w/Fructooligosaccharides
-6 Strains, Including BB536
-Capsules or Powder
-12 Billion Per Gram
Jarro-Dophilus + FOS contains strains that help protect and maintain a balanced intestinal microflora, and support immune function and intestinal health.* FOS is a natural prebiotic fiber that enhances the growth of beneficial bacteria in the intestinal tract.* Each gram (approximately 1/4 teaspoon) contains 12 billion viable cells when kept refrigerated and within Best Used Before Date.
Take 1/4 teaspoon per day during or shortly after a meal. For infants and children, 1/8 teaspoon per day. Mix powder with water, unheated liquids such as fruit juices, or foods. Or take as directed by your qualified healthcare professional.
Serving Size: One Gram (1/4 Teaspoon)

Amount Per Serving
Probiotic Blend 12 Billion Viable Cells
Composed of the fooowing strains:
B. longum BB536
L. acidophilus La-14
B. lactis Bl-04
L. rhamnosus R0011
L. casei R0215
L. plantarum R1012
Inulin-FOS ... 400 mg
(FructoOligoSaccharides)
Other Ingredients: Maltodextrin, tapioca starch, vitamin C and calcium phosphate.
Contains: Soy (in trace amounts).
No wheat, no gluten, no dairy, no egg, no fish/shellfish, no peanuts/tree nuts.
Color of product naturally varies from white to tan.

KEEP REFRIGERATED.

KEEP OUT OF REACH OF CHILDREN.
These statements have not been evaluated by the Food and Drug Administration. This product is not intended to diagnose, treat, cure, or prevent any disease.