Jarro-Zymes Plus
Jarrow Formulas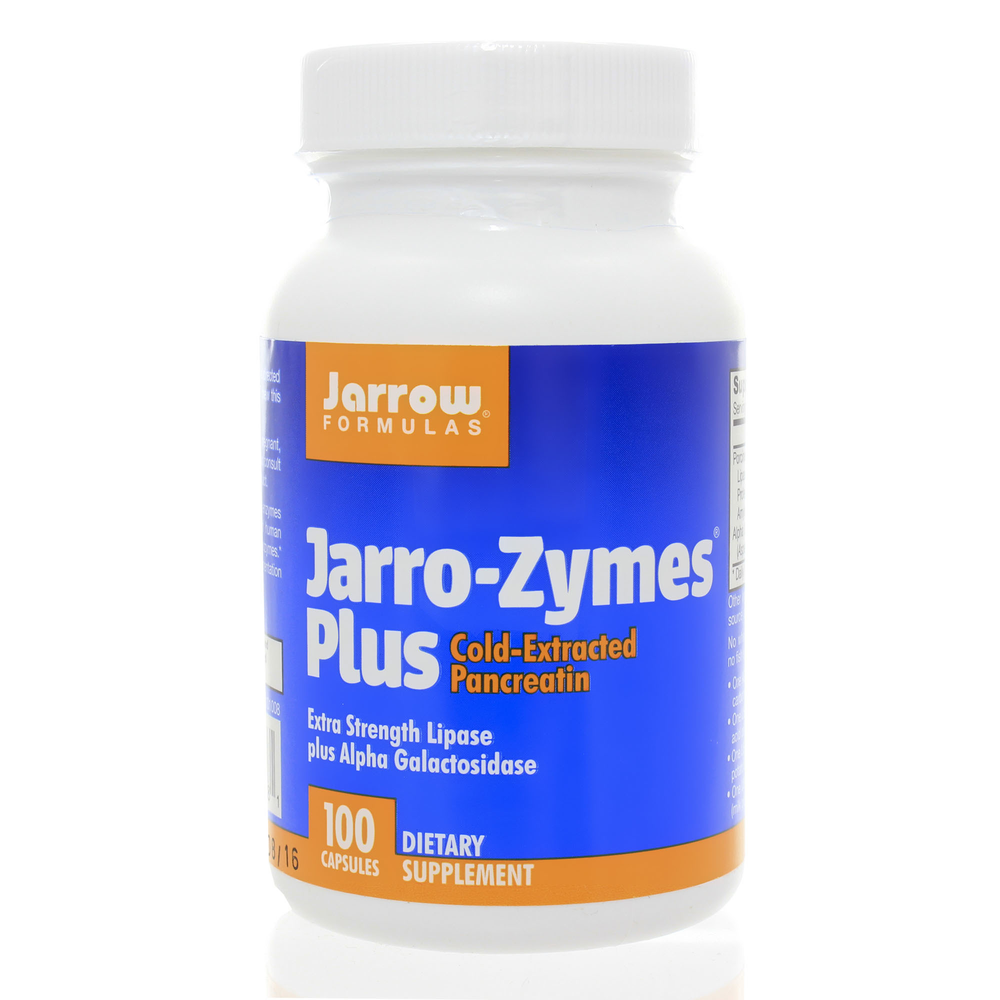 SKU: JAR-ZZ
Jarro-Zymes Plus
-Extra Strength Lipase plus Alpha Galactosidase
-Similar to Human Pancreatic Enzymes-•Richer in Lipase Than
Other Pancreatic Supplements
-Superior to Vegetable Enzymes
-Facilitates the Digestion of Legumes*
Jarro-Zymes Plus contains porcine pancreatic enzymes because their composition is similar to that of human pancreatic enzymes and are superior to vegetable enzymes.* Alpha galactosidase is produced by single cell fermentation and facilitates digestion of legumes.*
-One AGS unit of alpha galactosidase digests 1 mg of the carbohydrates raffinose and stachyose
-One USP unit of Lipase activity digests 1 mg uEq. of fatty acid per minute at the pH of 9.0 at 37°C
-One USP unit of Amylase activity digests 1 mg of dry USP potato starch
-One USP unit of Protease activity digests 1 mg of casein (milk protein)
Take 1 to 3 capsules with each meal or as directed by your qualified healthcare professional. DO NOT chew this product. Swallow quickly with adequate liquid.
Serving Size: One Capsule

Amount Per Serving
Porcine Pancreatic Enzymes ... 445 mg
Lipase ... 10, 000 USP Units
Protease ... 55, 000 USP Units
Amylase ... 55, 000 USP Units
Alpha Galactosidase ... 25 mg
(70 AGS Units)
(Aspergillus niger fermentation)
Other Ingredients: Cellulose, magnesium stearate (vegetable source) and silicon dioxide. Capsule consists of gelatin.
No wheat, no gluten, no soybeans, no dairy, no egg, no fish/shellfish, no peanuts/tree nuts.
If you have a medical condition, are pregnant, lactating, trying to conceive, or taking medications, consult your healthcare professional before using this product.
KEEP OUT OF REACH OF CHILDREN.
These statements have not been evaluated by the Food and Drug Administration. This product is not intended to diagnose, treat, cure, or prevent any disease