Inflameric Plus Extra Strength
Prescribed Choice/OL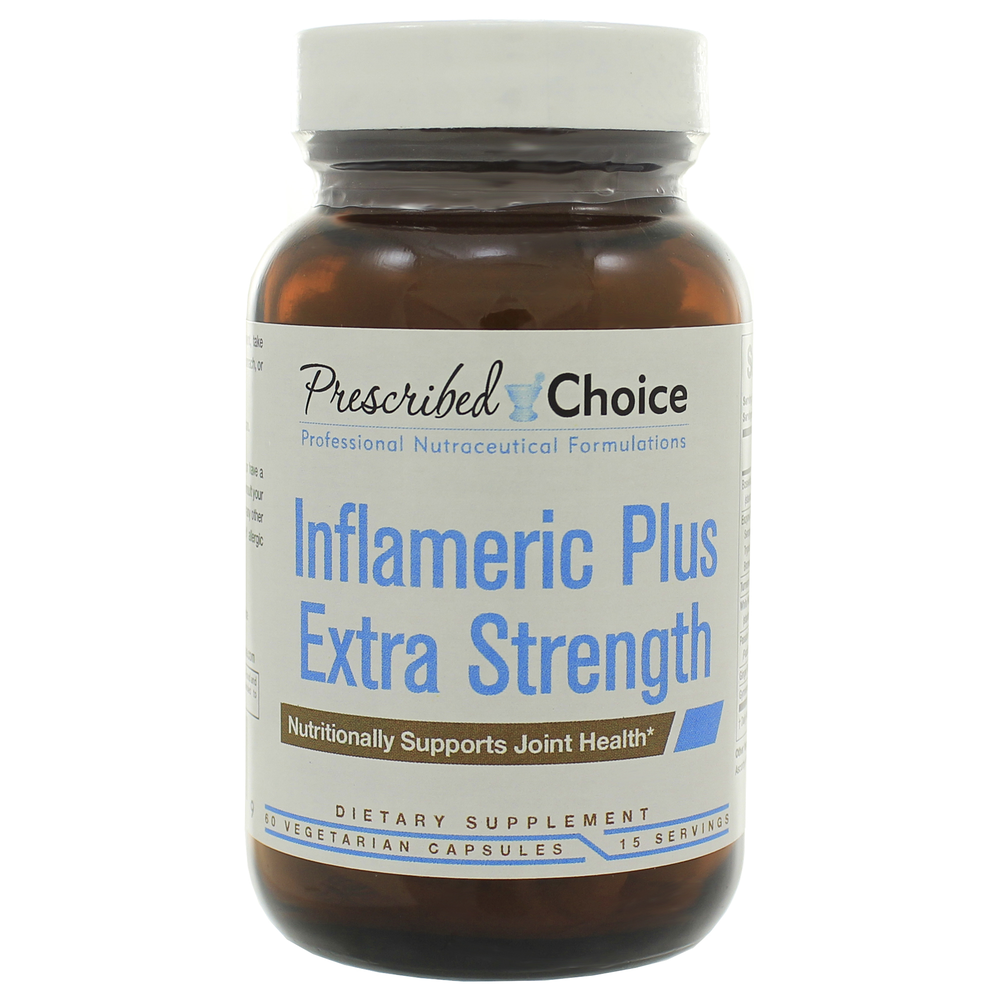 SKU: PRC-80003
Inflameric combines therapeutic doses of herbs that may manage swelling associated with daily living along with MSM which also may support healthy pain management. This formula is designed to help maintain blood sugar levels already in the normal range and does not contain glucosamine.*

Bone & Joint Health:
Designed for its use as an effective natural Cox-2 inhibitor and inflammation reducer. Recent research suggests that inhibiting an enzyme known as Cox-2 may be an effective way to reduce inflammation*
Contains beta-boswellic acids extensively studied for their properties involving inflammation and degeneration of the muscles. Researchers have concluded that they are more beneficial, less toxic and more potent than standard anti-inflammatory drugs*
Researchers have found that the Boswellia extract significantly reduced pain and improved physical functioning for those with osteoarthritis*
A combination of boswellia serrata and curcumin (turmeric) are often used in formulations for their synergistic effects. Curcumin is widely used for its anti-inflammatory effects and studies show greater reduction in symptoms such as joint swelling and pain and fewer side effects compared with those who took drugs*
Our blend includes enzymes for health-boosting and anti-inflammatory properties and helping to reduce pain and swelling in the body especially post-surgery. May also aid in preservation of afflicted joint tissue. Studies show systemic oral enzymes were shown to offer strong protection to the joint matrix*
Contains White Willow, which may help reduce pain and deal with inflammation*

Digestive Health:
Contains protalitic enzymes which may add normal digestion of food*
Contains Ginger, traditionally used for nausea*
As a dietary supplement, take two (2) to four (4) capsules daily one half hour before a meal or one hour after a meal, or as directed by a healthcare professional. For acute conditions, the dosage may be increased. Do not exceed six capsules per day.
Serving Size: Two (4) capsules

Amount Per Serving
Boswellia Serrata Extract ... 1200mg
(gum resin)(standardized to yield 300mg beta-boswellic acid)
Enzyme Blend ... 549mg
Peptozyme SPEN 40, 000IU
(Serrapeptidase)
Trypsin 30, 000USP
Bromelain 300GDU
Turmeric Root Extract ... 500mg
(Curcuma Longa)
White Willow Bark Extract ... 400mg
(Salix alba)(standardized to yield 60mg salicin)
Passion Flower Extract ... 40mg
(Passiflora incarnata)(fruit)
Ginger Root Extract ... 40mg
(Zingiber officinale)
Gymnema Sylvestre Extract ... 15mg
(leaf)
Other Ingredients: Rice Flour, microcrystalline cellulose (plant fiber), ascorbyl palmitate, silica, and vegetarian capsule (HPMC)
Caution: If you are pregnant or nursing, or have a medical condition, are taking medication, consult your healthcare professional before using this or any other nutritional supplement. Discontinue use if allergic reaction occurs.
*These statements have not been evaluated by the Food and Drug Administration. This product is not intended to diagnose, treat, cure or prevent any disease.